Zwigato Review: Kapil Sharma's Wow Performance!
A far cry from his playing-to-the-gallery comedian, Kapil Sharma emerges as a heartfelt picture of aspiration and annoyance, notes Sukanya Verma.
A Nandita Das creation is as much craft as it is a commentary.
She keeps an eye out for stories in scattered specks of everyday life merging them into a perceptive whole against the backdrop of real horrors and literary history.
Drawing attention to society's failures and follies with a steady focus on the human condition, her film-making is rooted in a reality that is as raw as it is researched. An alive and breathing quality pervades her art, which makes the hard truths Das tells all the more soul crushing.
Bringing her A game to her latest after Firaaq and Manto, the director scores a hat-trick in Zwigato's slice-of-struggle. A clever portmanteau of Zomato and Swiggy, Zwigato is not so much a scrutiny as it is an acknowledgment of gig worker woes in an environment of entitled customer and administrative apathy.
Set in Bhubaneshwar, Das flips through the pages of immigrant Manav Mahato (Kapil Sharma) and his wife Pratima's (Shahana Goswami) daily lives in the post-pandemic era. They are weighed down by a money crunch, but try to scrape along with their head held high while providing premium education to their son and daughter as well as medical care for a bedridden mother.
Every day poses a fresh set of challenges for Manav's delivery man when he gets on his bike dispensing boxes of food guided by the titular app, yet barely finds any time to eat his own.
Previously a factory supervisor, his grasp of technology is shaky and frequently manipulated to his disadvantage by a system that promises incentives but delivers none.
Every last-minute cancellation, an unfavourable review, moving in and out of designated zones or the slightest of delay and it's back to square one — a hurtful prospect that pinches a lot more when the price of fuel is touching the sky.
From an outsider's perspective, it's a steady, autonomous job but 'Ghulami toh yahan par bhi poori hai sirf maalik nahi dikhta,' cries Manav at the futility of it all.
Much like the immigrants of Gaman and Dharavi, disenchantment creeps in the desires of these Dhanbad natives.
Employment is akin to finding a needle in a haystack and Manav's recurring dream, where he bumps into his wife in a snake print sari, mirrors his anxiety over it. In a whimsical touch, Pratima's fondness for a shape-shifting Naagin television series sneaks into Manav's subconscious.
A delivery partner's plight may be at the centre of Zwigato's concern but his significant other's handling of hardships is no less noteworthy.
Das looks at their respective response through the prism of gender, which duly highlight Pratima's strength and Manav's vulnerability.
Despite Manav's reluctance, Pratima is keen to work and share his financial burden in the same determined tone as Mahanagar's Madhabi Mukherjee.
Where her partner is chasing a government scheme that may or may not exist, she experiences a newfound independence in filing an application. Where the uniform is a reminder of drudgery for Manav, Pratima sees it as a purpose, a possibility.
Cinematographer Ranjan Palit's lingering close-up of her awestruck face on seeing an ice skater on television is telling of the balancing act she wishes to perform.
Life is tough. but Zwigato finds a touch of humour in it.
Its most delightful embodiments are Manav and Pratima's precocious kids (Prajwal Sahoo, Yuvika Brahma) whose attraction for the mobile phone and YouTube's far-reaching influences fill them up with endless possibilities.
Oblivious to the exploitation concealed in lucrative deals (when Gul Panag peddles electric bikes), cynicism of grim reality (when Swanand Kirkire states only five people control three-fourth of India's wealth) or ruthless face of corporatisation (when Sayani Gupta dismisses lack of opportunity as luck), they are too busy sneaking under the blanket and catching a glimpse of a viral video.
But the world outside their smartphones isn't kind to the marginalised or minority.
Be it in the desperate inquiries of jobless young men, urban snobbery of prejudice filled minds or uncalled-for religious discrimination, the divide runs deep.
Known to pick her actors with care, Nandita Das finds a remarkable fit in Shahana Goswami. Her gentle optimism and carpe diem spirit never lets Zwigato resign to its fate. So strong is her magnetism even her disillusioned husband cannot deny its sway.
Kapil Sharma plays these contradictions with marvelous conviction, erasing the unpleasant memories of his facetious act in Kis Kisko Pyaar Karoon and Firangi.
A far cry from his playing-to-the-gallery comedian, Sharma emerges as a heartfelt picture of aspiration and annoyance. A moving moment where he rests his head on his mother's lap after a bad day at work underlines the value of his person and performance.
Zwigato's real locations, real people and real sounds give a face to this taken-for-granted omnipresence whose key word is 'order' yet the customer deludes itself into believing it's a mutually beneficial exchange where one devours an avocado and another drives off in search of respect and remuneration.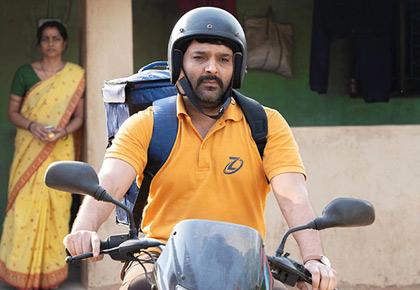 Source: Read Full Article