You'll fall in love with Jackie Shroff… yet again!
'I lived in a chawl for 33 years, aur potty ke liye line lagaya, holding a dabba (I would queue up to go to the loo, with a bucket in my hand).'
'Even after I became a hero, I had to stand in line.'
'It has become so ingrained in my bones that it cannot come out easily.'
"I'm a very harsh-looking man and people feel that they should not enter into my zone. But I'm like a coconut," says Jackie Shroff, with a chuckle.
It's a lazy Saturday afternoon, but nothing's lazy in this actor's super busy life.
If we go by imdb.com, Jackie Shroff is working on as many as 16 movies currently!
When I ask Jackie if it's true, he thinks back, "I have Saaho, Prassthanam, Bharat… I have two Tamil films. There are lots of things I'm working on. But I didn't realise there were so many!"
Doesn't it get tiring?
"There's some back pain… but as long as I have work, my body will keep working," he says.
There's so much one can learn from Jackie Shroff, from his attitude to life, the way he has brought up his children to the film he's closest to.
"Don't die in a death scene," is one of the many Jackie Shroff original dialogues that Ronjita Kulkarni/ Rediff.com had the pleasure of listening to.
How tough is it to sustain a career?
I've never thought about it.
One should not take on too many worries.
One should not take oneself too seriously.
Don't die in a death scene (laughs).
Don't get carried away.
Besides, what else can an actor do?
Also, one should save for that rainy day, when your bones are weak. Maar kha kha ke itne saal… paanch-paanch fight ek film mein, haddi-pasli ek karke (All these years, I've done so much action, five fights in a single film)…
You have to fall back on the money you have saved up.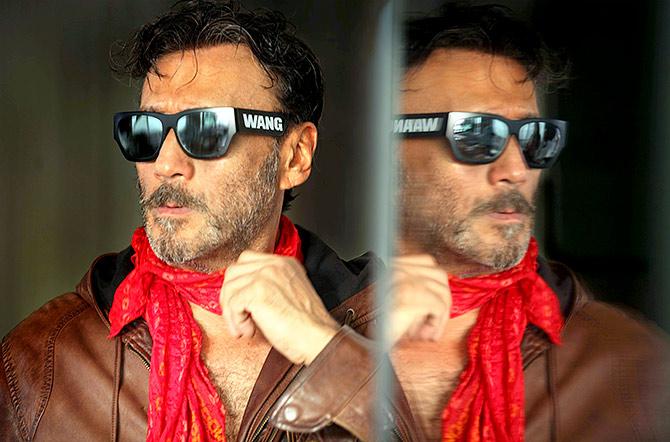 How do you unwind?
I farm with my friends, collect seeds, water plants.
I have grown spinach, methi, dill, chillies, cucumber, cherries, mulberries, brinjals…
What made you take up farming?
My Aji used to take me to a farm.
She would farm and make me sit there.
So, genetically, it's become a part of me.
When I was small, I had got measles. So she made me sit under a tree — I think it was a neem tree — and she kept, milk, rice and sugar under the tree.
My mother and Aji were working, while I was playing under the tree.
And I noticed that ants were crawling into the food.
Then, I got that food for my lunch.
In two days, the measles vanished!
So the saliva of the ants cleansed me… no marks, nothing!
The plant world is a different world. It gives me energy.
The young Jackie Shroff had a wild reputation. How would you compare yourself with your son, Tiger?
At his age, I was working.
I started doing films when I was 25-26.
I started modelling at 21.
As a teenager, I would play in the jungle behind my house. At that age, Tiger was also playing football and basketball.
Luckily, he was more inclined towards sports than the computer.
It's okay to be on the computer, but not for 8-10 hours. That's too much strain on the body.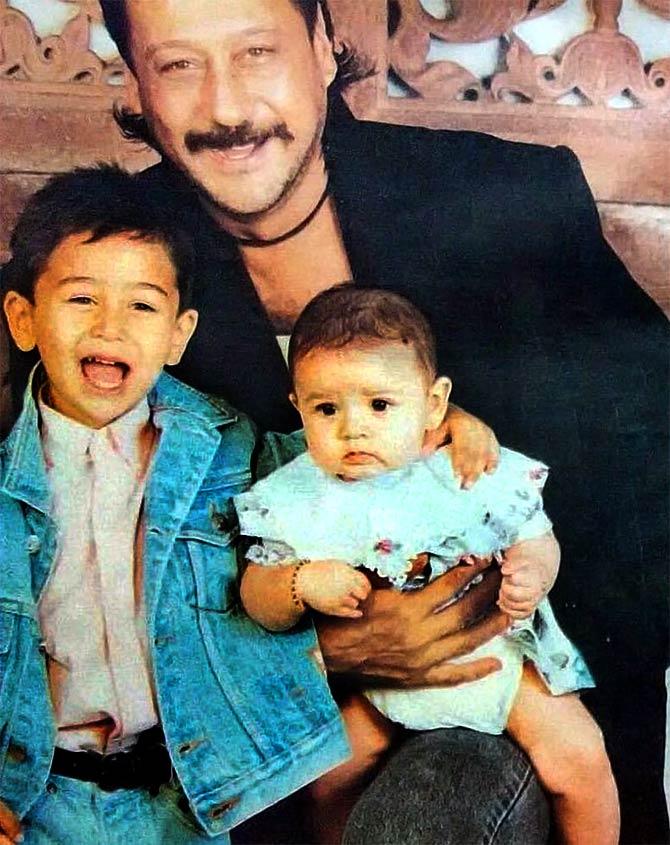 How similar are your personalities?
I was little reclusive, so is he.
Genetically, barabar hai. We are similar.
He's definitely got a lot from his mother (Ayesha) too.
But our style of working is the same.
There's a lot of me and my mother in him.
(Daughter) Krishna has a lot of Ayesha in her.
Tiger is just like me. Khula toh khula, or nahin khula to kona mein pada raha (If he opens up, he will really open up, otherwise he will sit in a corner).
If the conversation is about work, he will enjoy it. If it's gossip, he's not interested.
Krishna is all about partying.
She has opened an MMA gym. She hangs out there, trains there.
She plays football in the evenings; she plays in the Bandra League.
My kids are very sporty.
Sports mein pehle daal deneka bachche ko. Phir cigarette, etc, sab gayab. Stamina ke chakkar mein sab bhool jaate hain (One should enrol their children in sports. Then they will not think of cigarettes, etc, as they want stamina).
Discipline aa jata hai (Your life becomes disciplined).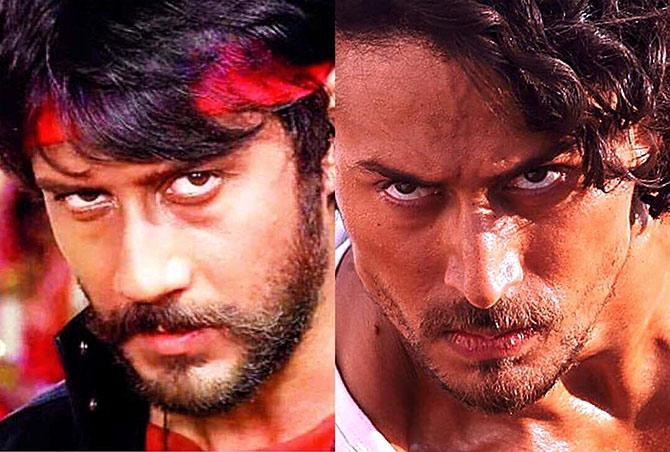 Did you watch Tiger's Student Of The Year 2?
Yes, of course. How can I not see my son's film?
Mazaa aaya (It was fun)!
A porcupine always calls its young 'soft' (laughs).
Aur mein kya bolun (laughs)?
It's better not to talk (laughs harder)!
You play Salman's father in Bharat. How has your rapport been with him?
The rapport has been fantastic.
He's always looked up to me as a senior.
He was assisting in the film, Falak (1988), in which I starred.
I used to take his photographs to my producers, to show that there's a good looking boy out there.
I had taken him to (producer) K C Bodakia. Bokadia said his brother-in-law was making a film and he asked me to take him there and he would get a job.
That's how he got Biwi Ho Toh Aisi.
It was like doing something for my child. That kind of feeling was always there.
I thought he was a good-looking kid from a good background. So I would go around with his pictures and he finally got the opportunity.
And now, he himself has cast me as his father in his film — Bharat is his home production.
I have a cameo but it's an important role.
My character says, 'Haath nahin chodna, saath nahin chodna (Don't leave their hands, don't leave them).' He's the backbone of the film.
Salman gave it (the character to me) because I think he looks up to me. He loves me as someone who has taken care of him as a kid.
Do you meet up socially?
If we go to a party, mein yahaan-wahan dekha, woh yahaan-wahan dekha and nikal jaate (I look around, he looks around and then we leave).
I hang around with everyone and he hangs around with everyone. It's not like we stand together and chat the whole night.
What's the most important lesson you have learnt from your career?
Doosre ke ghar mein nahin jhaakna (Not to spy on someone else's home). See what's happening in your own home.
Do you still dream of your Teen Batti (chawl, located in posh Malabar Hill, south Mumbai) days, where you grew up?
I don't think so… I go there.
The landlord houses four children on rent.
So in the room where my mother, father, my brother and I would sleep, four children sleep in those beds now.
I go and sit there sometimes.
How do you remain so grounded?
Because I lived in a chawl for 33 years aur potty ke liye line lagaya, holding a dabba in my hand (I would queue up to go to the loo, with a bucket in my hand).
Even after I became a hero, I had to stand in line.
It has become so ingrained in my bones that it cannot come off easily.
Why didn't you move out after you became a hero in 1982?
I moved out about four-five years after becoming a hero; I had finished the film Shiva Ka Insaaf (in 1985) by then.
My mom had hung a large photograph of me in Shiva Ka Insaaf, that's why I remember (that we still lived there when the film released).
Why didn't you shift out earlier?
I was happy there.
I was born there, my friends were there.
The vibration of my brother, who had passed away, was there.
My parents were happy, they didn't mind living there.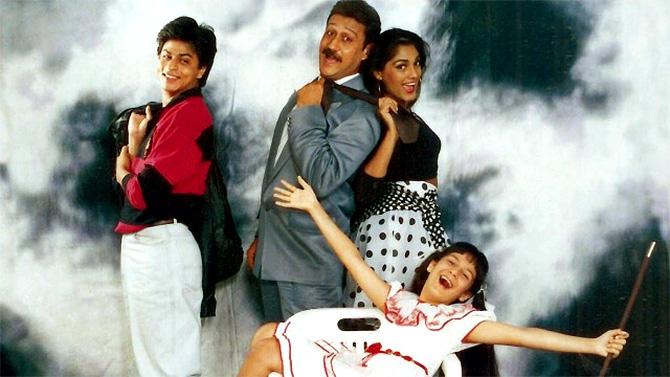 Which of your films is the closest to you?
King Uncle.
My role is the caricature of a man who hates kids and finally adopts one.
It was a beautiful thought — the adoption of a girl child — and it should be the call of the nation.
I liked doing it.
My kids have grown up watching Kind Uncle and they loved it.
What about your other more successful films?
Yes, I know… Parinda, Gardish, Rangeela, Ram Lakhan, Tridev…
But we don't count our hits or our critical acclaim or awards.
What touches your heart can be something else altogether.
What's the one thing your fans don't know about you?
I'm very environmental.
Saving water has become coffee table talk. But what are you doing about it?
In many bottles, in many taps around the world, plastic fibre has been found.
If you read about it, you will be scared to see how much we plastic we consume.
Aadha pair toh kabar mein hai, jo bacha hai woh bachchon — sirf apne nahin — sabke bachchon ko sambhalle (One foot is already in the grave, whatever is left should be spent on taking care of children).
This is the responsibility of every citizen.
Let's not poison our children.
Let's not leave behind a legacy of no water.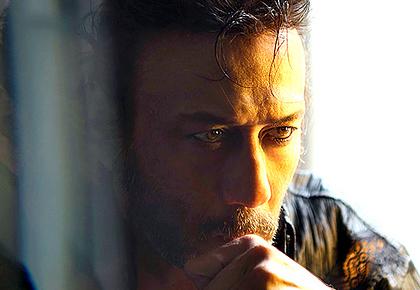 Source: Read Full Article