The Family Man 2 review and release LIVE UPDATES: Manoj Bajpayee's series is now streaming on Amazon Prime Video
The Family Man Season 2 review and release live updates: The Family Man Season 2 stars Manoj Bajpayee, Samantha Akkineni, Priyamani, Sharib Hashmi, Seema Biswas, Darshan Kumar, Sharad Kelkar, Sunny Hinduja and Shreya Dhanwantary among others.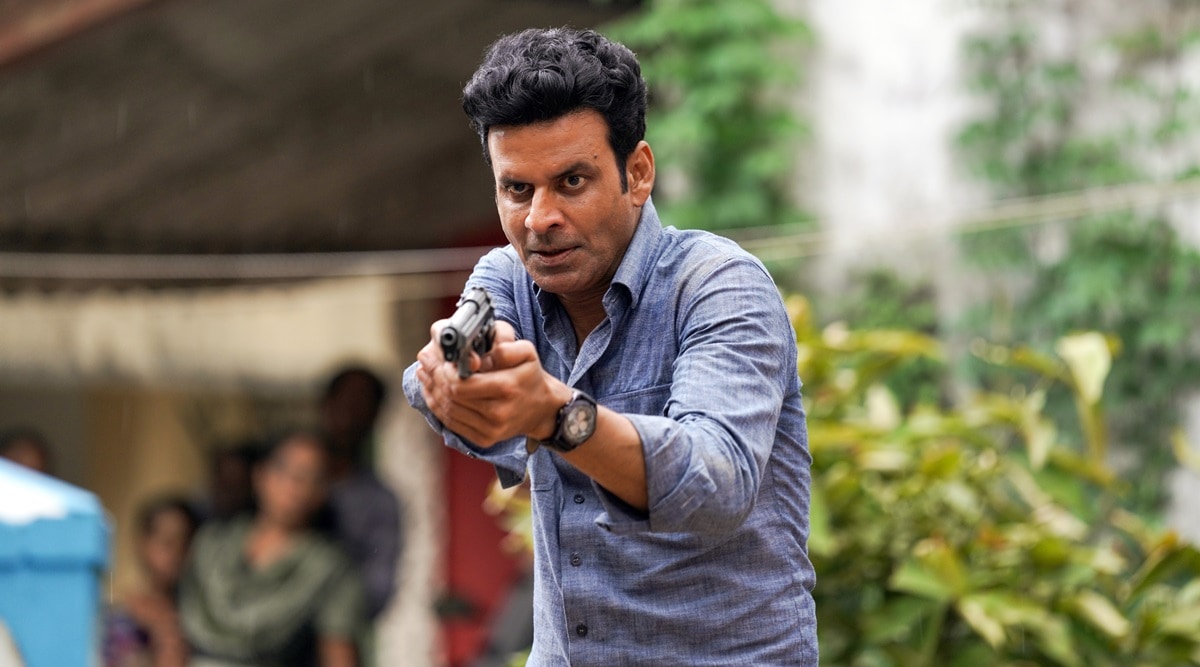 The Family Man Season 2, starring Manoj Bajpayee, Samantha Akkineni, Priyamani, Sharib Hashmi, Seema Biswas, Darshan Kumar, Sharad Kelkar, Sunny Hinduja, Shreya Dhanwantary, Shahab Ali, Vedant Sinha, Mahek Thakur, Mime Gopi, Ravindra Vijay, Devadarshini Chetan, Anandsami and N. Alagamperumal, has released on Amazon Prime Video.
The second season marks the digital debut of popular south Indian actor Samantha Akkineni. Though her appearance in the trailer has generated some controversy, the makers stood by her and said that she "took an extreme risk to do this role." Director Raj Nidmoru told indianexpress.com, "Samantha's choice of doing The Family Man 2 is an extremely risky one, especially if you see how passionately her fans follow her work. Already there are few comments saying, 'What did you do to our beautiful Samantha?' I said, 'She is still beautiful but in just a different role.' Someone like her doing this role is very risky. It is brave to say, 'I am going to let go of all the things people look in me, in my character and I will embrace a completely different, contrasting character and try and do my best with it.'"
After the controversy regarding the depiction of Tamil people and their culture in The Family Man Season 2 erupted, Raj & DK issued a statement that read, "Some assumptions and impressions have been made based on just a couple of shots in the trailer. Many of our lead cast members, as well as key members of the creative & writing team, are Tamilians. We are very cognizant of the sentiments of the Tamil people and Tamil culture and have nothing but the utmost love and respect towards our Tamil people."
From the trailer of Season 2, it seems like Srikant Tiwari, played by Manoj Bajpayee, has taken a job that has nothing to do with the intelligence force, but he slowly finds a way back to his old roots. The Family Man always focused on Srikant's home-life as well as work-life as the show's premise relies on the fact that people with dangerous jobs can have an equally demanding home life. This season too, it looks Srikant's marital life is on the rocks as he is trying to patch things up with his wife, played by Priyamani.
Manoj Bajpayee shared with indianexpress.com, "They have created such a fantastic creative piece with season one, and the second season is uninfluenced and unimpacted by the success of the first season, because we already shot the first schedule by the time the first edition was out."
He added, "The family has moved on, Srikant has moved on and he has new challenges on work front and I am restlessly curious to know how people are going to receive Srikant in these new circumstances, how they will welcome this explosive character like Samantha's. That way, I am assured we have a great product in hand."
Follow all the latest updates about The Family Man Season 2.
In a social media post, Raj & DK said, "So the day is finally here… Every filmmaker has a tale to tell at the end of every project about its highs and lows. For us, The Family Man Season 2 has proved to be our most challenging project yet."
They added, "For us, staying positive and optimistic has possibly been the hardest. The only thing that has kept us going through all of it is the constant love and appreciation (and the constant pressure) that we have received from all of you." READ MORE.
The Family Man Season 2 is already streaming on Amazon Prime Video.
Sharib Hashmi, who plays JK on the series, told indianexpress.com, "When your first season becomes such a hit, things are on the edge. I was equally curious about a lot of things at the end of season one, just like the audience. But they'll get all the answers. The script of season two was so engaging, I read it at one go. The thrill element is very fast-paced this time with more action scenes. My hopes soared after reading the script and I knew then and there that we've got another winner. Like how the first season revived my career, its second season will take it to newer heights." READ MORE
In a surprise move, Amazon Prime Video released The Family Man Season 2 around 8 pm today. You can start your binge-watching now!
The makers of The Family Man are all set to drop the show's second season after a long wait of almost two years. The thriller starring Manoj Bajpayee was an instant hit with the audience as soon as it released in 2019 and continues to be one of the most popular shows in India's OTT space. The story of Srikant Tiwari, played by Bajpayee, started off as he was trying to strike the perfect work-life balance but it escalated into a high-stakes plot that ended on a huge cliffhanger.
With the second season releasing on June 4, here's revisiting the first season to decode everything that worked for The Family Man. READ MORE
Many fans of The Family Man show are ready to dive into the world of Srikant Tiwari, played by Manoj Bajpayee, once again with the second season releasing on Amazon Prime Video on June 4. But before you get the popcorn ready, we give you a quick recap of what happened in that cliff-hanger of an ending in season one so that it becomes easier for you to pick up where it left off. For those who have not watched the show, consider this as a spoiler alert. READ MORE
Manoj Bajpayee shared on Twitter, "So the day is finally here…! Season 2 drops at midnight. And one thing is overwhelmingly clear: The Family Man now belongs to you, the audience, and all its fans. We remain forever humbled by all the love we have received. #TheFamilyMan2 @rajndk @PrimeVideoIN."
Samantha Akkineni opened up to indianexpress.com about watching The Family Man Season 1 as an audience member. She said, "It was like watching a blockbuster film with comedy, action. It was a complete package. I didn't expect to watch what I watched." The actor added, "I was patting myself that you made such an amazing decision."
Source: Read Full Article