'Thank you, Sir Richard, for focusing world attention on India'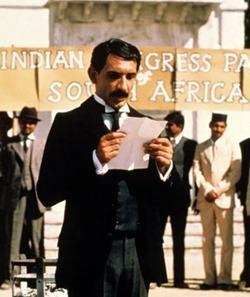 'That night — when Gandhi won Best Picture at the 1983 Oscars belonged to India and it meant a lot to a young student like me who was trying to establish his Indian identity among the Americans around him.'
Aseem Chhabra/Rediff.com, who worked as an extra on Richard Attenborough's acclaimed biopic, salutes the late legend.
I still remember the late night of April 11, 1983 when I sat in a friend's dorm room at the International House on Riverside Drive in New York City, to watch the Academy Awards ceremony.
As many Indians around the world had hoped, Richard Attenborough's Gandhi won a series of Oscars that night — eight in total, including one for best acting, direction and finally the coveted best picture.
Meanwhile, Steven Spielberg's utterly charming ET the Extra-Terrestrial, clearly the favourite among most Americans, only won three Oscars.
Towards the end of the show, the camera captured a very sullen Spielberg who just could not hide his disappointment.
Attenborough, who had spent a couple of decades trying to mount Gandhi, recounted the time when he had received Jawaharlal Nehru's full commitment and even support from the young Indira Gandhi in his heartwarming acceptance speech.
Oscar ceremonies were less flashy in 1983.
These days the entire cast and practically everyone who may have worked on a film goes up to receive the Oscar for best picture (like the circus of the Slumdog Millionaire team on the stage).
But in the 1980s, only one producer of the Best Picture would go to receive the trophy; there was time for serious reflection, which is what Attenborough did in his most gracious speech when he said:
'Gandhi simply asked that we should examine the criteria by which we judge the manner of solving our problems. That surely, in the 20th century, we human beings, searching for our human dignity could find other ways of ultimately solving our problems, than blowing the other man's head off.'
'He begged us to re-examine that criteria. He believed that if we would but agree… that we would not resort to violence. The route we would take of solving our problems would be a quite different one, to the one we accept now.'
He finished by saying to the Academy that in giving all the Oscars to the film they were 'honouring Mahatma Gandhi and his plea to all of us to live in peace.'
That night belonged to India and it meant a lot to a young student like me who was trying to establish his Indian identity among the Americans around him.
Many years later when our numbers in America had exploded and we were much more visible, a lot of us Indians wanted to thank Danny Boyle for making Slumdog Millionaire.
But that film was mired in controversies, especially in India. People were divided about the way it was made and how it reflected the India of today.
With Gandhi it was different.
That powerful story of the Mahatma, the freedom of India and the creation of Pakistan, united all Indians (except perhaps historians who complained that the film was a simplified history lesson and built on the myth of Gandhi) and even some Pakistanis.
After Attenborough's death on Sunday, August 24, Hammad Khan, a Pakistani filmmaker friend who lives in London, wrote the following on his Facebook wall:
'When I was a kid in the '80s Hackney, nobody really told me the epic story of how my ancestors struggled for independence from British rule — until I watched Attenborough's 'Gandhi' on TV! It was like watching Star Wars on Earth for this boy… Thank you for such important moments in my childhood, Dickie Attenborough. RIP.'
Gandhi launched the film and television careers of so many young Indian actors.
I watched the film again on Monday night and was thrilled to see many actors in small roles — some with dialogues and others just extras (just as I had been in the film for four days).
It was such a delight to see young Alok Nath, Neena Gupta, Supriya Pathak, Mohan Agashe, Pankaj Kapoor, Amrish Puri and the late Sudhanshu Mishra, who has just one line in the film, while his brother Sudhir was a regular extra.
And long before he became a three-time Oscar winner, Daniel Day Lewis played a brief role in Gandhi.
I got to know Attenborough rather late — perhaps with his 1977 World War II epic A Bridge Too Far, with its massive star cast.
The same year, Satyajit Ray cast him as General Outram in Shatranj Ke Khilari. Attenborough's Outram was the sinister representative of the British government who plots to take over Awadh from its ruler Wajid Ali Shah.
Attenborough the actor did not speak much to me, although I did see him later in Jurassic Park (obviously Steven Spielberg had gotten over his disappointment on that Academy Awards night in 1983) and Shekhar Kapur's Elizabeth.
It was Attenborough, the director, who interested me more.
He followed Gandhi with a rather uninspired adaptation of the hit Broadway show A Chorus Line (1985). And critics did not care much for his Chaplin (1992).
In 1987, Attenborough made another strong film that I deeply connected with.
Cry Freedom told the story of the South African freedom fighter Steve Biko (played by an exceptional Denzel Washington) and his friendship with Donald Wood (Kevin Klein), a white journalist, also from South Africa, and an anti-apartheid activist.
It was a powerful story of South Africa, made a lot more accessible with American actors.
The South African struggle was still on and Cry Freedom was an important piece of work at that point in time.
Plus, I had a personal connection with the film, since Woods was a friend of my father Hari Sharan Chhabra and he had visited our home in New Delhi a few times.
I also liked his overtly melodramatic — a tearjerker — but very well acted Shadowlands, about the author C S Lewis, with Anthony Hopkins and Debra Winger.
Attenborough lived a rather long and rich life. But as Indians we were blessed that he dedicated a substantial part of his professional life to making Gandhi.
In her brief acceptance speech for her own Oscar, Gandhi's costume designer Bhanu Athaiya said what most Indians would have wanted to say to Attenborough: 'Thank you, Sir Richard Attenborough, for focusing world attention on India.'
Image: Ben Kingsley in and as Gandhi.
Also see: Walking the last walk with Gandhi
30 Years of Gandhi
'Sir Richard must have felt very uncomfortable'
Source: Read Full Article