Sukhee Review: Shilpa Shetty Looks Great But…
…She does not have the acting heft, of say Sridevi in English Vinglish, or Vidya Balan in Tumhari Sulu, observes Deepa Gahlot.
Hindi cinema has, in the last few years, started telling interesting stories about women, and here's a film that digs out the old bored housewife chestnut.
In Sonal Joshi's Sukhee, when the eponymous character is introduced, she is 20 years into a marriage, living in a small town and coping with a grumpy husband and disgruntled teenage daughter.
When news of an impending high school reunion arrives, a video of her student days surfaces on social media, which shows that she has become the kind of woman she never wanted to be.
In the video, Sukhpreet aka Sukhee and her gang of three gal pals declared that they would be 'always wild never mild', their motto being 'Bedhadak, Besharam, Beparwah'. They swear they would never become domesticated (bachcha, kachha, banyan type), and yet, here is Sukhee packing tiffins, looking after old Dadaji (Vinod Nagpal), her sole support, and helping with school projects.
The three writers of the film (Radhika Anand, Paulomi Dutta, Rupinder Inderjit) give no indication of how the most spirited of the lot turned into a submissive homemaker, whose husband Guru (Chaitanya Choudhry) and daughter Jassi (Nitanshi Goel) treat her with rude contempt.
Why, over 20 years of living in a small Punjab town, she has no friends, just annoying gossipy neighbours, and what prevented her from seeking a career; why she never met or communicated with her old friends and lost touch with everything she used to be.
Guru, whom she married after an exciting romance, could not have immediately turned into an enslaving monster.
And why on earth does a rich family have no domestic help, just so Sukhee's constantly harassed state can be explained?
To justify her isolation, there is a very forced and needless estrangement from her parents.
Because the character and her predicament are not convincingly established, what follows is off kilter too.
Sukhee goes to Delhi against the wishes of her husband and catches up with her gang (Kusha Kapila, Dilnaz Irani, Pavleen Gulati). They try to recapture the good ol' days with a lot of drinking, shrieking and chaat-binging — the last leads to a bizarrely unfunny scene in a spanking clean public toilet!
Because Shilpa Shetty is Sukhee, she has perfect skin, slim figure and glossy hair. Everybody at the school reunion has aged, except her and the nerd-turned-hottie Vikram (Amit Sadh).
He was her silent admirer in school and loves her still, so there's a ready-made prop for her push-button self-rediscovery.
There is also evidently plenty of spare cash for a wardrobe makeover from salwar-kameez to oomphy Western wear.
Meanwhile, back home, Guru doesn't know where the tea is kept or even how to order takeout. Father and daughter look morosely at unappetising burgers at every meal!
The man who said, 'What do you do at home all day?' gets his comeuppance. But in a post-COVID world, what man would be clueless enough to still say that?
Such a paint-by-numbers female empowerment plot could only have been helped along with a lot of humour, and maybe some more about the other three friends who have led more exciting lives, which, however, come with their own set of problems.
In Sukhee's case, it is like she locked herself in a cage, threw away the key and then hopes for rescue!
To the film's credit, it acknowledges that men can also feel trapped in traditional roles, as Guru tells his drinking buddies, he also had dreams which crashed before family responsibilities.
Shilpa Shetty looks great but does not have the acting heft, of say Sridevi in English Vinglish, or Vidya Balan in Tumhari Sulu, to make Sukhee sympathetic.
Since she is in almost every frame, the other actors remain in the shadows, except maybe Chaitanya Choudhry and Kusha Kapila, who do their best with their limited screen time.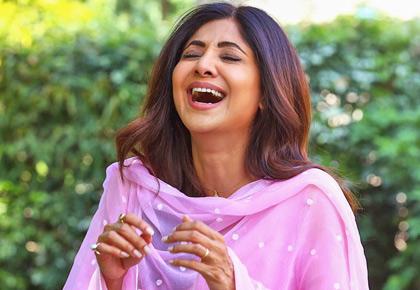 Source: Read Full Article