Shashi Kapoor: The quiet showman
Shashi Kapoor, the star who made us laugh, romance and cry, passed into the ages on December 4.
We look back at the often underrated actor, who reinvested all his earnings as an actor into making films and keeping Prithvi Theatre alive.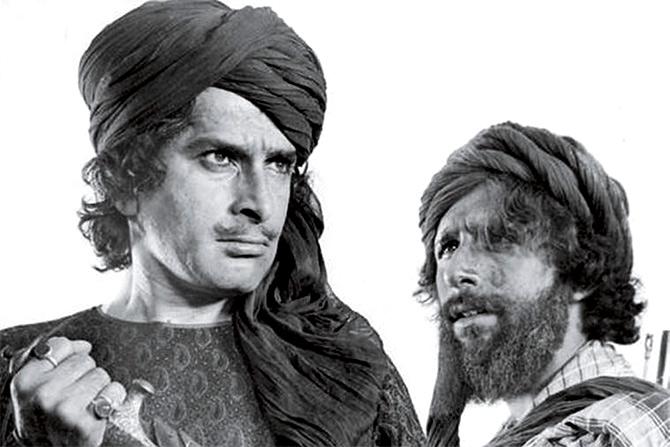 In the late 1970s, when the Hindi film Junoon was to be shot, its cast and crew were in for a pleasant surprise.
Shashi Kapoor, the handsome actor who turned producer with this venture, had arranged for everyone to stay at the Clarks Avadh in Lucknow for two full months.
The motley set of established actors, newcomers and technicians had hardly experienced such treatment.
"He got rid of the hierarchy we were used to in mainstream cinema and made it democratic. It felt like a family," says Govind Nihalani who was cinematographer for the project.
It was a quality that remained consistent in all films produced by Kapoor. Then again, the charming star had often stated that when he made cinema, it would be very different from the commercial films in which he acted.
The Dadasaheb Phalke award, which 77-year-old Kapoor is set to receive in May, comes with a swarn kamal or golden lotus, a cash prize of Rs 10 lakh and a shawl.
More important, it will bring recognition for his contribution to cinema that many feel has been overlooked for too long.
Within film circles, people are unanimous in their praise for the veteran actor. "After the announcement of any award there are always murmurings of discontent," says Shabana Azmi. "It shows the respect the film industry has for him that the announcement has been met with joy in all quarters."
Acting was among the first skills Kapoor learnt, having been groomed in the theatre starting from the age of four by his father, the illustrious Prithviraj.
"They cast him in whatever small role suited him. He was thrown to the lions, and not meted out any special treatment," says film journalist Bhawana Somaaya who interviewed him several times.
Kapoor followed his brother Raj into the moving pictures in the late 1940s.
Most famously, he was the child actor who played a younger Raj in Aag and Awaara.
His first full-fledged roles as lead were in the 1961 films Char Diwari and Dharmputra.
He followed this up with more than 150 films until the late 1990s. Here too, his approach was democratic as he chose films in Hindi and English, took on big and small parts and shuffled comfortably between mainstream and arthouse.
He was the only actor at the time to consistently appear in international films.
Kapoor first starred in The Householder, a partnership between director James Ivory and producer Ismail Merchant.
He then worked for their Merchant Ivory Productions in films such as Shakespeare Wallah and In Custody. Other directors like Guy Green and Conrad Rooks signed him on too.
His fan base, as director Shyam Benegal recalls, spread to North Africa in Algeria and Morocco. Illinois-based Beth Watkins, author of the "Beth Loves Bollywood" blog, is a self-confessed mega-fan of the actor because he can be "funny, romantic, authoritative, or vulnerable equally believably".
When Kapoor finally retired from acting in 1999, it was with an international film called Side Streets.
In India, these achievements were overshadowed by the roles he played in loud Hindi films. He did projects as lead — take Sharmilee and Jab Jab Phool Khile — and as supporting lead, for instance, in Kaala Patthar.
Kapoor often appeared alongside Amitabh Bachchan, memorably in Deewar and Do Aur Do Paanch.
He even played the famous detective Feluda, a character from Satyajit Ray's novels, in a Hindi television film made by Ray's son, Sandip.
Kapoor expertly balanced his two lives in theatre and cinema. The Kapoor family ran travelling stage shows in the 1950s when Britain's Geoffrey Kendal and his Shakespeareana Company were also touring India.
Kapoor joined the Kendals when they needed male cast members and soon fell in love with the elder daughter, Jennifer.
According to the memoirs of Felicity Kendal (Kapoor's sister-in-law), the idea of their marriage met with opposition from both families.
Jennifer soon left the company and an outraged father, moving to Mumbai with her young husband, who was known as a rising movie actor here.
The couple had three children. The eldest, Kunal, heads Prithvi Theatre. Karan, next in line, started out as a model before turning to photography. Kapoor's daughter, Sanjna, is an active theatre personality.
Unlike the other Kapoors, he had a slender frame paired with twinkling eyes and the hint of a dimple.
In Benegal's opinion, he is the best looking actor of his time and perhaps all time in Indian cinema.
After Jennifer died from cancer in 1984, a heartbroken Kapoor's health began to decline and he began gaining weight.
"There are few people who experience genuine love and those who do, don't recover," Kunal once said in an interview with Mumbai Mirror.
Kapoor believed in total surrender to the director's vision, even trusting relative newcomers, says Nihalani.
But lofty praise seems to have come from his father-in-law after watching Shakespeare Wallah, starring his younger daughter and Kapoor.
On her blog, Watkins reproduced a letter Geoffrey wrote to Felicity: "You are damn good, but Shashi is wasted. The only shot worth seeing is the shot of him by himself, when everyone else has gone to bed, a real winner. He should go into films in English with foreign directors who know how to exploit him."
Kapoor would, of course, go on to do just that.
As the roles in Hindi films failed to satisfy him, Kapoor launched a production company called Filmvalas. He wanted to replicate brother Raj's success in making cinema that appealed to a variety of viewers.
Kapoor started with Junoon, directed by Benegal, after which, the two joined hands for Kalyug.
He had a penchant for encouraging talent. He invited Nihalani to make Vijeyta and introduced Aparna Sen as director with 36 Chowringhee Lane. After Utsav, the period film directed by Girish Karnad, went over budget, Kapoor found it difficult to continue producing films.
While spending time at studios where his films were being made, he would visit Juhu to supervise plans to create a brick-and-mortar space for the Prithvi Theatre.
Somaaya remembers watching him and Jennifer in discussion there. "It was just a piece of land then. They would meet the architect, explain how it should look and where the audience would sit."
Director Sudhir Mishra, who spent time with him in Paris during an industry event, had tweeted fervent praise for Kapoor almost as a premonition, days before the award for the actor was announced.
Kapoor was known to be a regular at film festivals. He told Filmfare in a 1970s interview that he preferred taking his family to Shamiana for a film and coffee to parties with colleagues.
There were other little things too.
He sought perfection in daily conversation, for instance, correcting Somaaya's Hindi diction if she said "faansi" instead of "phaansi" or "haan" instead of "ji".
When a young fan approached him at the Prithvi Theatre asking if she "can have an autograph, please", he replied with a smile, "Yes, but ask me again. And this time ask if you 'may' have one."
Kapoor, who is now unwell, lives nearby in Juhu and is occasionally seen at the theatre in the evenings.
He will be the third in the family to receive the award, following his father, Prithviraj and brother, Raj.
"He belongs to the last breed of great cinema people who put money where their mouth was and where their beliefs were," says Mishra, likening him to Bimal Roy, Guru Dutt and Raj Kapoor.
Indeed, quite like Raj, the younger Kapoor put all his earnings from acting jobs back into making films and keeping Prithvi theatre alive.
As Mishra further observes, "If that is not philanthropy, I don't know what is."
Source: Read Full Article