Satyameva Jayate 2 review
Satyamev Jayate 2 has a dated circa 1990s script which won't find acceptance with today's generations, observes Syed Firdaus Ashraf.
I have always wondered why it is called 'Law & Order', not 'Order & Law'.
This was explained by former editor-turned-politician M J Akbar in one of his articles. He pointed out that Law precedes Order in the English language because if everyone follows Law, then Order in society is automatically followed.
But this is not the case with Satyameva Jayate 2 because every character wants to break the law for corruption resulting in 'no order' in society.
Members of the ruling party and the Opposition gang up against Home Minister Satya Balram Azad (John Abraham) to defeat his anti-corruption Bill in the assembly.
He is mocked for his failure.
So what does he do?
He becomes a Shahenshah-like character.
The home minister takes the Law in his own hands to maintain Order in society.
He kills corrupt people every night without leaving any trace of the crime.
But there is a problem.
He has a twin — Assistant Commissioner of Police Jay Balram Azad (also played by John Abraham).
Jay Balram is assigned to stop Satya Balram from taking the law in his hands and stop these extra-judicial killings of corrupt individuals.
What follows is dishoom dishoom and more dishoom dishoom with lots of dialoguebaazi.
At one point, you wonder whether the ticket price is worth seeing the soon-to- be 49-year-old John Abraham's six pack abs.
Even as you ponder this, there's yet another twist in the plot.
You realise both Johns are on the same side.
Then, we are introduced to the third John!
In a flashback, we meet John the third, who plays Satya and Jay's activist father.
Now, this activist is fighting for the implementation of a Lok Pal Bill, like Kisan Baburao 'Anna' Hazare once did.
One difference though: This Lok Pal crusader is a beefy chap unlike the reedy Hazare.
He tells his sons that if they stand united against corruption, no one will be able to get to them.
Writer-Director Milap Zaveri gives each John Abraham their own takyakalam (catchphrase).
'Mera funda Gandhi nahin, danda hai'.
'Gandhi sahi hai, magar Bhagat Singh mera banda hai'.
Between these three Johns, Divya Khosla Kumar's presence as the home minister's wife, is wasted.
The only saving grace in the film is a passable item song Kusu Kusu performed by Nora Fatehi.
The biggest problem is the script.
It is a dated circa 1990s script, which won't find acceptance with today's generations.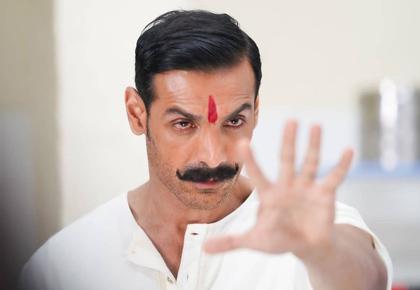 Source: Read Full Article