Review: Kacchey Limbu Is Raw
From an observation of middle class insecurities and parents burdening their children with their dreams, the film becomes an underdog story, notes Deepa Gahlot.
In a country where cricket is such a craze, even a society tournament is played with all the competitiveness of a World Cup match.
Every gully cricket player dreams of wearing the national team t-shirt some day, but many more fall by the wayside and return to their mundane lives.
Shubham Yogi's Kacchey Limbu (streaming on Jio Cinema) looks at the friction caused in a middle-class family, when the son Akash (Rajat Barmecha) would rather pass up a job to chase a star spot in an 'Underarm Premier League' being planned.
He has the skill to hit every ball for a six, but at age 26, is still confined to gully cricket, much to his frustration.
His sister Aditi (Radhika Madan) nicknamed Ditto because she always aped her brother, would have liked to play cricket, but like an obedient girl, learns Bharata Natyam because her mother (Purva Parag) says so, and has to try to get into medical college because that's what her father (Mahesh Thakur) wants for her.
She wishes to be a fashion designer, but, as her father says, at that age, every girl wants to be one.
At one of those dining table arguments, Akash says that he will go for a job interview if Aditi forms her own team and beats him at the society tournament.
She takes up the challenge but hasn't a clue about how to go about assembling a team of five players (in gully cricket, it is not a team of 11).
Kabir (Ayush Saini), who has a crush on her, defects from Akash's team to Aditi's.
The remaining three are an elderly former player (Jaywant Wadkar), a kid (Vedaansh Jaju) and the society's alcoholic security guard, Zakir (Faiz Khan).
From an observation of middle class insecurities and parents burdening their children with their dreams, the film becomes an underdog story — Lagaan is duly referenced.
The society manager derisively calls the unlikely team Kacchey Limbu, so Aditi gives that name to her team.
Then the story ticks all the boxes — their training for the match, and keeping their morale up when nobody believes they have half a chance of winning even the first match and so on.
The characters really needed to be fleshed out more — the kid, for instance, seems to have no parental supervision.
How is Kabir so close to Zakir? The guard is the one who wants to play to win, otherwise, as he asks, why play at all.
In the midst of this tension, Akash has a budding romance with a stand-up comedian (Aisha Ahmed).
The bitterness of sibling rivalry is left unexplored.
A large chunk is then taken up by the tournament, which is hardly thrilling, considering it is played in a confined space between buildings, and the 6 is a small banner tied between buildings.
Radhika Madan gamely tries to bring energy and nerve to the part, but it never really seems the outcome of the low-stakes match will impact her future much, and the story is mostly predictable.
Rajat Barmecha looks stiff and uncomfortable, and Ayush Mehra can't quite pull off the heartthrob cuteness.
Shubham Yogi does manage to bring some charm and emotional heft to Kacchey Limbu, but like its title indicates, it is a raw first feature film effort.
Kacchey Limbu streams on Jio Cinema.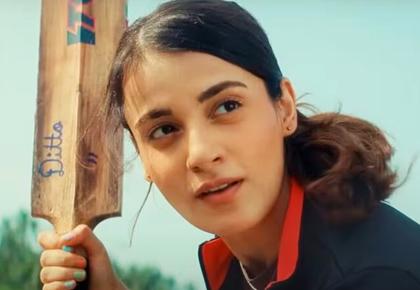 Source: Read Full Article