Pathaan Review: Shah Rukh Wows And How!
Shah Rukh Khan's weathered intensity, grizzly charisma and trademark wit lends Pathaan's all-out, devil-may-care antics a sense of purpose that evades mindless acts of mayhem, cheers Sukanya Verma.
In nearly 24 years of my career, I've never witnessed such a tsunami of enthusiasm for a Shah Rukh Khan release — advance booking surfeit, police bandobast outside the theatre et al.
That's saying something considering the hype surrounding his films like Asoka, Devdas, Kabhi Khushi Kabhie Gham or Om Shanti Om isn't an everyday phenomena and the struggle to procure its tickets in a pre-social media era is a legend of its own.
Yet, even Shah Rukh couldn't help reeling in amazement at how Pathaan's arrival in theatres has taken the form of a large-scale festival.
The excitement to see the star come out with a new movie since 2018's Zero has been building all along. Whether it was SRK's decision to slow down and take his own sweet time in deciding on his next project or teasing us with every passing special appearance, the countdown only gained mad momentum in the wake of unwarranted personal blows and controversies.
They messed with the wrong superstar.
SRK didn't choose to embody the fairy-tale aspiration of every middle-class dream.
He didn't volunteer to become the symbol of love against a culture of hate.
But a man is a sum of his choices and thought. And both his cinematic imagery and grace under fire have us convinced us that he's the champion we want to root for and drive away this band of boycotters for good.
Pathaan ceased to be a movie long ago. It became a fight, a festival that multitudes have jumped in to support and celebrate for the sake of sanity, SRK and success-starved Hindi films.
Myth or madness?
Doused in spicy masala and subversive patriotism from head to toe, Pathaan lives up to this notion in a thumping, thundering,fashion.
When we first see SRK's titular character in Siddharth Anand's dynamic espionage extravaganza, he's in shackles — bruised, beaten and battered but sense of humour unscathed.
A quintessential picture of down but not out, he quips 'Hindi only, please.'
There's a cheeky quality to his request if one hears the constant conversation about South Indian cinema supremacy over scrambling-to-survive Bollywood in mind.
Pathaan is happier focusing on crafting a bona fide spectacle through some good old-fashioned action while telling a familiar conflict with renewed vigour and astute writing.
Be it the contentious Article 370 to India and Pakistan's perennially thorny equation, Director Siddharth Anand responsibly uses current affairs and diplomatic conditions without playing safe or appearing clueless about the post-COVID-19 world it is set within.
Unravelling at a breakneck pace all over the globe from India, Pakistan, Afghanistan to Spain, Russia and Dubai, Pathaan's shifting landscapes and smouldering sensuality smoothly blend style and substance.
If one half of the movie recalls the stardom of a daredevil agent (SRK) and his deadly nemesis (John Abraham), the other doles out a face off worth the wait.
Terrorist outfits, dying dictators, abducted scientists, double crossing agents, bio-terrorism weapons, sorrowful backstories and betrayals and save-the-innocent objectives colour this largely Daniel Craig-era inspired desi 007.
Behind every successful hero and villain is a crackling team of writers who knows how to make the audience cheer for a good fight.
Shridhar Raghavan's sprightly screenplay while evoking fond memories of SRK's best hits — the iconic stutter in Darr, the betrayals of Baazigar, the bromance of Karan Arjun, the scruffy ponytail in Don 2 — and Abbas Tyrewala's priceless dialogues make the job a lot more easier for its hot and hunky cast.
Everybody looks like a perfect piece of factory manufactured action figure but their interactions are far from plastic. Never did I imagine I'd live to see characters utter words like 'orbs' in a Hindi movie.
It's also such a relief to write John Abraham is one of the best things about Pathaan without a hint of sarcasm. Tyrewala reserves some of the best lines — 'Jo patte mile hote hain ussi se baazi khelni padti hai' for his Jhootha Hi Sahi hero.
Ever wished to see Deepika Padukone in Bond girl avatar?
Pathaan is fantasy fulfillment at its seductive best.
Her ravishing, robust, body language sporting bikinis of *all* hues and necklines exudes power like few can. Equally fun are the randy, flirty, exchanges between SRK and her.
Here's a sampler:
He: Tum bomb lag rahi ho.
Her: Have a blast!
There's Dimple Kapadia, M to Pathaan's James Bond.
The actress has the heft of a rock solid professional, someone who can make tough decisions but is human enough to make us care.
Between its energetic pursuits and mid-air collisions and chases in snow and dust, Pathaan cleverly connects itself to Salman Khan's Tiger and Hrithik Roshan's War, making way for YRF's ambitious spy universe.
The franchise was always slick, but with Pathaan, it shows smarts too in a delightfully escapist way.
Discovering an unlikely action hero in Shah Rukh Khan contributes to it significantly.
It's not like he's not been doused in blood before or hammered half a dozen, zoomed off in a fancy vehicle and proclaimed grand love for Bharat Mata.
But the actor's weathered intensity, grizzly charisma and trademark wit lends Pathaan's all-out, devil-may-care antics a sense of purpose that historically evades mindless acts of mayhem.
My Name is Khan. Shah Rukh 'Pathaan fulfills his promise' Khan.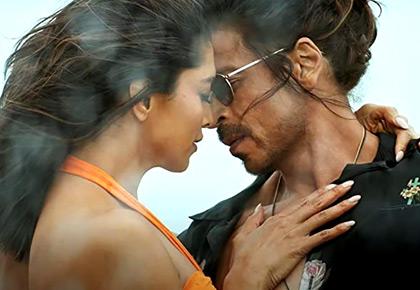 Source: Read Full Article