'I did Jawan for my love for Shah Rukh'
'He can be in one corner of the room and I will be in another corner, but I know if something were to happen to me, he would be the first person to come across because that's the connection we have.'
When Om Shanti Om released in 2007 and emerged as a runaway success at the box office, nobody thought that Shah Rukh Khan and debutante Deepika Padukone would go on to become one of Indian cinema's most iconic jodis this century.
Deepika and Shah Rukh have starred in blockbusters Chennai Express, Happy New Year and Pathaan before they got together for Jawan where SRK says Director Atlee and he "tricked" her into playing a full-fledged role.
Rediff.com Contributor Mohnish Singh listens in as Deepika explains her connect with Shah Rukh.
Are you surprised to see the kind of reaction your role in Jawan has been receiving from the audience?
Well, I don't have much to say except for thank you so much for all the love.
I really just did this for my love for Shah Rukh; everyone knows the relationship that we share.
I did not anticipate for this to become so, so special, but I am proud and happy to be here and support the team.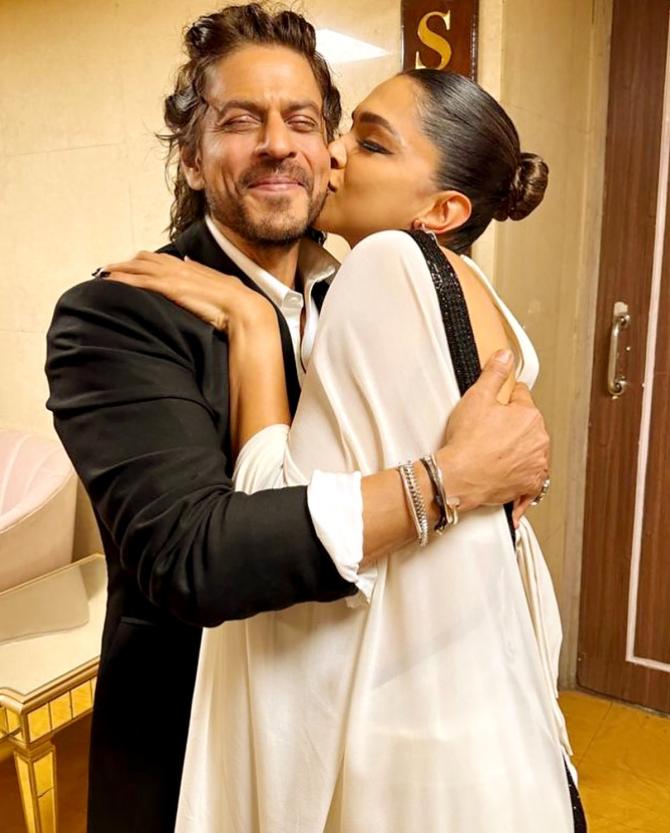 What has been the one standout thing for you in this film?
All of it has been overwhelming, to be honest. I am now discovering that I was fooled and conned (into playing a full-length role) on this stage.
I was shooting for Project K in Hyderabad when Shah Rukh and Atlee flew down to see me and narrated the whole story to me.
They told me that there was this very important part of Aishwarya in the film.
For me, it was not about the length of the role, it was about the impact the character would have.
For me, it was two-fold.
One is that everyone knows my love for him (SRK) and, you know, whatever he wants, I will always be there.
But also, the movie was so, so special that any actor, not just me, if they were offered this part, they would say yes to it because it was about the vision. Everyone here has invested in that vision.
It is similar to what Sanya (Malhotra) said that they started narrating… like, 'Why are you even wasting your energy? Of course, I am going to do it.'
Right after Pathaan, you are playing mother to one of Shah Rukh Khan's characters in Jawan. Was it easy to say yes to that?
Honestly, I did not think like that at all. I don't think actors think like that. Like, 'Oh you know, I am playing like this sultry something in one movie and a mother in my next.'
I did not approach it like that at all.
I invested in the story that we were telling and if that meant that I play the role of a mother, to enable this story telling, then so be it.
Watch: Deepika narrates how she got 'conned'
Om Shanti Om, Chennai Express, Happy New Year, Pathaan and now Jawan, all the films that you have done with Shah Rukh are successes. Are you his lucky mascot?
I feel that 'lucky charm' and all these are just very — I don't know — very throwaway terms.
It's love and respect. That's what we have for each other.
It is just immense love and respect and trust.
As actors, as people, you have to have trust.
He can be in one corner of the room and I will be in another corner, but I know if something were to happen to me, he would be the first person to come across because that's the connection we have.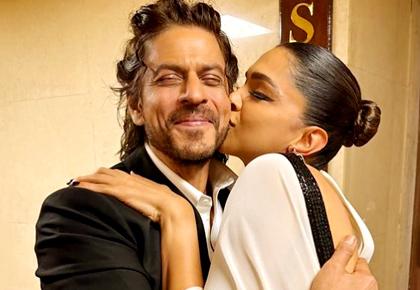 Source: Read Full Article