Bigg Boss 14 October 13 episode LIVE UPDATES: Sara Gurpal is out of Salman Khan's show
Bigg Boss 14, 13 October 2020 Episode Live Updates: The contestants who are still in Bigg Boss 14 house are Abhinav Shukla, Eijaz Khan, Pavitra Punia, Jasmin Bhasin, Nikki Tamboli, Rubina Dilaik, Nishant Singh Malkani, Shehzad Deol, Jaan Kumar Sanu and Rahul Vaidya.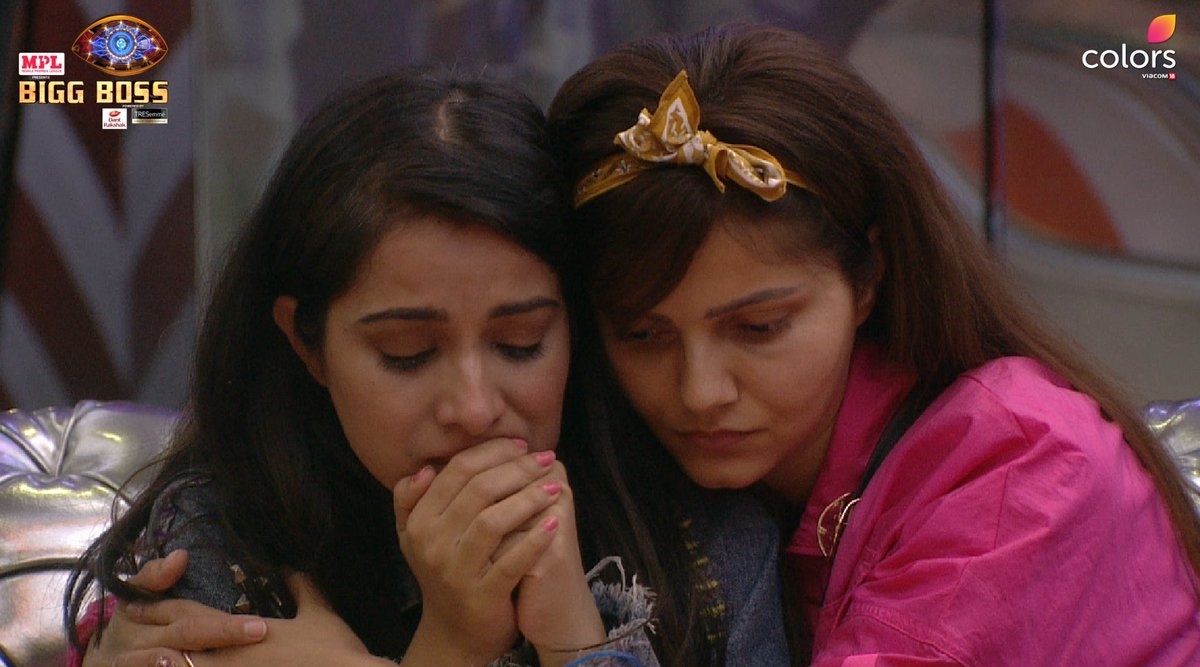 The fourteenth season of Bigg Boss is replete with twists and turns. Ever since its launch on October 3, fans of the reality show are witnessing fights, controversies, drama, flirtations and more. This year, we have a mixed lot of celebrities including Abhinav Shukla, Eijaz Khan, Pavitra Punia, Jasmin Bhasin, Nikki Tamboli, Rubina Dilaik, Nishant Singh Malkani, Shehzad Deol, Jaan Kumar Sanu and Rahul Vaidya. Sara Gurpal was eliminated from Bigg Boss 14 on October 12.
For the first fourteen days of the show, we are also getting to see three most popular former Bigg Boss contestants – Sidharth Shukla, Hina Khan and Gauahar Khan. They have been roped in as 'Toofani Seniors' who are here to make it more difficult for fresher contestants to survive in the house.
In the first Weekend Ka Vaar of the season, host Salman Khan has already pulled up the freshers for their laid back behaviour. He even told them to pack their bags and leave the house if they do not wish to pull up their socks and do what is required. The only contestant who has managed to shine is Nikki Tamboli.
After the episode, we are witnessing a change in the house. Contestants are trying hard to stand out. Now if they will manage to live up to the expectations of the audience and Salman will be seen in the coming days.
Follow all the latest updates about Bigg Boss 14.
In Tuesday's episode, new 'Senior' Nikki Tamboli will be seen using the spa facility in the Bigg Boss house. She will ask Jaan Kumar Sanu to be her personal masseur.
Manu Punjabi feels Sidharth Shukla was able to manipulate Hina Khan and Gauahar Khan. Manu said Sidharth is not only running the show but also the housemates.
Vikas Gupta shared that a lot of people feel that Sara Gurpal should not have been eliminated by Sidharth Shukla, Hina Khan and Gauahar Khan. He tweeted a poll asking if not Sara, who deserved to leave Bigg Boss house and why.
Punjab's Sara Gurpal became the first contestant to get eliminated from Bigg Boss 14. The model-actor-singer was chosen as the weakest housemate by 'Toofani Seniors' Hina Khan, Sidharth Shukla and Gauahar Khan. READ MORE
Monday's episode came as a shocker for the contestants as Bigg Boss announced nomination and eviction on the same day. The contestants were required to nominate two housemates, following which seniors Sidharth Shukla, Hina Khan and Gauahar Khan were given the special power to evict one of the nominated contestants. Nikki Tamboli, who is now a senior, was safe from the nomination process.
After the nomination procedure, the contestants who got maximum votes and got nominated were Nishant Singh Malkani, Rahul Vaidya, Shehzad Deol, Sara Gurpal, Eijaz Khan, Abhinav Shukla and Jaan Kumar Sanu. From the seven nominated contestants, seniors zeroed in on three names. While Gauahar and Hina couldn't decide between Nishant and Rahul, Sidharth was clear that Sara doesn't deserve to be in the house. Eventually, he convinced Hina and Gauahar about Sara, and they announced it to the freshers.
The sudden eviction left everyone shocked and emotional. Jaan who nominated Sara regretted his decision and was seen in tears. Rahul and Nishant were made to realise how they were on the brink of eviction and need to better their game. However, the nomination and eviction procedure brought Nishant, Rahul and Jaan closer. Joining their group was Nikki.
Nikki Tamboli, who has now become a senior in the Bigg Boss house after impressing Sidharth Shukla, Hina Khan and Gauahar Khan, had earlier said she doesn't "need someone in the game as I am sufficient independently."
Describing herself during an interview with indianexpress.com, she had said, "Honestly, I am a very funny person, and I love making others laugh. I just can't stand 'dukhi aatmas'. However, I am also a great listener, and it often happens that people share their sorrows and worries with me. I am also very talkative and I love to gossip, not in a demeaning way though. Other than that, I am a straightforward person, and do not fear anyone. I can confront anyone and any situation smartly."
Bigg Boss 14 airs Monday-Friday at 10.30 pm and Saturday-Sunday at 9 pm on Colors. It is also available before TV exclusively on Voot Select.
Source: Read Full Article