A Dazzling Actor India Just Discovered
'The challenging part was when I did not have a penny in my pocket and I was doing theatre.'
'I had to sometimes travel without a train ticket to go for rehearsals.'
'Those times were really hard on my family and me.'
'But my parents would say, "Never give up. Just keep following your dreams. Do what you dream about but when you do that, do that with great honesty and great commitment".'
Scam 2003: The Telgi Story, the second installment in Hansal Mehta's Scam franchise followed by Scam 1992: The Hansal Mehta Story, stars Gagan Dev Riar as Abdul Karim Telgi.
The actor hopes audiences will enjoy his performance in the series, but when Rediff.com Contributor Mohnish Singh asks if it will make him a household name like it did for Pratik Gandhi in Scam 1992: The Hansal Mehta he says, "Whether I will be a household name after this or not, I have no idea."
How did you get into the skin of Abdul Karim Telgi?
Many things went into creating the character; it was not one single thing.
I had to gain weight to get the look right. I had gained around 19-20 kilos.
We also needed to work on the language, the tonality of it. So I went to Khanapur, the native place of Abdul Kareem Telgi in Karnataka.
I spent a day there talking to the locals and recorded audios to understand what kind of language they speak, what is the tone of it.
Then I discovered kind of a body language that he might have because they were not many videos available of his walk or talk online.
But there were a lot of photographs.
I kind of stitched all the photographs in my mind and created a walk which I thought would be Telgi's walk or body language.
These are some of the examples, but there were many more adjustments that I had to bring in my body.
Also, to understand the script and to look at it from a point of view or what kind of person he was.
I also took help from my directors.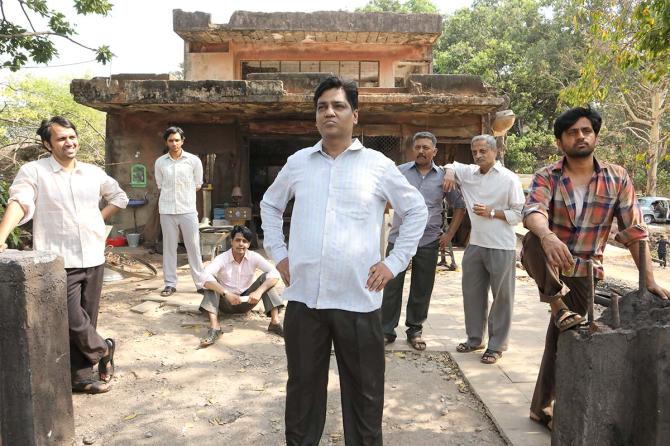 How did you bag the part?
I have been doing theatre for the last 25 years and I think Hansal Mehta knew about me from various places.
Then he saw me in the first film that I did with Sushant Singh Rajput, with Abhishek Chaubey, Sonchiraiya.
I think he liked my work.
Then he saw me in this series called The Suitable Boy with Mira Nair.
I think from there he thought I might be suitable for this role.
We all know how Scam 1992 made Pratik Gandhi a household name after release. Do you think Scam 2003 will do the same to your career?
(Laughs) I don't know.
I mean, if you had asked Pratik Gandhi that when Scam 1992 was releasing, even he couldn't have answered.
Whether I will be a household name after this or not, I have no idea.
Yes, the precedence has been set by him.
It's not an easy job to, you know, fill those shoes but I have done my work with honesty.
He is a fabulous actor and has set a great standard.
I hope people accept me for what I have done.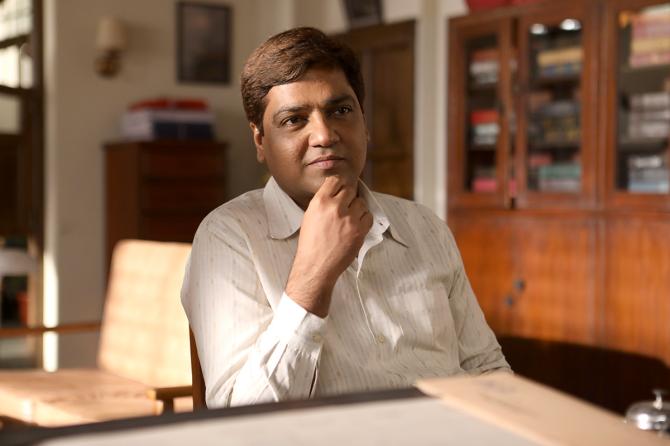 What has been the most challenging part of your career?
Career wise, the challenging part was when I did not have a penny in my pocket and I was doing theatre. I had to sometimes travel without a train ticket to go for rehearsals.
Those times were really hard on my family and me.
But my parents would say, 'Never give up. Just keep following your dreams. Do what you dream about but when you do that, do that with great honesty and great commitment.'
I followed that.
Even when times were tough during my theatre days, I kept doing it.
Thankfully, I have reached a place where I can now travel with a ticket.
Did you ever think of giving up acting and doing something else?
No. I did some other jobs to support my acting, though.
Like, I used to write songs for serials.
I have worked in McDonalds.
I have done door-to-door marketing, selling people the service that I was working for.
I have got insulted many times for that too. Doors were shut on my face.
But I never thought that I would not be an actor one day.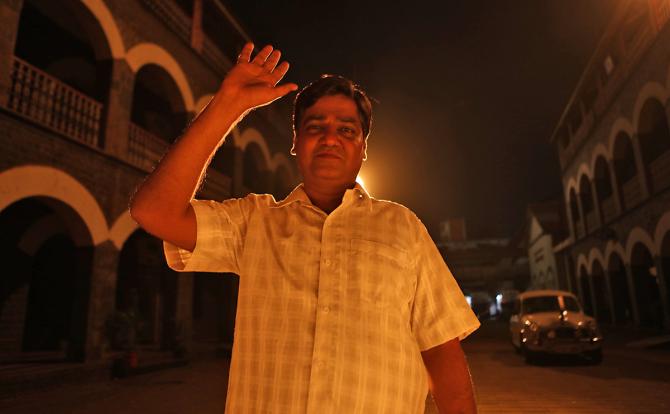 Where do you hail from?
I am from Punjab. I came to Bombay in 1993 with my family.
Could you please mention shows you wrote songs for?
Maryada: Lekin Kab Tak.
Choti Bahu.
The first show I wrote a song for was Kaisa Ye Pyaar Hai for Balaji Telefilms. The title song was written by me.
Then I wrote for Jeet Jayenge Hum and a few more shows on Sony TV.
I would have written for more than 12 or 13 shows.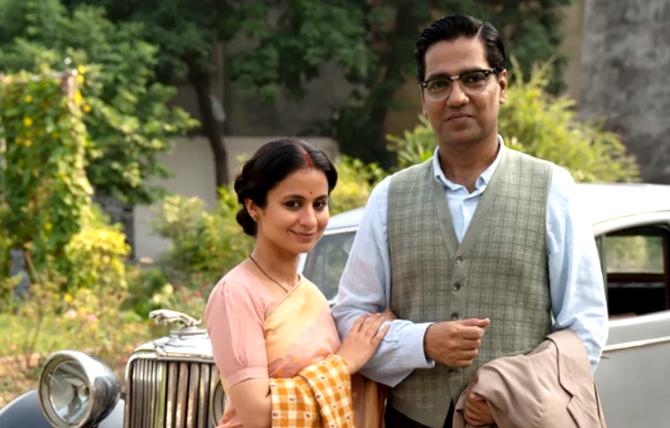 How would you describe your experience of working with Mira Nair on A Suitable Boy?
Oh, it was a great experience.
She is crazy, she is beautiful, she is a wonderful woman and I loved working with her.
I am still in contact with her.
When it comes to her, I am just a phone call away.
She just has to call me and I will be head over my heels to work with her again because she is an amazing person.
Do you have any dream role?
I never thought of roles on those lines.
I work as it comes.
I started off by doing theatre.
I have played a watchman, where I just carried a stick and did not have any dialogue. That too was a really big role for me.
Then when I got roles with dialogues, I started doing them with the same honesty and dedication.
What do you think is the audience going to like about the Scam series?
Scam 1992 is already a big reason.
I think people should come and watch this one because Hansal and (Director) Tusshar Hiranandani have really created the same circumstances, the same kind of subject or a similar idea with a different angle, with a different perception.
So people will definitely like to know the other side of the Scam because in newspapers, we come to know only the technical point. Like how did the scam take place and what happened. But you will come to know the human side or what goes behind making a person turning into a criminal or a scamster.
How did he create the fake stamps?
What happened to him?
Which people were involved?
It can be an eye-opening experience.
Source: Read Full Article