When Sachin, 15, Played His First Senior Game
'I remember walking up to him and telling him, "Sambhal ke khelna".'
Hemant Kenkre was Sachin Tendulkar's first captain at the senior level.
Nearly 35 years ago, Kenkre captained the future batting great in his Kanga League debut match when the 15 yearold played for the Cricket Club of India.
Kenkre, who played club cricket in Mumbai for many years, considers himself lucky to have captained CCI in that match as regular skipper Sandeep Patil was away.
That match is still as fresh in his mind as if it happened "yesterday", recalls Kenkre, who also played club cricket in UK and Singapore.
Kenkre remembers giving Tendulkar his pads, which were given to him by Sunil Gavaskar, Hemant's first cousin.
On the occasion of Sachin's 50th birthday on Monday, April 24, 2023, Hemant Kenkre tells Rediff.com's Harish Kotian how Sachin hit seasoned Ranji Trophy pace bowler Sharad Rao for a straight six off the first ball.
'That one particular match I remember, I am talking about the Kanga League. It was amazing. I can't imagine where we are after nearly 35 years. I remember the day like yesterday.
The other matches you have to be poked or prodded, 'Do you remember that?', but with Sachin I remember it was 1988 because it was after the the Prudential World Cup Cup in 1987.
I had already met him. Somebody had stolen his pads.
I had Morrant pads which were patented by Dilip Jajodia in London, who is the owner of Duke Balls. The pads were given to me in 1980 by Sunil Gavaskar, who was playing county cricket for Somerset. I was playing league cricket in London and at the same time.
Sunil told me he was buying new padss so take these ones.
Those pads, from 1982 to 1987, were in obscurity if I may put it that way. Achrekar Sir (Ramakant Achrekar, Sachin's coach) called me because I used to play for the same club which Sachin did, the Sasanian Cricket Club.
So he told me, 'Why don't you give these pads to his young boy?' so I gave Sachin those pads.
I had met Sachin earlier and I was already familiar with him. But it was Achrekar Sir, who decided that Sachin wpuld play for CCI. From the CCI perspective the decision was taken by secretary Milind Rege.
That game was amazing. I lost the toss. We were asked to field first. It was a terrible pitch. Batting second was always going to be difficult. In the Kanga League the pitch deteriorates as the match goes on.
I was very upset because we had lost the toss. In that particular match and for the next couple of games, all the star players were not available — Sandeep Patil, Alan Sippy and Shishir Hattangadi. All these guys were playing professional cricket outside India.
These guys used to come back end of August or early September so the end part of Kanga League was fine, but the first part was always very tough.
For us, survival was very important and we didn't want to lose a match.
In those days if you happen to be the part of the last two teams, you get relegated from the A to the B division. Those days it was considered extremely prestigious to play in the A division, so none of us wanted to be relegated.
I very, very, clearly remember that Sharad Kotnis — he was a sports editor (Mid-day) then and was also associated with the Bombay Cricket Association in an administrative capacity. He sent a photographer to click Sachin Tendulkar coming out from the tent at the Karnatak Sports Club in south Mumbai.
So all of us — me, Sachin, then we had a leg spinner Dushyant Patel, Kushu Vasaniya and others, we were all coming out onto the field.
I was shocked and wondering whether it is all too early for this (photographs), but now I realise that it was not too early and that man Kotnis knew his cricket.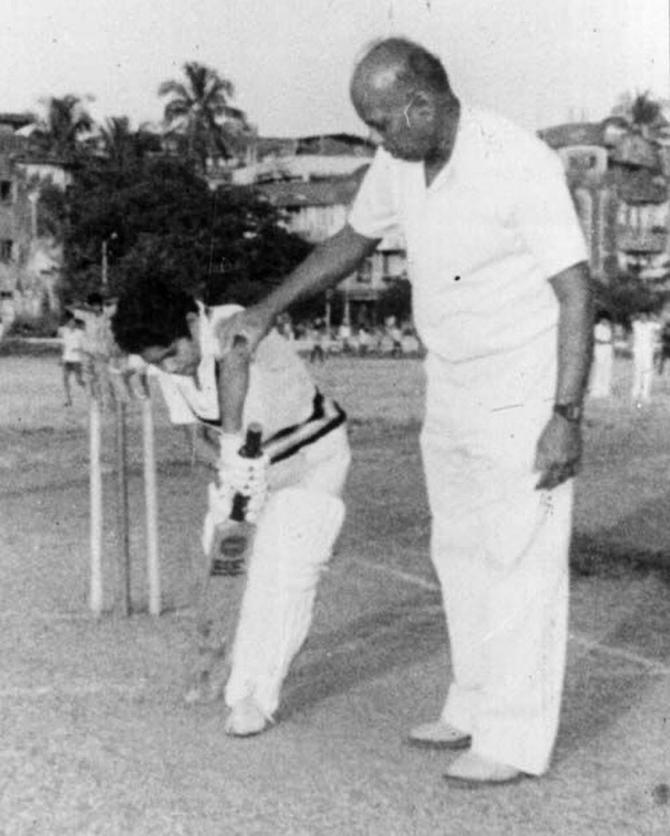 Till then, I hadn't really seen a big media house send a photographer to click a young boy playing in the Kanga League A division.
He was batting at No 4 and I used to open the innings. As I said, the pitch was really, really bad.
All these little spots formed by the bowler on their follow through had hardened and when the spots become hard, it's very difficult to bat because you don't know which way the ball is going to go.
We were playing against Karnatak Sporting Association which is a club, and they had a wily and very experienced bowler called Sharad Rao, who was also my contemporary.
We played for Bombay schools together and I knew that Sharad was going to be very difficult. Sharad was a former Bombay Ranji Trophy player and he also played for Karnataka, so he came in with a lot of experience. He was considered one of the difficult guys to deal with on pitches like that.
He was bowling and I remember we lost two quick wickets and Tendulkar walked in at No 4.
I remember walking up to him and telling him, 'Sambhal ke khelna (bat watchfully)', and today I am laughing about it.
The first ball went exactly right over me, and it disappeared into the other side of the fence at Karnatak Sporting.
I was like 'Wow, this is amazing, nobody has that kind of confidence'. Unfortunately, he tried to do it again, and he got out early. All of us deliberated that maybe he should have waited and all that, but luckily for us the match was drawn.
Then Coach Achrekar Sir called me in the night and this is a story not many people know. His elder brother Ajit Tendulkar was also there. They called me and asked me about what happened in the match.
So I described everything including the ball being hit for a six and how he got out. Apparently, Sachin got a little dressing down from both the brother and the coach and he made it very apparent the next time I met him.
It was great fun, because nobody expects a young kid to play the kind of shot he played. This shows you the kind of confidence that comes with the newer generation.
This was probably the first time he was not playing in an age group match — he was always playing Under-15 or Under-16 or Under-19, with all his peers. This was the first time he was playing with the men.
CCI had to amend its club rules so that Sachin could use the dressing room which was then located inside the club premises.
Madhav Apte, the former India opener and sheriff of Bombay, amended the rules to accomodate Sachin.
Those days, the BCA (now the Mumbai Cricket Association) had made it open for all the boys who were under 16 so that they could get more exposure to play for any club they wanted.
Though Sachin was part of the Shivaji Park Youngsters team, Achrekar Sir requested Prakash Kelkar to get him into the main team. He told Kelkar, 'Since you are playing CCI, why don't you allow Sachin to play because he is going to play for CCI next season?'
Achrekar Sir called me and said 'Sachin is going to play against you this coming weekend.' The first thing I thought was, 'Why against us? Why not for us?' Actually everyone was aware about the rule about minors not allowed inside the CCI, but the thought never crossed our mind that Sachin was a minor.
It was Achrekar Sir, who brought it to my notice. He said, 'Sachin won't be allowed to enter CCI' and that's when it struck me.
Achrekar Sir had called Madhav Uncle to play the Purshottam Shield match and also watch Sachin. Madhav Apte was a busy man, he was the president of the CCI. He came and played the match and he saw Sachin and the rest was history.
He scored 67 on a very, very, bad pitch. At one end, when Sachin was batting, the pitch looked different and at the other end the rest of the batters, including me, were exposed.
We requested Madhav Uncle to do something to allow him to enter the CCI. He immediately gave Sachin playing membership, so Sachin was allowed to enter the CCI.
Sachin became the first under-18 to be allowed to enter the CCI.
In the dressing room, whenever anyone of us were around like Milind Rege, who was a former Mumbai captain and CCI captain, or Sandeep Patil or other seniors like me, he was very quiet.
He was otherwise quite a prankster. But he was extremely well-behaved, he created no trouble or threw any tantrums. He was a great observer.
Happy birthday Sachin! God bless you. What a half-century!
You are still looking as fit and as young now as you were when you came to my house to pick up those pads.
Just keep doing the good work that you are doing, encouraging young boys and spreading your extremely vast knowledge with the younger lot."
Source: Read Full Article