Road to ODI World Cup 2023 begins with qualifiers
World Cup 2023 Qualifiers: West Indies, Sri Lanka in separate groups
The ICC has unveiled the schedule for the upcoming World Cup 2023 Qualifiers, set to take place in Zimbabwe from June 18 to July 9.
With 10 teams divided into two groups, Group A consists of West Indies, Zimbabwe, Netherlands, Nepal, and the United States of America (USA), while Group B includes Sri Lanka, Ireland, Scotland, Oman, and the United Arab Emirates (UAE).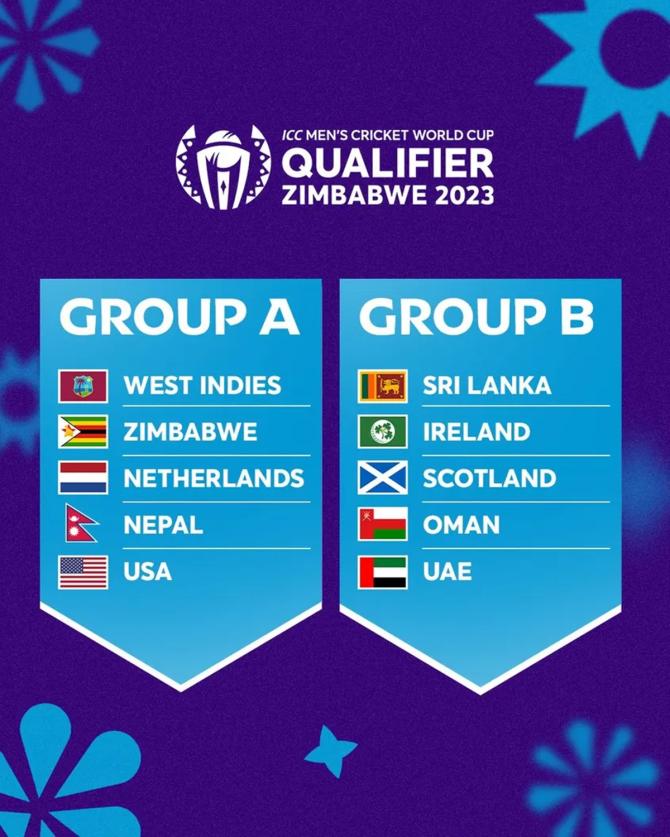 Matches will be held at four venues: Harare Sports Club, Takashinga Cricket Club, Queen's Sports Club, and Bulawayo Athletic Club.
The group stage will witness 20 matches, followed by the Super 6 stage. The top two teams from the Super 6 stage will progress to the final and secure qualification for the main event to be held in India later this year.
The two-time champions, West Indies, will kick off their campaign against the USA on June 18, while the 1996 world champions, Sri Lanka, are set to face the UAE in their opening match on June 19.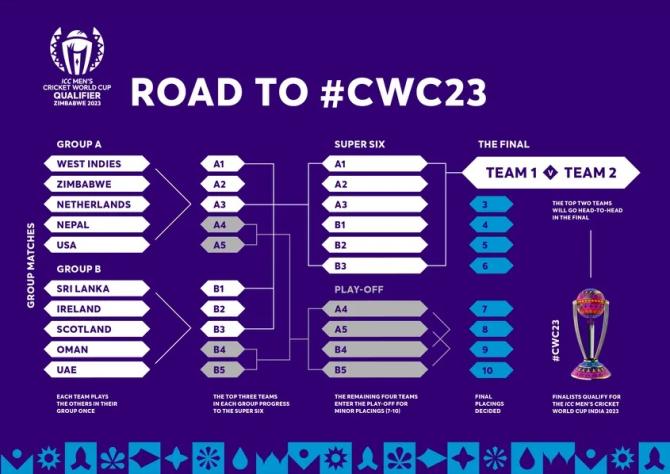 Geoff Allardice, ICC Chief Executive, expressed the significance of the qualifiers, stating, "The countdown to the ICC Men's Cricket World Cup 2023 is entering the final stages, and this event presents an incredible opportunity for teams to earn a place in the pinnacle event of one-day cricket."
Schedule for the ICC World Cup 2022 Qualifiers:
Sunday, 18 June
Zimbabwe v Nepal, Harare Sports Club
West Indies v USA, Takashinga Cricket Club
Monday, 19 June
Sri Lanka v UAE, Queen's Sports Club
Ireland v Oman, Bulawayo Athletic Club
Tuesday, 20 June
Zimbabwe v Netherlands, Harare Sports Club
Nepal v USA, Takashinga Cricket Club
Wednesday, 21 June
Ireland v Scotland, Queen's Sports Club
Oman v UAE, Bulawayo Athletic Club
Thursday, 22 June
West Indies v Nepal, Harare Sports Club
Netherlands v USA, Takashinga Cricket Club
Friday, 23 June
Sri Lanka v Oman, Queen's Sports Club
Scotland v UAE, Bulawayo Athletic Club
Saturday, 24 June
Zimbabwe v West Indies, Harare Sports Club
Netherlands v Nepal, Takashinga Cricket Club
Sunday, 25 June
Sri Lanka v Ireland, Queen's Sports Club
Scotland v Oman, Bulawayo Athletic Club
Monday, 26 June
Zimbabwe v USA, Harare Sports Club
West Indies v Netherlands, Takashinga Cricket Club
Tuesday, 27 June
Sri Lanka v Scotland, Queen's Sports Club
Ireland v UAE, Bulawayo Athletic Club
Thursday, 29 June
Super 6: A2 v B2, Queen's Sports Club
Friday, 30 June
Super 6: A3 v B1, Queen's Sports Club
Playoff: A5 v B4, Takashinga Cricket Club
Saturday, 1 July
Super 6: A1 v B3, Harare Sports Club
Sunday, 2 July
Super 6: A2 v B1, Queen's Sports Club
Playoff: A4 v B5, Takashinga Cricket Club
Monday, 3 July
Super 6: A3 v B2, Harare Sports Club
Tuesday, 4 July
Super 6: A2 v B3, Queen's Sports Club
Playoff: 7th v 8th Takashinga Cricket Club
Wednesday, 5 July
Super Six: A1 v B2, Harare Sports Club
Thursday, 6 July
Super Six: A3 v B3, Queen's Sports Club
Playoff: 9th v 10th Takashinga Cricket Club
Friday, 07 July
Super Six: A1 v B1, Harare Sports Club
Sunday, 09 July
Final, Harare Sports Club
Source: Read Full Article