Remembering Football Legend Tulsidas Balaram
Tulsidas Balaram, who passed into the ages last week, was a member of the Indian football team which reached the semis at the Olympics and won an Asian Games gold medal.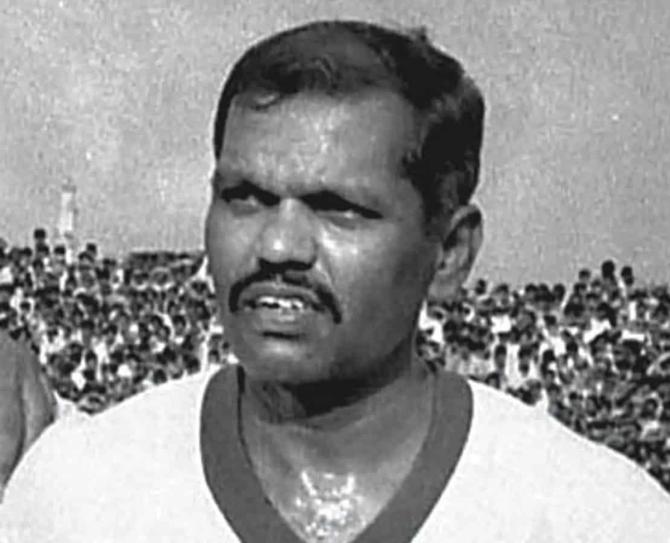 Thulasidas Balaraman, one of the legends of Indian football, who passed away in Kolkata at the age of 86, was the last surviving member of the Indian team which made it to the semi-finals at the 1956 Olympics in Melbourne.
India last participated in the Olympics at the 1960 Games in Rome.
Balaram, as he was affectionately called, belonged to Andhra Pradesh, but he was lured by East Bengal in the 1950s.
He played in two Olympics and two Asian Games, winning an Asian Games gold medal in Jakarta over six decades ago.
Balaram was the most versatile in a forward line in which Chuni Goswami and P K Banerjee were the other stars.
In fact, so versatile was Balaram that he could fit in any position and was the master of ball control. At the same time he was also a clever schemer and could score from any angle.
Such was his impact on football that he was the first recipient of the coveted Arjuna Award given to an Indian sportsperson.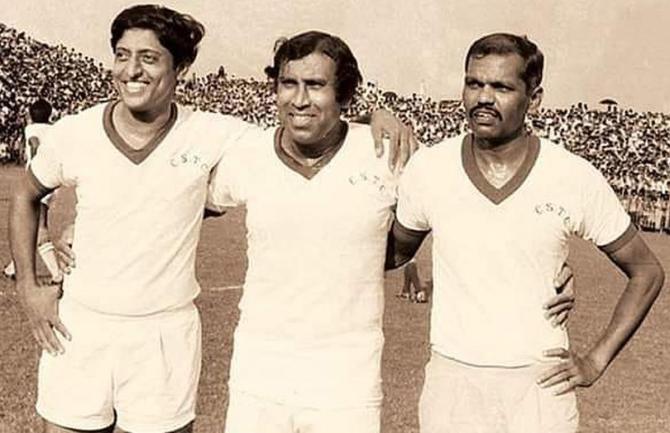 Balaram did not get the chance to kick a proper football till he was nine years old.
His mother tongue was Tamil and he belonged to Ammuguda, a village near old Secunderabad where he lived with his big family in a mud hut.
The family was poor and his brothers worked in the vehicle sub-depot which supplied vehicles to the army.
While playing for the school alongside others like Narayan and Kannan, who went on to become established players, Balaram was spotted by the sports officer of the vehicle sub-depot in Secunderabad when he was studying in the ninth standard.
The sports officer promised his family a job that would take care of his education.
He passed his matriculation and in 1955, he was picked up to play for the Hyderabad side to play in the national championship in Ernakulam, this was the year the great Chuni Goswami also made his debut in the Santosh Trophy.
After being part of the Hyderabad team which won the national championship Balaram was chosen among the probables for the 1956 Melbourne Olympics.
Coached by Syed Rahim, who picked him as a schoolboy, Balaram had first earned India's colours playing in the quadrangular tournament held in Dacca (now Dhaka) in 1955 when it was a part of East Pakistan.
Apart from Pakistan, the other teams were Ceylon (now Sri Lanka) and Burma (now Myanmar) and based on his performance in this tournament Balaram was chosen for the Melbourne Olympics.
The Indian team for the Melbourne Olympics was led by Samar Banerjee and was coached by Syed Rahim. India received a walkover in the first match because Hungary did not play due to political tensions in their country before they outclassed Australia 4-2 in the quarters to become the first Asian team in Olympic history to reach the semi-finals at the Melbourne Cricket Ground on December 1, 1956.
Neville D'Souza scored a hat-trick against Australia as India registered their biggest margin of victory at the Olympics. D'Souza also became the first Asian to score a hat-trick in Olympic history.
India went down 1-4 to Yugoslavia in the semi-finals with D'Souza scoring the only goal for India.
India then missed out on a medal after losing the bronze medal play-off match 0-3 against Bulgaria.
At the 1960 Rome Olympics, India was placed in a group with strong sides from Hungary, France and Peru.
The team was led by P K Banerjee with Syed Abdul Rahim as the coach.
Balaram scored two goals in the tournament, one each against Hungary and Peru, both of which India lost. In their second match, Banerjee's goal in the 71st minute helped India hold France to a draw.
With two losses and a draw, India placed at the bottom of the group and failed to move to the next round, which turned out to be their last appearance in football at the Olympic Games.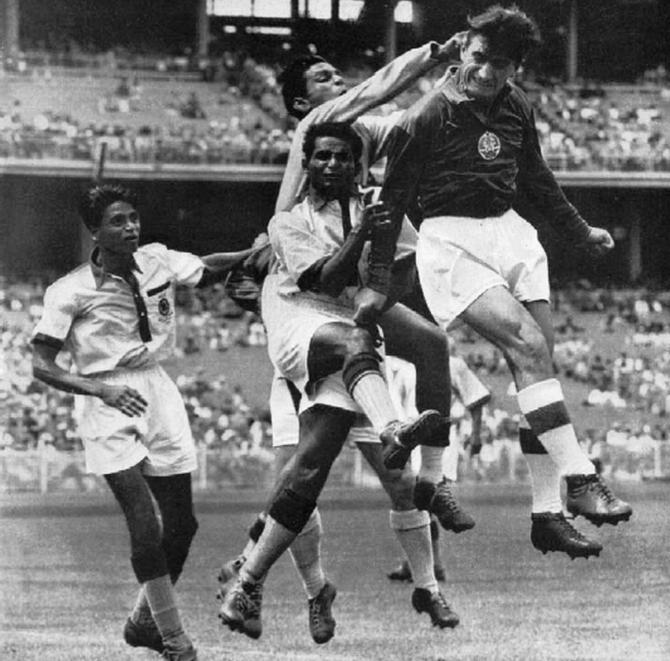 In his biography written by sports journalist Shyam Sundar Ghosh of The Statesman, Balaram said: 'The Rome Olympics allowed us to make us believe that we were not far behind the Europeans and Latin American countries and our performance was widely acknowledged.
'Before our match against France, we were told that their coach was inquiring about his counterpart in the Hungarian team, how did India put up such an outstanding performance against them?
'Most experts appreciated our skills against Hungary and expressed their surprise at how a nation that conceded 10 goals to Yugoslavia eight years back could produce such an outstanding display and played almost on equal terms against a country like Hungary.'
Calcutta (now Kolkata), the eastern metropolis, was the Mecca of Indian football and it was a dream of every player to play for either East Bengal, Mohun Bagan, Mohammedan Sporting or Rajasthan.
These clubs would hire talents from other states and they were paid money on a per-season basis.
Players from Hyderabad and Bengaluru like Ahmed Khan, Venkatesh, Raman, Apparao, Dhanraj, Ahmed Hussain, Kenayan, Rahimtullah, Kempiah, Noor, Narsaiyya, Anthony, Fenn, Rahman, Damodaran would play for various football club in Calcutta, who not only paid them hefty fees but also offered them jobs.
Apart from the three clubs, another club, the Rajasthan Sports Club which was run by rich Marwari merchants, also bought players from the south.
In 1957, Balaram came to Calcutta for the Indian team's training camp ahead of their tour of the Far East.
This was the first time Balaram had a close look at the soccer frenzy of the people in Bengal and their passion for football.
A young Balaram wanted to play in Calcutta and he was approached by Mohammedan Sporting for which Noor and Ahmed Hussain used to play.
But Balaram impressed Jyotish Guha, then the supremo of East Bengal, after which he was signed up to play for the club for Rs 3,500 per season — the highest fees then.
He along with another Hyderabad player Narayan was signed up by East Bengal after they left their previous club against the wishes of their coach Syed Rahim, who had promised them jobs in the Hyderabad Police, then one of the top soccer outfits in the country.
Training for the famous Calcutta football league, the duo would practice at the East Bengal ground. Balaram soon discovered that he had to acquire skills to match other Calcutta players to play on slushy and waterlogged grounds as it rained during the football season.
Balaram soon established himself under Calcutta conditions and he was among the top scorers for East Bengal.
He was then selected to represent India in the 1958 Asian Games in Tokyo.
In Tokyo, India reached the semi-finals where they lost to South Korea but failed to win the bronze medal after losing 1-4 to Indonesia in the third-place play-off match.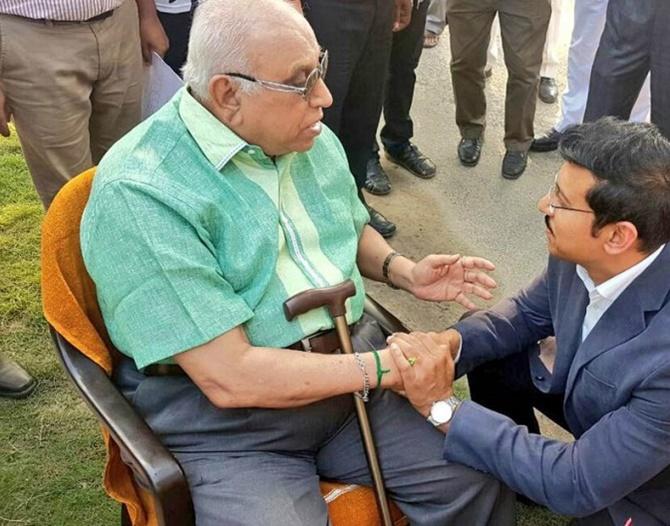 In the Asian Games in Jakarta in 1962, the next big international outing after the Rome Olympics, India was ranked among the three strong football nations in Asia.
But they had a horror start as they lost to South Korea in the opening match 2-0.
It was for the first time India played under floodlights, they had not even practiced playing under lights. Despite the loss the team's spirit was high.
India bounced back strongly as they outclassed Thailand 4-1 with Banerjee scoring two goals, while Balaram and Chuni Goswami scored a goal each.
A spirited India then beat Japan 2-0 with Balaram and Banerjee scoring a goal each.
In the crucial semi-final against South Vietnam, India played a dominant first half to secure a lead of 2-0, before their opponents fought back to level scores at 2-2.
Skipper Goswami scored the winner in the 75th minute to steer India into the final.
In the title clash against South Korea, India played in front of a partisan crowd of more than 100,000 spectators when kept booing them throughout. But it didn't affect the Indian players on the field as they raced to a 2-0 lead with Banerjee and Jarnail Singh scoring the goals.
Though South Korea got one goal back, India held on for a famous 2-1 victory to claim the Asian Games gold medal.
This was India's biggest success in the international football arena, and it has not been able to repeat that success again.
Coach Syed Rahim was hailed for his strategic changes as he played Jarnail as the centre forward. However, a year later, India suffered a big shock as Rahim passed away and India could never find another gifted coach like Rahim Saab.
Balaram continued his success on the football field as he led the Bengal team to the Santosh Trophy triumph in 1962.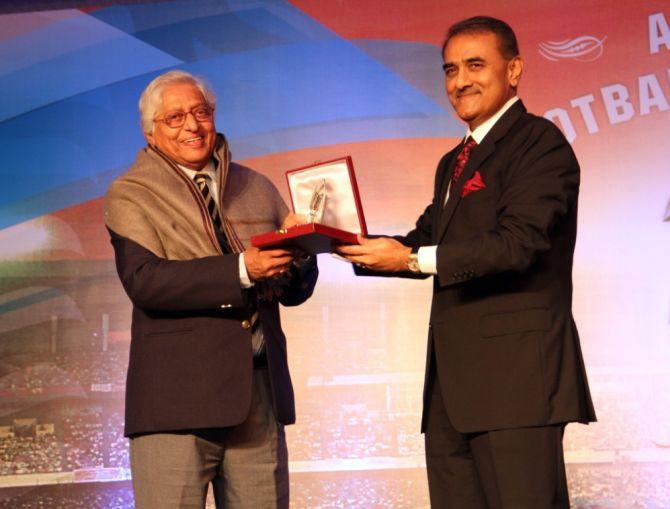 In the latter part of his career, Balaram continued to play as a professional for East Bengal, but he was in search for a job which could give him a secure livelihood.
Santosh Khanna, secretary of the South Eastern Railway Sports Association, was a great promoter of sports and had employed several sportspersons in the South Eastern Railway.
Apart from Balaram, another Olympian Arun Ghosh, who was then playing for East Bengal, were offered jobs in South Eastern Railway by Khanna.
Despite East Bengal's efforts to retain the duo, Balaram and Ghosh joined South Eastern Railway on a good salary.
After Balaram and Ghosh joined the Railways team, which also included the likes of Appalaraju, Rajinder Mohan, Anthony and Varhalu, it became a strong team.
While playing for the Railways, Balaram encountered breathing problems and had to be admitted to hospital. He underwent a few days of treatment and returned to the field, but it was not long before he had to give up playing on his doctor's advice.
The career of one of India's greatest footballers thus came to an abrupt end.
After his playing days, Balaram took up coaching and managed the B N Railway team and other teams.
Balaram had a benefit match played in his name, from which he was presented with a purse of Rs 150,000.
Balaram's name was recommended for the Padma Shri, but Banerjee eventually received the Padma Shri.
Balaram was persuaded to return to Secunderabad, but he opted to stay in Kolkata and bought a flat in Uttarpara and spent his life there as a single person.
He was loved by Calcuttans and hailed as a celebrity till he died at the age of 86 on February 16, 2023.
Feature Presentation: Rajesh Alva/Rediff.com
Source: Read Full Article