India's Probable Squad For World Cup
India's first World Cup match against Australia in Chennai, on October 8, is two months away.
Despite injuries to key players in the lead-up India are billed as one of the favourites to repeat their triumph at home from 12 years ago.
The 10-team World Cup will see each team play a total of nine league games, with the top four going through to the semi-finals.
The participating teams have to name a provisional 18-member squad within the next 15 days before they submit their initial squad of 15 by September 5, but are allowed to make changes till September 27.
A look at the players who could make it to India's provisional squad:
Rohit Sharma (captain)
Rohit looks like a man on a mission!
Missing the 2011 World Cup at home was a big blow for a young Rohit, who is desperate to make up for it by leading India to their ODI World Cup title.
Rohit will once again be leading India's hopes with the bat. He set the 2019 World Cup on fire with 648 runs — the highest in the tournament, including a world record five centuries in a single World Cup.
Hardik Pandya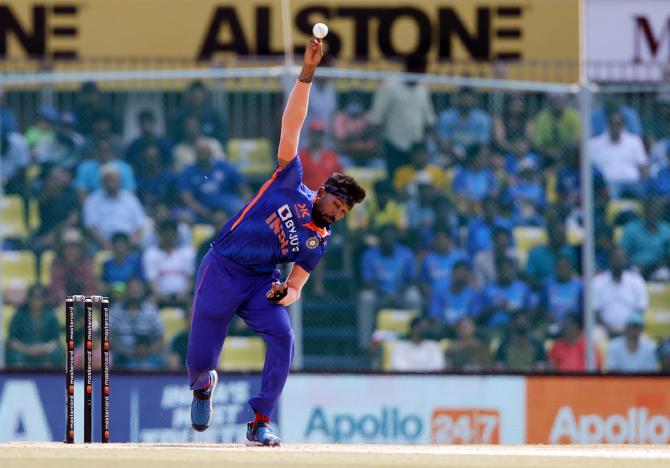 Laid low by injuries, Hardik has only featured in 23 ODIs since the 2019 World Cup, scoring 709 runs at an average of 39, while picking up 19 wickets.
Hardik had a tough time after the last World Cup as he underwent surgery for a back injury which saw him spend considerable time on the sidelines. He made a fine comeback leading Gujarat Titans to the IPL 2022 title in their debut season and a runners-up finish this year.
He has been gradually building his bowling workload as he aims to be in peak shape for the World Cup, in which he will play a crucial role with both bat and ball.
Virat Kohli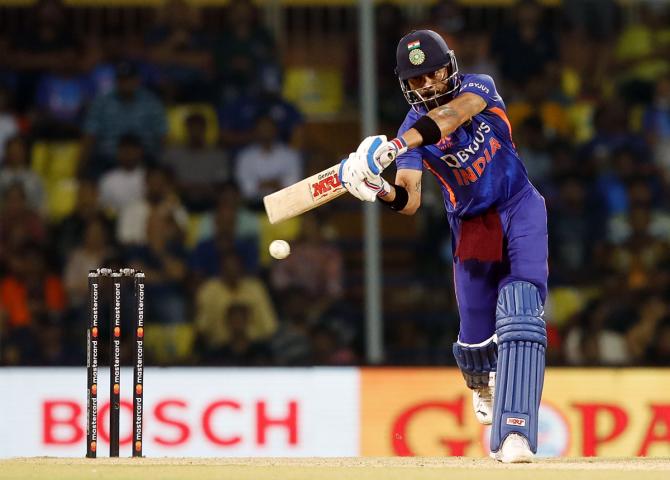 One of the best batters in the history of One-Day Internationals, Kohli's experience will be crucial for India.
Having being part of the victorious 2011 World Cup team as a youngster, Kohli can now use the same experience to guide youngsters like Shubman Gill, Shreyas Iyer and Sanju Samson.
Even though consistency has deserted him in recent years, Kohli boasts of an amazing record in 50 overs cricket, averaging 57 for a tally of 12,898 runs in 275 matches.
Kohli, who scored a century on his World Cup debut — against Bangladesh in February 2011, has featured in three World Cups, scoring 1,030 runs at an average of 46 with two centuries.
Along with Rohit, this could be Kohli's last chance to win a World title in white ball cricket.
Shubman Gill
Gill is Rohit's designated opening partner for the World Cup, but his indifferent form in the West Indies is a cause for concern.
Gill, who not so long ago was proving to be unstoppable with the bat, has managed just one fifty in five innings (3 ODIs, 2 T20Is) in the West Indies as he struggles to cope with pitches offering a bit of assistance to the bowlers.
Gill enjoyed a dream run in January when he slammed three centuries, including a double, in four innings against Sri Lanka and New Zealand, but has since got one half-century in six innings in ODIs.
Ishan Kishan's good showing with the bat in the West Indies ODIs would certainly put pressure on Gill, as the left-hander could make it to the World Cup as the back-up opener.
K L Rahul (wicket-keeper)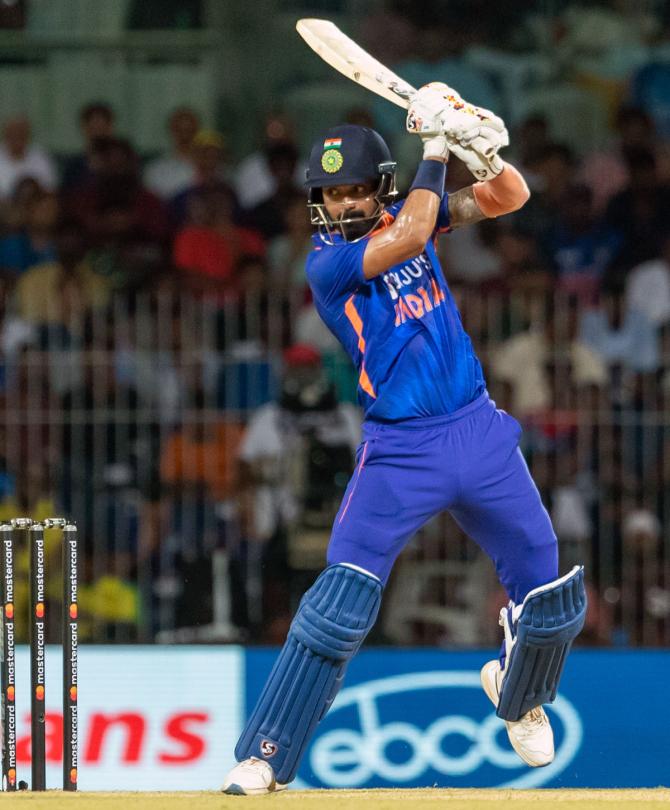 Rahul's availability for the World Cup depends on how soon he recovers from his injury. The right-hander underwent a surgery for a thigh injury in May and is racing against time to get fit for the World Cup.
Rahul, India's preferred wicket-keeping option in 50 overs cricket, is working hard on his rehab, but his participation in the Asia Cup is not yet confirmed.
India's middle order batting has struggled in the absence of Rahul, who has been their top batter at No 5 post the 2019 World Cup — 735 runs in 15 matches at an average of 56.
Rahul has resumed his batting and wicket-keeping practice at the National Cricket Academy in Bengaluru.
Shreyas Iyer
Shreyas Iyer is also battling against time for the World Cup after undergoing surgery for a back injury in April.
Iyer is India's best candidate for the No 4 slot where he has scored 805 runs in 20 matches at an average of 47 since the 2019 World Cup.
The Mumbai right-hander's recovery has been quite slow and he is unlikely to play in the Asia Cup, which renders his World Cup participation in doubt, but he is likely to be part of the provisional squad as India aim to give him as much time as possible to prove his fitness.
Ishan Kishan (wicket-keeper)
Ishan Kishan's three fifties in a row in the West Indies ODI series has more or less sealed his World Cup place.
The Jharkhand wicket-keeper's inclusion in the playing XI for the World Cup could depend on Rahul, but he is likely to be part of the 15-member squad, as he also provides a cover for the opening position.
Not to forget, Kishan holds the record for the fastest double century in ODIs, when opening the innings he smashed a 131-ball 210 against Bangladesh in December.
Sanju Samson
With Rahul and Iyer both doubtful, Samson will be in the World Cup reckoning.
Samson did his chances no harm with a decisive 51 in the series-deciding third and final ODI against the West Indies.
It will be hard to ignore Samson's impressive ODI record — 390 runs in 13 games at an average of 55 and a strike rate of 104.
Suryakumar Yadav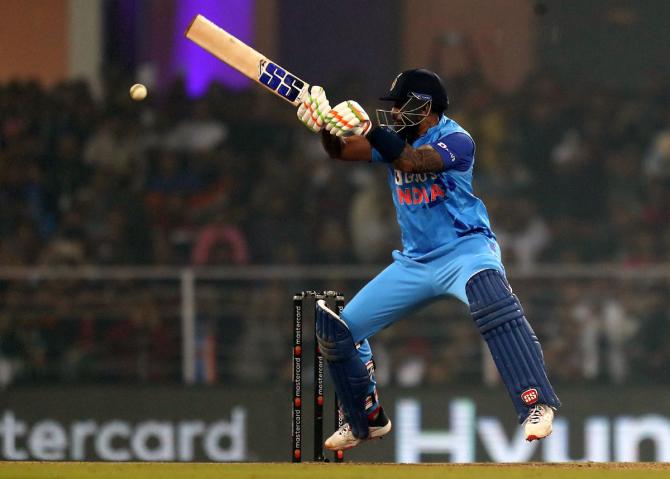 Barring injuries to the frontliners, SKY is unlikely to make it to the World Cup even though he could be picked among the 18-man provisional squad.
Suryakumar enjoyed another poor series with the bat in the ODIs, when he tallied 78 runs in three innings against the West Indies.
His below-par ODI record of 511 runs in 26 ODIs at an average of 24 will be really hard to ignore.
Ravindra Jadeja
Jadeja's all-round abilities make him an indispensable part of the World Cup team.
In 2019, Jadeja didn't play much as he featured in just two matches, scoring a quickfire fifty in the semi-final against New Zealand.
However, his improved showing with the bat across formats in the last couple of years has paved the way for his inclusion in the ODI team.
Jadeja boasts of a good all-round record in 50-overs cricket, with 2,560 runs at an average of 32 along with 194 wickets at an economy rate of 4.91.
With the World Cup played at home, Jadeja will be one of the regular starters for India.
Kuldeep Yadav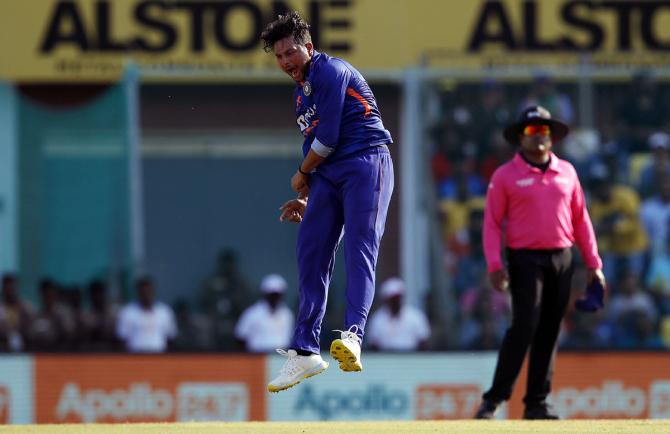 When pitches offer a bit of turn, Kuldeep is one of the toughest spinners to play against.
He demolished the West Indies in the first ODI with incredible figures of 4/6 in three overs, and bagged three more wickets in the next two games.
Kuldeep has featured quite consistently in the ODI team since last February, picking up 34 wickets in 19 games at an economy rate of 4.91.
The left-arm spinner has been preferred ahead of Yuzvendra Chahal in the 50-overs format and featured in all the three ODIs in the Caribbean.
Yuzvendra Chahal
Chahal has fallen out of favour when it comes to ODIs but will be part of the World Cup squad as a back up for Kuldeep.
Interestingly, in the last World Cup, he was India's preferred lone spinner ahead of Kuldeep and Jadeja, but this time the fortunes have reversed.
Chahal didn't play a single ODI in the West Indies and has been only been included in the T20I matches.
Since the 2019 World Cup, Chahal has played 23 ODIs, picking up 37 wickets at an economy rate of 5.71, with his last ODI appearance way back in January.
Axar Patel
Axar also finds himself in the running for the World Cup courtesy of his all-round performances in T20 cricket.
Axar has claimed only 58 wickets in 52 ODIs but excels at keeping things tight in the middle overs as can be gauged by his economy rate of 4.51.
He is quite similar in his role to Jadeja and could be preserved in the provisional squad as an extra all-round option.
Ravichandran Ashwin
With the World Cup set to be played at home, a spinner of the class of Ashwin will always be in the running.
The experienced Ashwin has an outside chance to make it to the provisional squad even though he last played an ODI way back in January 2022.
Interestingly, with some of India's World Cup matches scheduled in spin-friendly conditions in Chennai, Lucknow, Ahmedabad and Kolkata, Ashwin's superb record at home in Tests could tilt the balance in his favour.
Overall, Ashwin has picked up 151 wickets in 113 matches. He took 13 wickets in eight games in the 2015 World Cup after which he fell out of favour in white ball cricket.
Jasprit Bumrah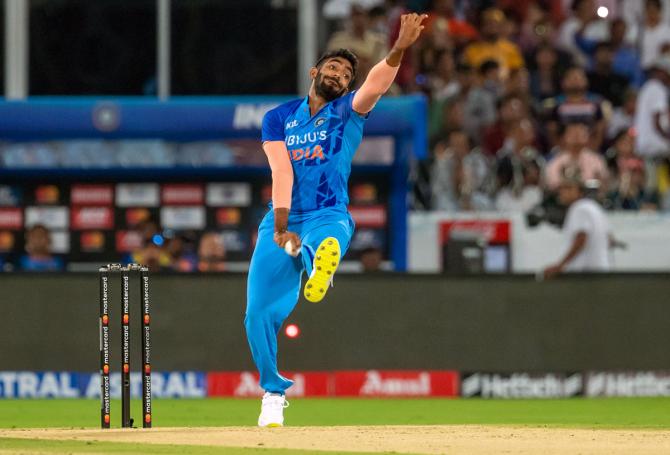 India waits with bated breath for Bumrah's comeback.
Bumrah, who has been out of action since September last year, faces a vital fitness trial in the T20I series in Ireland later this month.
Bumrah will captain India in the three-match series as India aim to ease the pacer into international cricket with a few games of T20 cricket, where the workload isn't much.
It remains to be seen if Bumrah is picked for the Asia Cup or given time to work on his fitness and selected for the three-match ODI series against Australia next month.
Bumrah was India's top wicket-taker in the 2019 World Cup with 18 wickets from nine games, at an economy rate of 4.41 and India will give him every chance to get fit for the World Cup.
Mohammed Shami
Shami enjoys a good record in ODI World Cups.
One of India's most consistent bowlers across formats, he has enjoyed a deserved break in the last few months since the World Test Championship final in June, in a bid to preserve him for the World Cup.
Shami claimed 18 wickets in the 2015 World Cup and followed it up with 14 wickets in the 2019 edition.
This year, he has played eight ODIs, in which he has claimed 10 wickets at an economy rate of 5.66, having last played against Australia at home in March.
Mohammed Siraj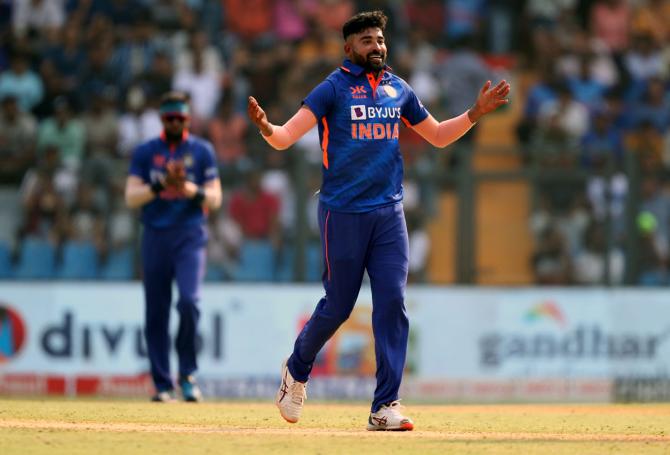 Siraj has also announced himself as India's leading pacer across formats in the past year or so.
Imagine the pace troika of Bumrah, Shami and Siraj at the World Cup!
The selectors have sensibly given Siraj a break for the white ball series in the West Indies as they aim to manage his workload after a gruelling few months.
Even though he has played only 24 ODIs so far, what tilts the balance in Siraj's favour is his impressive record of 29 wickets in 14 games at an economy rate of 4.34.
Shardul Thakur
Thakur also emerged as a strong candidate for the World Cup following his strong showing with the ball in the West Indies.
Thakur picked up eight wickets in the series, including a career-best 4/37 in the series-deciding final match.
More of a bowling all-rounder, he has been in the scheme of things for the past year or so, having featured in 23 ODIs since January 2022 in which he has taken 36 wickets at an economy rate of 5.68.
Mukesh Kumar
Pacer Mukesh Kumar's impressive outing in the West Indies could make him a contender for the World Cup provisional squad.
Mukesh, who forced his way into the Test team with some consistent performances in domestic cricket for Bengal, picked up four wickets in the ODI series against the West Indies.
With Bumrah a major fitness doubt, Mukesh could find himself among the reserves.
Prasidh Krishna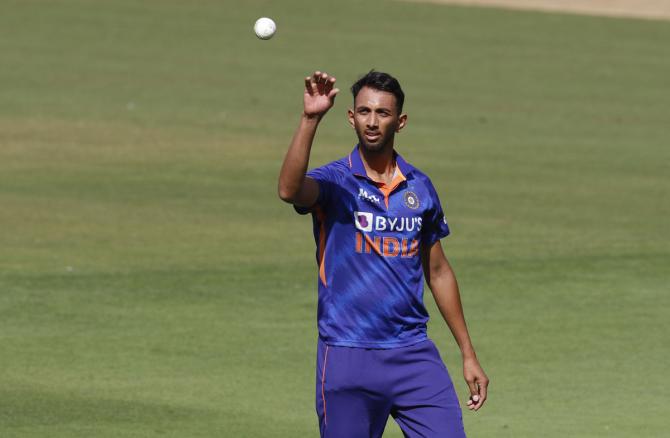 Krishna suffered a major injury setback when he was ruled out of action for nearly a year.
He last played for India in an ODI against Zimbabwe in August last year, after which he was sidelined by a lumbar stress fracture and had to undergo surgery.
Unfortunately for the Karnataka fast bowler, the injury came at the wrong time when he was starting to establish himself with the ball in 50-overs cricket as he enjoyed a good run with the ball, with 25 wickets from 14 matches from March 2021 to August 2022.
He recently made a comeback to competitive cricket, during a Karnataka State Cricket Association T20 match in which he took 4/36. He will get a chance to showcase his fitness during the Ireland T20I series.
Jaydev Unadkat
Unadkat recently played his first one-day match after a long wait of 10 years.
Left-arm pacer Unadkat bowled a miserly spell of 1/16 in five overs in the third ODI against the West Indies.
Overall, he has taken nine wickets in eight games at an economy rate of 3.94, including five matches in Zimbabwe.
The experienced Unadkat is a handy bowler in Indian conditions with his ability to bowl good change of pace and yorkers in the death overs.
Photographs: BCCI
Source: Read Full Article