India vs England 2nd Test, Day 3 Live Cricket Score: Virat Kohli, Ashwin stretch lead past 350; Lunch Break
India vs England (IND vs ENG) 2nd Test Day 3 Live Cricket Score Streaming Online Updates: India take on England on Day 3 of the second Test in Chennai.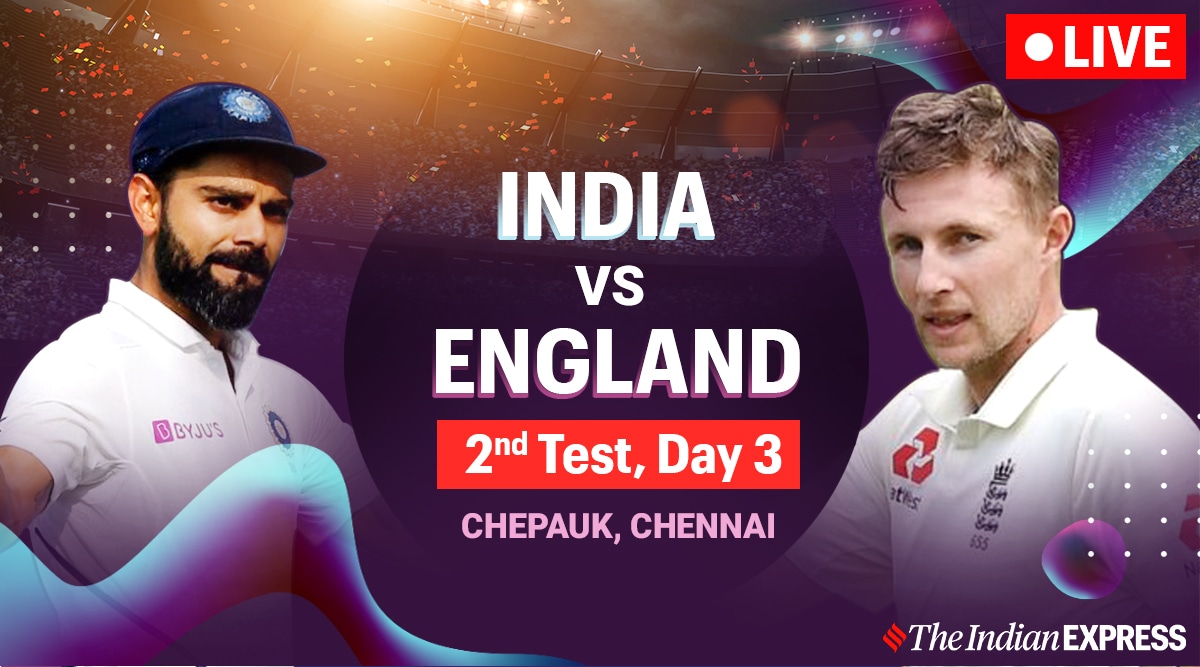 India vs England 2nd Test Day 3 Live Cricket Score Online Updates: India were 156 for 6 in their second innings at lunch on the third day of the second cricket Test against England on Monday. Virat Kohli's men have stretched their lead to 351 runs despite a less than impressive second essay.
At the break, Kohli (38) and senior off-spinner Ravichandran Ashwin (34) were holding fort for the home side. For the visitors, Jack Leach and Moeen Ali have registered figures of 3/63 and 2/46 respectively.
Wicketkeeper Ben Foakes continued with his outstanding work, effecting two impressive stumpings.
2nd Test, MA Chidambaram Stadium, Chennai, 13 Feb, 2021
ENG 134 / 10 (59.5)
IND 329 / 10 (95.5)
IND 156 / 6 (48.0)
ENG
Lunch: IND lead by 351 runs
India vs England 2nd Test Day 3 Live Cricket Score & Updates:
England bag five wickets in the morning session but Kohli and Ashwin fight back to take India's lead past 350. It's a fifty-run partnership between Virat Kohli and R Ashwin as the first session ends. IND- 156/6, lead by 351 runs.
Ashwin looks well now and got a reprieve when Ben Stokes dropped his catch. Lead for India has gone upto 338 runs. Meanwhile, Broad bowling with the keeper standing up is such a bad sight.
And that too against the ball turning away from him by Jack Leach. Score after 42 overs, IND- 133/6 ! If you followed or watched Ashwin YouTube channel – he always want to dominate opposition spinners, the way he played Lyon and playing Leach, Moeen, Bess – it clearly shows that. England have fought back hard with the ball, picking up five wickets in the first 75 minutes of play, but India's lead is now past the imposing 300-run mark.
R Ashwin making his intentions clear. He uses the sweep against Moeen Ali immediately and starts his innings with two fours. India's lead is now 309.
Umpire's call it is as India decides to go upstairs to review Axar Patel's LBW. Ravichandran Ashwin is the new man in the middle. IND- 106/6, leady by 301
The wickets keep falling in Chennai! Rahane gets an inside edge and Ollie Pope takes an outstanding catch at short leg. Score after 31 overs, IND-86/5 | India lead by 281 runs
Poor bowling from Moeen as he delivers a half-tracker and Rahane puts it away again. The first one was a low full toss which was driven through the off-side and the next was a half-tracker. Score after 29 overs, IND-82/4
Ben Foakes is the first keeper for England in men's Test cricket to effect three or more stumpings in a match since Alan Knott in 1968, against Australia at Leeds.
Brilliant from Foakes again. Pant's beaten in flight here, dancing down, with the ball dipping sharply in front and swinging all around it in an attempted hoick downtown. And then the ball spins in big, past his inside edge, and the bails are off even before he can turn back. Score after 26 overs, IND- 65/4
How unlucky has Pujara been this series!
Great flight and bounce from Leach which deceives Rohit Sharma. However, Rohit's back leg being right at the inside edge of the crease, and this time he isn't getting away like he did in the first innings. Lightning-quick glove work from Ben Foakes. Rohit is gone for 26. Rishabh Pant has been sent up the order after the fall of two wickets this morning! Score after 22 overs, IND 56/3
Not the start India would've wanted. Pujara has been run-out by Ollie Pope at short leg in the first over on Day 3. Stepping down the track, Pujara flicked it straight to short leg, but failed to get back in time as his bat getting stuck into the pitch outside the crease. UNLUCKY! 'We should blame the pitch for that Pujara dismissal too as his bat got stuck in the pitch,' says Sunil Gavaskar tongue in cheek.
. .
England need to get some fast wickets today if they want to win this second test. They are especially going to have some trouble with Rohit if they don't dismiss him quickly. Lets play
R Ashwin speaks to the host broadcaster: "It's great to see the crowds back in Chennai. They haven't had CSK matches for a while, and I literally had goosebumps when the crowd gave me that reception when I walked out to bat. The return of the crowds means a big deal; most of the Indian cricketers revel playing in front of the crowds."
Rohit Sharma has played 36 runs (off 22 balls) playing sweeps shots in this Test. Across his Test career only in one other Test has he scored more runs playing the shot (54 runs v South Africa at Vizag in Oct 2019)
"When it comes to spin, unfortunately people don't expect… they want conditions in their favour, driving, cutting, everything needs to happen. But when it comes to a seaming wicket, you can't do all those things when you start playing on that kind of a wicket in the morning. The same benchmark needs to be set when you play spin on a challenging wicket as well."
Just under 30 minutes away from the start of the 3rd day's play at Chepauk.
With A 195-run lead, the match is slanted in India's favour as they finished the day 249 in front after reaching stumps on 54/1. England appears to be heading for a seemingly inevitable defeat after being outplayed with bat and ball in turning conditions on the second day on Sunday.
Source: Read Full Article