England vs South Africa, World Cup 2019 Highlights: England win by 104 runs
England vs South Africa, World Cup 2019 Highlights: South Africa restricted England to 311 for eight in the World Cup opener at The Oval on Thursday as the tournament hosts and favourites made a stuttering start in their quest to win the trophy for the first time.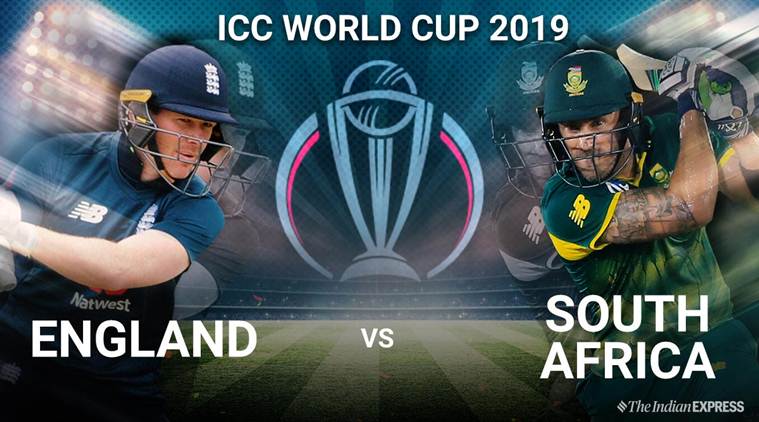 England vs South Africa, World Cup 2019 Highlights: England have defeated South Africa by 104 runs in the opening match of the World Cup at the Oval in London. Jofra Archer broke through the Proteas batting order in his opening spell, dismissing Aiden Markram (11) and skipper Faf du Plessis (7) and forcing Hashim Amla (13) to retire to the pavilion for a long time after being hit by a bouncer. Quinton de Kock (68) was the only batsman who looked capable of taking the fight to the hosts, and when he was batting with Rassie van der Dussen (50), it looked for a while like we were set for a cracking finish. However, wickets fell in a heap after De Kock's wicket, and when Archer picked up Van der Dussen's wicket as well, the game was all but over. Ben Stokes, who took one sensational catch and played a part in two other dismissals, took two wickets in two consecutive balls to end the match.
Earlier, half-centuries from four batsmen guided England to a challenging 311/8. Ben Stokes top-scored with 89 followed by skipper Eoin Morgan (57), Jason Roy (54) and Joe Root (51). For South Africa, Lungi Ngidi dismissed three England batsmen while Kagiso Rabada and Imran Tahir took two wickets each. England had a disastrous start after being invited to bat as Tahir sent back Jonny Bairstow in the first over for a golden duck. Roy and Root then lifted England innings. The duo added 106 runs for the second wicket. After England crossed 100 mark, Phehlukwayo got rid of Roy in the 19th over and then Rabada struck in the next over to dismiss Root (51). Captain Eoin Morgan then took England past 200. After Tahir got rid of Morgan, Stokes powered hosts to 311/8.
ICC Cricket World Cup, 2019
The Oval, London 30 May 2019
England 311/8 (50.0)
South Africa
207 (39.5)
Match Ended ( Day – Match 1 ) England beat South Africa by 104 runs
Live Blog
England vs South Africa, World Cup 2019: Highlights
All over at the Oval
Stokes takes two wickets in two balls to end South Africa's misery. Rabada and Tahir are dismissed in the 40th over. England win by 104 runs. In World Cups, this is South Africa's second biggest defeat in terms of runs.
Amla is out
Hashim Amla is caught behind. And with that, South Africa's remaining hopes of a miracle are washed down the drain. Slower bouncer from Plunkett proves to be Amla's undoing. Caught behind for 13. Ngidi and Rabada are batting for South Africa. They've lost their wickets in a heap after De Kock's departure.
129-3 (de Kock, 22.6)
142-4 (Duminy, 25.5)
144-5 (Pretorius, 26.2)
167-6 (van der Dussen, 31.5)
180-7 (Phehlukwayo, 34.1)
193-8 (Amla, 38.1)
STUNNING CATCH!
One-handed catch by Stokes brings Phehlukwayo's stay to an end. Commentators fall over each other speculating if this can be called the best catch of all time? We have an early contender for the 'Catch of the Match' surely. Rabada comes in for South Africa, who are now looking down the barrel. Unless Amla has some other ideas. Still just on 8, has not hit any boundary since coming back on.
Ben Stokes, after having already accounted for three dismissals, is finally given the ball in the 36th over. Maybe a reward for that out-of-the-world catch? Amla facing him.
Stat attack
Highest scores on WC debut (SA)
188* G Kirsten v UAE, 1996
138* D Miller v Zim, 2015
81* K Wessels v Aus, 1992
61 R Rossouw v WI, 2015
50 R van der Dussen v Eng 2019 *
Third wicket for Archer
Whattaguy! Archer back into the attack and gets his third wicket of the day straightaway. Van der Dussen goes for 50. Aaaand Amla is back in the middle. Straight up, has to face up to Archer. It was an Archer bouncer which hit him on the helmet, forcing him to leave the field, earlier in the innings.
Fifty for Van der Dussen
Fifty for Van der Dussen! Gets there in 56 balls. Still much to do for South Africa.
England smell victory
Andile Phehlukwayo and Van der Dussen are putting on a brave counter-attack but you get the feeling there's too much to be done. Will be interesting to see if Amla can make an impact on his return to the pitch.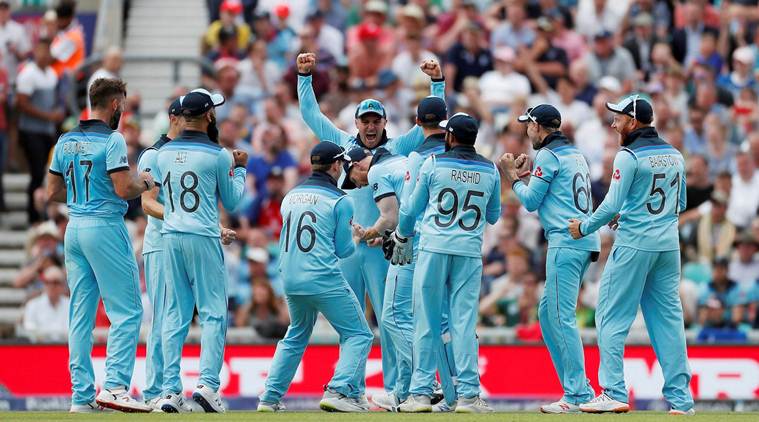 Archer the bowling hero for England
Best figures of the day still belong to Archer. 2/20 in his 5 overs. Also the reason why Amla had to retire hurt.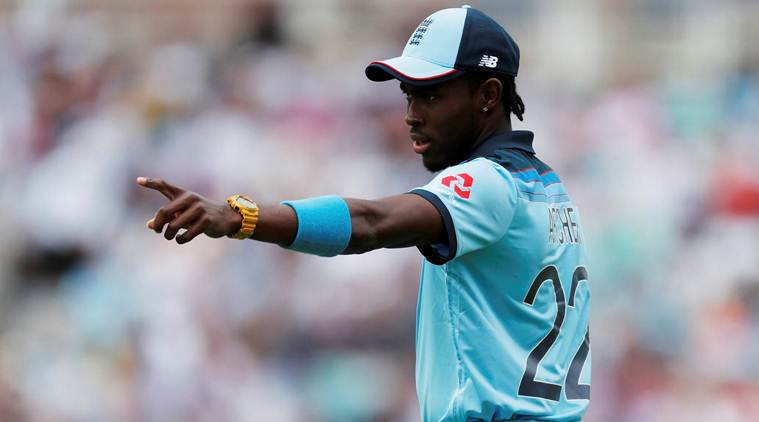 Run out
Disaster for South Africa. Pretorius is out for 1. Run out by Stokes, who has not bowled today but has still accounted for two wickets. Another very soft dismissal sends another SA batsman packing. Have to start wondering now if and when Amla will return to the pitch. Van der Dussen still out there, batting on 42.
South Africa lose their fourth wicket
Duminy is out for 8. Maybe went for too much too soon. Caught at long off by Ben Stokes, who throws the ball high into the air after the catch. Moeen Ali gets his first scalp. England will know they are exhausting South Africa's batting resources with half of the innings still to go. Well on top of this now. Dwayne Pretorius is in the middle for South Africa.
De Kock out for 68
De Kock is OUT! Huge wicket for England as the danger man is caught at fine leg by Root. Liam Plunkett turns out to be the man with the golden arm.
Update on Amla
"He has been assessed and is doing fine. Due to the sensitive nature of head injuries, he will undergo another re-assessment during the course of the innings which will give an indication of his further participation in the match," says a CSA statement. Well, so when he will undergo the second scan might depend on how long these two can carry on their partnership.
6,0,6,4
De Kock and Van der Dussen are starting to up the ante. Three sixes already in this innings. There were three sixes in the England innings, all hit by Eoin Morgan.
De Kock holds the key
He is on 55 now. South Africa do not have much batting to come after this. There's no update on Amla as of yet. Duminy and the all-rounders are slotted to come after this wicket. Van der Dussen dealing with Plunkett a little better than he was dealing with the spinners.
Meanwhile
There's a special reunion happening in the commentary box.
Fifty for De Kock
Fifty for Quinton de Kock. Gets there in 58 balls. South Africa need him to carry on for a big one today. This is the 22nd ODI fifty for Quinton de Kock, his second in World Cup games.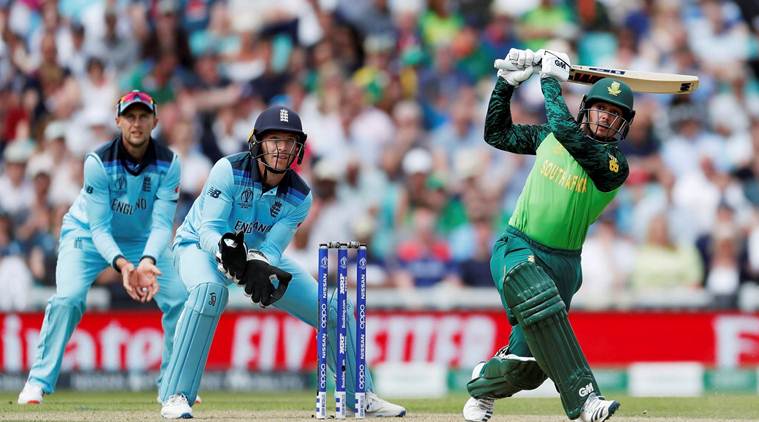 Unconventional Van der Dussen
We have seen a rather unconventional innings from Rassie van der Dussen so far. Has not looked very convincing with many of his strokes. Has looked most comfortable when playing the reverse sweep and reverse paddle shots. De Kock confidently striding closer and closer to his half-century on the other end.
Catch dropped
Buttler misses a catch. Three balls later, the ball goes through his legs for four byes. Moeen Ali and Adil Rashid, operating from either end, are giving the South African batsmen some trouble. De Kock has doffed the helmet. He is into his 40s now.
Time for some spin
Adil Rashid replaces Woakes. Woakes finishes his opening spell with figures of 0/24 in 5 overs. Rassie van der Dussen has come into the middle for South Africa. Some serious rebuilding needed here. De Kock not looking to change his approach one bit though, tries a few slog sweeps off Rashid's bowling. Ball even hit his off stump once, but bails were not knocked off. Bemused looks from the England players.
Faf du Plessis is out
The South African captain skies a Jofra Archer delivery. Moeen Ali, at fine leg, has no trouble in getting around to it and gratefully accepting the catch. Archer, now into his fifth over, has given the South African batsmen serious trouble with his pace and bounce. That was a 149kph short ball. Both Amla and Du Plessis are currently in the pavilion having failed to deal with Archer's bouncers.
Markram is out
Aiden Markram is caught at slip by Root. Just when he was starting to look good with his drives. Archer gets his first World Cup wicket! Faf du Plessis is coming in at No. 4. Two slips in place for him.
First four for Markram
Excellent drive through the covers by Markram. Tried to break free a few times earlier this over, but could not find the gap. This time he does and looks beautiful while doing it.
Amla retires hurt
Amla is walking off retired hurt, rubbing his head with his hand. Aiden Markram is out there in his place. An early blow for South Africa. De Kock continues unperturbed though, smashes Woakes through the off side for his second boundary. The South African keeper averages 99.75 with his trademark cut shot.
First four of the innings
First four of the innings comes off Amla's bat. Archer bowls short and wide outside the off stump, Amla deftly plays it down to the third man fence. Archer does not look pleased. Does well to come back though, raps Amla on the pad with an inswinging delivery the very next ball. Strikes Amla flash on the grille of his helmet in the fifth ball. Physio out to have a talk with Amla. Archer charging in with some real intensity! Nice to see him apologizing to Amla and sharing a laugh with the umpire after that.
Half-chance for England
First half-chance of the innings. De Kock slashes at a Woakes delivery, but can only get a thick-ish edge on to it. Buttler leaps to his left but can't get there. Oohs and aahs around the ground. De Kock showing a little more aggressive intent now.
Archer on for England
Jofra Archer, whose ODI career is just three matches old, is sharing the new ball with Woakes. Amla has taken strike for the first time. Amla has a special connection with this ground. He had scored 311* in a Test here in 2012, the first Test triple ton by a South African batsman.
South Africa resume
Quinton de Kock and Hashim Amla open the innings for South Africa. No Aiden Markram at the top of the order then. At least, not today. Chris Woakes has the ball in hand. SA need 312 to win at 6.24 RPO. Here we go!
England score 311/8 after 50 overs
11 runs off Rabada's last over. The hosts finish on 311/8. Jofra Archer and Liam Plunkett got bat on the ball on every occasion to make every ball count. Four fifties for England, with Ben Stokes top-scoring on 89, but South Africa do well to prevent a flourish at the end. Can Faf du Plessis' men chase this down?
Stokes misses out on century
Stokes tries to play a reverse sweep off Lungi Ngidi, could not get it past the short third man fielder. The all-rounder gets out on 89. ENG – 300/8 in 49 overs.
300 up for England!
Stokes is holding on to one end. 300 up for England. They would have expected to reach this number sooner.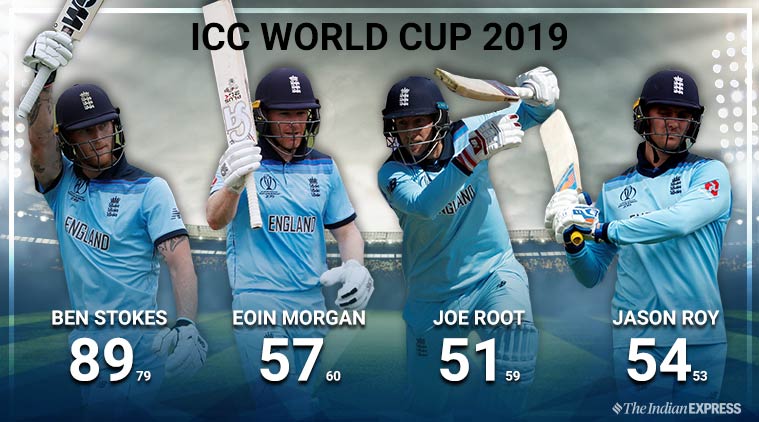 WICKET!
Rabada does the trick in death overs. Chris Woakes miscues it to Du Plessis, easy catch for him. England bat deep. Let's see if they can get past 320 here. ENG 285/7 in 47.3 overs
Rabada floors Stokes
A spot-on yorker from Ben Stokes. The ball hits the back leg of Stokes. He is on the ground. An lbw appeal followed by a DRS from South Africa. Stokes survives as the ball was pitched outside leg.
England on couse for 300-plus
Chris Woakes and Ben Stokes are trying to squeeze as many runs as possible in the death overs. An appeal for caught and bowled on the last ball of 47th over. Good effort by Phehlukwayo but the ball bounced before reaching his hands. Not out. ENG 284/6 in 47 overs
The death overs are on
Ben Stokes is heading towards his century. South Africa have done wonderfully well to pull things back in the middle overs. ENG – 275/6 in 46 overs
STAT ATTACK
Since the last World Cup Kagiso Rabada has an economy rate of 6.38 runs per over in the death over (41-50) phase. That is the fifth best in the world among pace bowlers.
Du Plessis's splendid catch
Faf du Plessis pulls off a stunner to dismiss Moeen Ali. A dive to the left gets two hands on the ball. One of the best outfield catches you will ever see. Lungi Ngidi gets his second wicket of the day. ENG – 260/6 in 44 overs
No Buttler show today
Played on! Jos Buttler inside edges a back of the length delivery. Fifth wicket falls. More responsibility on Stokes' shoulders. Meanwhile, Moeen Ali is on the crease. ENG 247/5 in 41.2 overs
The two big partnerships of the day so far
Talk about coincidence
10 overs to go
Stokes and Buttler are in the middle. Two of the biggest hitters in the world. England will be looking to post a score in excess of 320 from here with Moeen Ali, Jofra Archer, Liam Plunkett, and Chris Woakes still to come. ENG 235/4 in 40 overs
More Tahir magic
WICKET! Imran Tahir gets the prized wicket of Eoin Morgan. The partnership-breaker goes for a sprint again. What a game he is having. Absolute stunner from Aiden Markram. ENG 217/4 in 36.5 overs.
Squad:
England: Eoin Morgan (c), Jos Buttler (wk), Jason Roy, Jonny Bairstow, Joe Root, Ben Stokes, Moeen Ali, Chris Woakes, Liam Plunkett, Jofra Archer, Adil Rashid, Tom Curran, Mark Wood, James Vince, Liam Dawson
South Africa: Quinton de Kock (wk), Faf du Plessis (c), Hashim Amla, Rassie van der Dussen, Jean-Paul Duminy, David Miller, Andile Phehlukwayo, Dwaine Pretorius, Kagiso Rabada, Lungi Ngidi, Imran Tahir, Aiden Markram, Tabraiz Shamsi, Chris Morris
Source: Read Full Article