Double delight: Neeraj grabs gold, Jena takes silver
Indian javelin sensation Neeraj Chopra lived up to the hype, securing the gold at the Asian Games, with compatriot Kishore Kumar Jena adding a silver to India's medal haul. The Hangzhou Olympic Stadium witnessed a thrilling contest as the two Indian athletes stole the spotlight.
In a closely contested battle, Neeraj emerged victorious with a season's best throw of 88.88 meters. Meanwhile, Kishore Kumar Jena showcased his mettle with a spectacular performance.
Neeraj began the competition amidst roaring applause, delivering a strong initial throw that appeared to be around the 89-meter mark, although it wasn't officially recorded after a peculiar 15-minute delay and discussion.
In his first official throw, Neeraj fell short of the 85-meter mark, recording 82.38 meters. However, the Indian star athlete, immensely popular in his home country, made a remarkable comeback in his second attempt, surpassing his previous score at the Games.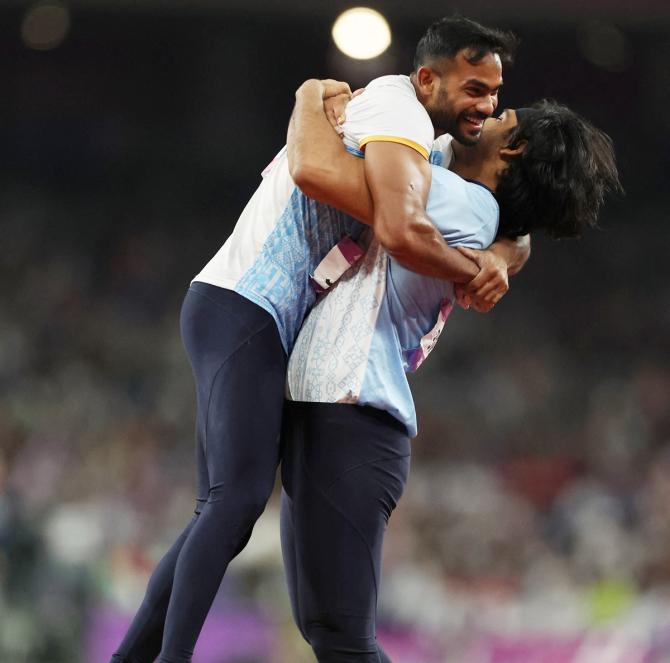 Neeraj's third attempt was declared foul, setting the stage for a neck-and-neck battle with fellow Indian athlete Kishore Kumar Jena. Jena's second throw, initially recorded at 79.96 meters due to foot placement confusion, was followed by a sensational third attempt, which propelled him to the top position with a personal best of 86.77 meters. Furthermore, Jena achieved the 2024 Paris Olympics Qualifying Standard of 85.50 meters, securing his spot in the upcoming Summer Games.
Neeraj mounted a stunning comeback with a spectacular throw in his fourth attempt, reaching 88.88 meters, his season's best. He celebrated his achievement with a triumphant roar and his signature javelin toss.
Kishore Kumar Jena responded with an 87.54-meter throw in his fourth attempt, achieving another personal best. As the competition progressed to the fifth round, Neeraj held the gold medal position (88.88 meters), while Jena secured second place (87.54 meters).
Neither athlete managed to surpass their previous throws in the sixth attempt, concluding the event as gold and silver medalists.
Over the past five years, Neeraj Chopra has experienced tremendous success since winning the gold medal at the 2018 Jakarta Asian Games. He currently holds the titles of reigning Olympic and World Champion, having claimed the world javelin crown earlier this year in Budapest.
The highly anticipated Neeraj Chopra vs. Arshad Nadeem showdown did not materialize in Hangzhou, as it was revealed on Tuesday that the Pakistani javelin thrower had withdrawn from the competition due to a chronic knee problem.
Source: Read Full Article