Why Did This MLA Run All Day?
A football trick that led to a Guinness record.
The Top Videos of the Week, listed by Shailajanand Mishra.

Also see: The amazing Surya Kiran.
The amazing glass igloo restaurant.
Videos chosen by you through your likes on iShare.
Impressive! Surya Kirans' Aerobatics
Location: Thiruvananthapuram
Watching the Indian Air Force take to the skies is always a moment of pride.
It was no wonder then, that when the Surya Kiran aerobatic team showcased their skills in a spectacular air show over the Shangumugham beach at Thiruvananthapuram, all eyes turned upwards.
The aim of the show was two-fold — to showcase the IAF's prowess and to encourage youth to join the air force.
MLA Runs From Sunrise To Sunset
Location: Jaipur
Those who visited Jaipur's Central Park last week would have seen a strange sight — that of Baljeet Yadav, the independent MLA representing Behror in Rajasthan, running from sunrise to sunset.
It was his way of protesting issues like exam paper leaks, the problems facing farmers and unemployment.
Do you think this novel form of protest will work?
Railway Track Goes Missing!
Location: Samastipur
Anything can be stolen, even railway tracks.
This happened in Samastipur, Bihar.
Nearly two kilometres of unused railway tracks went missing and here's what happened to the two officers whose responsibility it was to ensure that the tracks at that stretch remained where they were.
Gorgeous! India's First Glass Igloo Restaurant
Location: Gulmarg
Gulmarg is one of the top tourist destinations in India. But it does not believe in sitting on its laurels.
It keeps innovating.
Last year, the big attraction was the biggest snow igloo in Asia.
This year, it's a glass igloo 🙂
MIG 29K's Lands On The Vikrant
Location: INS Vikrant
A dot in the sky. Then a roar.
And the MiG 29K landed on the INS Vikrant for the very first time.
The navy, which is currently operating the MiG 29K from the aircraft carrier, INS Vikramaditya, hopes to fully operationalise the INS Vikrant in the coming months.
A Football Trick & Guinness record
Location: Mangaluru
Do you know what nutmeg is? Other than the spice, we mean.
Let Mohammed Shaleel, a final year BBA student from Mangaluru, show you even as he sets a Guinness record for the fastest number of nutmegs within 30 seconds.
The record was earlier held by Dele Ali, a professional English footballer, and American football trainer Tasha Nicole.
Army Evacuates Pregnant Woman
Location: Kishtwar
When help is needed in difficult situations, the Indian Army is always at hand.
Once again, this time in close coordination with the IAF, it evacuated a pregnant lady in critical condition from remote winter-isolated Nawapachi, which is part of the Kishtwar district in Jammu and Kashmir.
Here's what the residents of Nawapachi felt about the Indian Army's helping hand.
Feature Presentation: Ashish Narsale/Rediff.com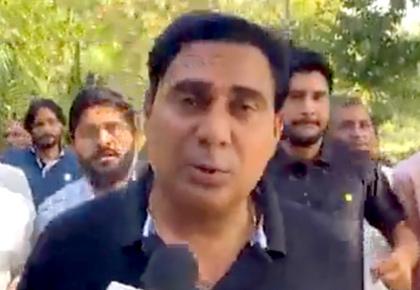 Source: Read Full Article