What's capping rally in SBI shares?
Given the uncertain macroeconomic conditions, most brokerages have turned slightly cautious on the pace of growth in State Bank of India's (SBI's) earnings going ahead.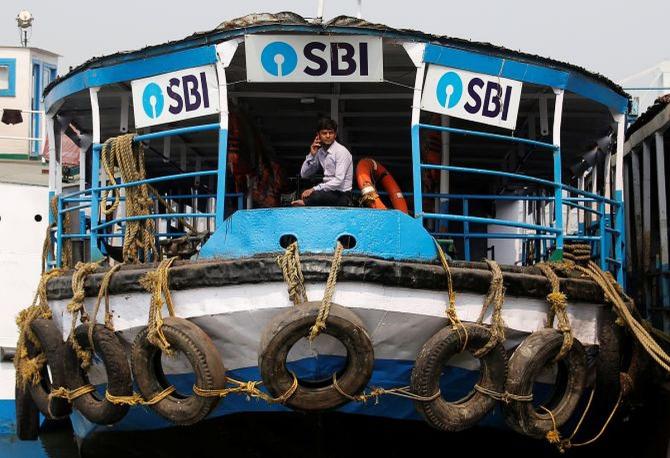 While they don't see any significant risk arising for now, its sheer balance sheet size and systematic importance has nudged them to cut earnings estimates for fiscal year 2023-24 (FY24) and 2024-25 (FY25) up to 5 per cent.
India's largest state-owned bank, on Thursday, reported standalone net profit of Rs 16,694.51 crore for Q4FY23.
For the full fiscal year, SBI's net profit crossed Rs 50,000-crore mark and stood at Rs 50,232 crore, up 58.58 per cent YoY.
The NII came in at Rs 40,393 crore in Q4FY23, up 29.5 per cent year-on-year.
For the year, it stood at Rs 1.44 trillion with net interest margin (NIM) at 3.58 per cent.
Loan book at the end of the quarter stood at Rs 32.69 trillion, with deposits at Rs 44.24 trillion.
FY23 proved to be one of the best years for as NIM expanded 20 bps, loan growth accelerating 16 per cent YoY, gross and net non-performing assets coming at the lowest point in history, and credit costs touching an all-time low in two decades.
Further, return on equity (RoEs) improved to 16.5 per cent, which is more than a decade high.
Yet, shares of the lender have slipped around 2 per cent in two days as concerns have, now, emerged around the sustainability of the underlying earnings.
By comparison, the benchmark S&P BSE Sensex is up 0.2 per cent, while the BSE Bankex has added 0.67 per cent.
"SBI delivered strong performance in the March quarter of FY23, led by steady business and revenue growth.
"However, while SBI is our preferred stock in the PSU basket, macroeconomic uncertainty is the biggest risk, given its market size and exposure," said analysts at Elara Capital led by Prakhar Agarwal.
The brokerage has cut its FY24 net profit estimate by 1.2 per cent to Rs 53,500 crore from Rs 54,100 crore.
Operating profit estimate for the fiscal has also been lowered by 1.1 per cent to Rs 94,600 crore, and net interest income (NII) estimate by 0.7 per cent to Rs 1.57 trillion.
As regards FY25, Elara Capital has trimmed PAT estimate by 0.1 per cent, operating profit by 1.2 per cent, and NII by 2.2 per cent.
Those at ICICI Securities, too, have slashed net profit estimate for FY24 by 5 per cent, and one-year target price to Rs 730 from Rs 805, amid concerns around deceleration in credit growth, and higher than expected credit costs going forward.
Analysts feel the Street seems worried about the potential reversal in earnings, led by weakening macro conditions, and higher cost of equity in this leg of the cycle.
These are limiting upside in the stock.
Kotak Institutional Equities has kept its target price (Rs 725) and stance (buy) unchanged, while revising the PAT estimate for FY24 downward by 1 per cent, loan growth by 21 bps, RoA and RoE by 3 bps and 42 bps, respectively.
That said, analysts feel State Bank of India's core fundamentals remain unparalleled and it needs to deliver growth on guided lines, sustain NIMs near current levels, and control asset quality parameters while moderating credit costs to drive incremental re-rating in stock.
Jefferies has raised earnings estimates by 3-4 per cent for FY24-25.
"We estimate RoA of 1 per cent/RoE of 17 per cent in FY24.
"The management has stated that the capital adequacy ratio for Common Equity Tier 1 (CET1) capital of 10.3 per cent is adequate and the bank doesn't plan any capital raising for now.
"We, thus, maintain BUY with a price target of Rs 760," they said.
Disclaimer: This article is meant for information purposes only. This article and information do not constitute a distribution, an endorsement, an investment advice, an offer to buy or sell or the solicitation of an offer to buy or sell any securities/schemes or any other financial products/investment products mentioned in this article to influence the opinion or behaviour of the investors/recipients.
Any use of the information/any investment and investment related decisions of the investors/recipients are at their sole discretion and risk. Any advice herein is made on a general basis and does not take into account the specific investment objectives of the specific person or group of persons. Opinions expressed herein are subject to change without notice.
Source: Read Full Article