Welfarism vs Industry: The challenge awaiting Vijayan
The LDF government — which has negotiated a series of crises in the form of natural disasters to the Covid pandemic — cannot turn a blind eye to the accumulated debt of the state that now exceeds Rs 3 trillion and the need for more jobs, investment and industry, notes Jayanth Jacob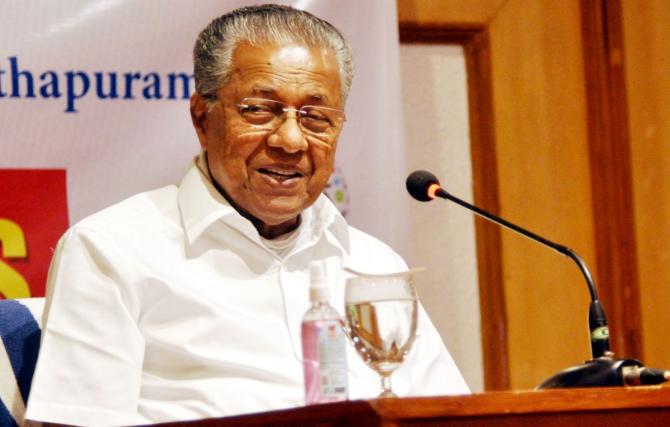 A bevy of social outreach measures and the 'caring strongman' image of Chief Minister Pinarayi Vijayan helped the Communist Party of India-Marxist-led Left Democratic Front to retain power in Kerala, bucking the four-decade-old tradition of India's southernmost state not re-electing the incumbent.
The victory has been comprehensive as the Left Front trounced principal opposition Congress across the state despite it pulling out all the stops, including holding massive roadshows by party leaders Rahul Gandhi and Priyanka Gandhi, in many parts of the state to wrest power. The Red also diminished a spirited Bharatiya Janata Party, which drew a blank in the 140-member assembly where it had one member in last election.
As it negotiated a series of crises in the form of natural disasters to the Covid pandemic with a great amount of resilience since 2017, the state — known for militant trade unionism as much as for human development indicators — will be bracing for measures to get its economy moving.
Unlike many of his communist compatriots, capital has never been a topic of aversion for Vijayan, who could ward off massive corruption charges against his government that had also resulted in the resignation of his principal secretary M Shiva Shankaran while in the saddle.
His five-year term also saw five ministers resigning but it seems no wrongdoing got attributed to the chief minister who consistently spoke about investments, industrial progress, and trade unions shedding their unnecessary aggression. Though welfarism will stay its course, the new government cannot turn a blind eye to the accumulated debt of the state that now exceeds Rs 3 trillion and the need for more jobs, investment and industry.
Despite all its pluses, the state remains a difficult place for the organic growth of private capital, though some Gulf-based industrialists from the state are exceptions to this rule.
Since social outreach has paid the party rich dividends, the Left needs to showcase them nationally as an alternative model of development and Kerala is the only state where these parties are in power, making it the governance laboratory of the Indian Left.
Some of the immediate measures that the new government would implement include a Rs 5,000-crore coastal development package, welfare schemes for taxi and autorickshaw drivers, coir and agriculture workers, traditional seafaring fishers, toddy tappers and cashew workers, and a hike in farm wages.
It is then keen on meeting its election promise of increasing the monthly welfare pension from Rs 1,600 to Rs 2,500, which is expected to benefit 6 million pensioners. "We won the elections because we walked the talk. We cared for the people. We delivered them help. Whatever we do, we will have a human face. We are for industry. But are also for agriculture. We are also for reviving all public sector units," said M M Mani, former minister who got re-elected.
Though it is the pronounced policy of the Left to put emphasis on reviving public sector units, Vijayan enjoys the image of a doer among industry leaders. He can exercise his complete authority over both party and government, something most chief ministers of the state can only dream of.
The petrochemicals complex coming up close in Kochi can benefit from the Kochi-Mangaluru natural gas pipeline — inaugurated early this year and expected to be completed soon. The pipeline was in cold storage for over a decade.
The new government will also be spending its energy on expanding its start-up mission and measures to revive its tourism sector massively hit by Covid- 19 pandemic.
But the CPI-M remains dead against the decision to lease out Thiruvananthapuram International Airport to Adani Enterprises and the matter is in court now. This opposition can also be seen as more ideological than anything else as Adani had won the contract as the highest bidder.
How pragmatic can Vijayan be ideologically will answer a lot of questions the state has in terms of investment and industrial development.
Source: Read Full Article