Vehicle registration falls 28.64% YoY in March despite low base: FADA
The lockdown in Maharashtra will have a catastrophic impact on April sales, as dealers will not be able to realise the potential of festivities like Ugadi, Gudi Padwa, Baisakhi and Poila Boishakh.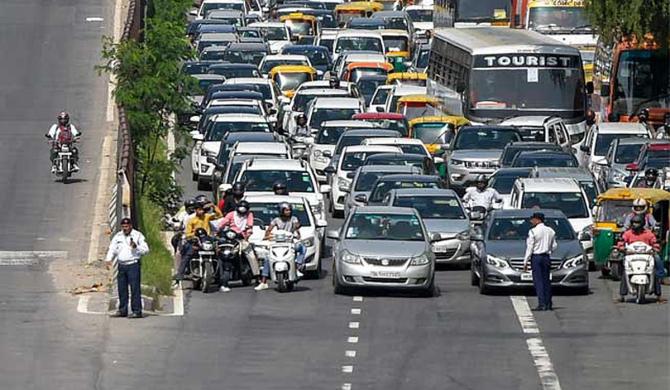 Cumulative vehicle registrations across all categories fell year-on-year by 28.64 per cent in March, Federation of Automobile Dealers Association (FADA) said on Thursday.
The fall comes despite last year's low base. Auto sales had come to a standstill owing to a seven-day lockdown last March.
The registration volumes are in stark contrast to the wholesale (dispatches to dealers) volumes reported by manufacturers on April 1.
Owing to the low base of last year which came on back of a lockdown and a transition from BS-IV to BS-VI, quite a few auto firms including Maruti, Hyundai, Tata Motors, Mahindra and Mahindra, reported a more than 100 per cent year-on-year jump in their March sales.
The dealer body warned that the lockdown in Maharashtra will have a "catastrophic impact" on April sales, as dealers will not be able to realise the potential of festivities like Ugadi, Gudi Padwa, Baisakhi and Poila Boishakh.
The state contributes 10-11 per cent of the auto retail. Overall, FADA maintains extreme caution for the month of April as Covid rises to newer highs.
Much like apex bodies from other industries including hospitality, it has made a representation to Uddhav Thackeray, Chief Minister of Maharashtra for relaxing the curbs and allow dealerships to function, said a FADA member.
The trade bodies are expecting a decision on Friday.
"Covid is not only spreading faster but is also trying to destabilise the growth which India has been able to achieve in the last few months.
"Any lockdown at this point will severely hamper the momentum which is getting built for the auto Industry to come out of the woods," the dealer body stated in the release.
In all, 1,649,678 units were registered during the month, compared to 2,311,687 units in the same month a year ago.
With the exception of passenger vehicles and tractors, whose registrations r0se 28.39 per cent and 29.21 per cent, respectively, all the other segments including two-wheelers, commercial vehicles and three-wheelers reported a sharp YoY fall.
Overall registration volumes were dragged down by two wheelers, which saw a decline of 35 per cent to 18,46,613 units over the year ago period.
Global shortage of wafers which is an input for semiconductor, continued to linger around and kept PV waiting period as high as 7 month, said FADA.
According to FADA Survey, 47 per cent PV dealers said that they lost more than 20 per cent sales due to supply side constraints.
Tractors continued its dream run as rural incomes saw improvements after successive monsoons and good rabi produce.
If experts are to be believed, India will witness a normal monsoon for the 3rd year in a row.
This will further see tractors performing well in FY 21-22.
"Lower retail numbers indicate inventory built up as wholesale volume was higher in the month.
"There are clear visible signs of slowdown in the two-wheeler segment.
"PV segment volumes are impacted by supply constraints of key components," said Mitul Shah, head of research at Reliance Securities.
Rising Covid cases and fear of the second wave started weighing in on the auto industry in the second half of March 2021, he said, adding that the next two months are critical in terms of how the Covid situation pans out and how it impacts various sectors of the economy.
Financial woes brought by Covid-19 have pushed about 32 million Indians out of the middle class, undoing years of economic gains.
This had its impact on 2-wheelers as it saw one of its steepest de-growth in the last few months.
This coupled with high fuel prices and price increase acted as double whammy, FADA said, citing a finding from Pew Research.
Photograph: PTI Photo
Source: Read Full Article