'Parts of India have begun to run out of water'
'By 2030, there may not be enough water for all; by 2030, parts of India would be overcome by water.'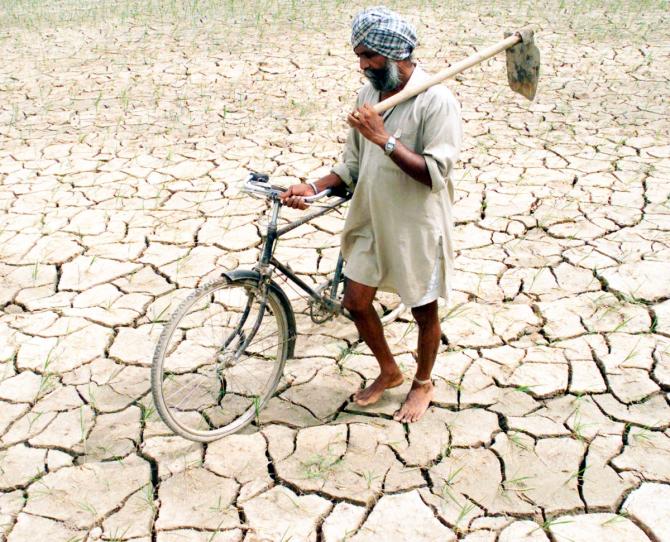 Do you feel it's too hot in the summer? And too cold in the winter? Too rainy in the monsoons?
As you watch India being lashed by unseasonal, unpredictable rains and see grim pictures of flooded cities, towns and villages, do you wonder what kind of water situation India will face in the future.
It is this issue that Mridula Ramesh, founder of the Sundaram Climate Institute, tackles in her recent book Watershed: How We Destroyed India's Water And How We Can Save It.
"From the age of Kalidasa, we have understood our water. But, somewhere along the line, we forgot that it varies from place to place and from year to year," Ramesh tells Rediff.com's Shobha Warrier.
The first of a two-part interview:
In your book, Watershed: How We Destroyed India's Water And How We Can Save It, you have said that, by 2030, India might not meet half of its water demands. Are we going to face a water crisis of that magnitude?
What I have said throughout the book is that you don't have to be in 2030 to experience a water crisis; parts of India have already begun to run out of water in 2021 itself. This problem is only going to increase.
Take agriculture, for example. Despite having pumped in thousands of crores into agriculture, 50 per cent or more of our farmland remains rain-fed. The farmers here do not have access to irrigation.
Climate change makes wet regions wetter and dry regions drier.
Rain-fed farms in the drier parts of the country are feeling the pinch of lack of water, and this pinch is only going to increase.
Some of the biggest companies have shut down because of non-availability of water.
I have said that, by 2030, there may not be enough water for all; I have also said that, by 2030, parts of India would be overcome by water.
So you are going to have this paradox — on one side, people are not going to have water; on the other, some parts will have too much water.
According to reports, India received 129 per cent more rainfall in 2021. Also, due to climate change, wet days are becoming wetter and hot days, hotter…
It is a paradox only if you don't understand India's water. That's what I have tried to explain in my book.
From the age of Kalidasa, we have understood our water.
But, somewhere along the line, we forgot that it varies from place to place and from year to year.
We used to manage the variability once; we are not doing it any more. That's why we are in a crisis.
You said Indians understood water. Is that not the case with people living anywhere in the world?
The difference is that when we were colonised, our minds were also colonised. We forgot the unique nature of our water.
Earlier, we had tanks and that was how we managed the variability of our water.
When it rained, tanks would fill up with water and, thus, the wells too.
During periods of intense rainfall, like this year, more tanks would fill up.
However, the British replaced the tanks with dams and canals, with the subtext that the dams and canals gave a good return on capital for the British.
This also provided centralised control over water supply; tanks were community controlled.
But dams and canals did not work with India's seasonality and annual variation in the way tanks did.
To answer the question — yes, we understood water once upon a time, but not so much today.
If we had understood water, would we have built over tanks as we have done in our cities?
Those were the times of small kingdoms where the rulers could manage a particular region. Also, the communities took care of the local tanks. Today, India is a big country. Is it not true that what worked in small kingdoms may not work in today's scenario?
India is too varied; what works in Kerala may not work in Odisha. What will work in Madhya Pradesh may not work in Arunachal Pradesh. So, a national law may not work in India.
Both the nature of water and the politics of water suggests that you should deal with it at a decentralised level — at the city, at the neighbourhood and at the house level.
What we need is different solutions for different places.
Take Israel and Singapore as examples. Since I have used Israel as a case study in my first book (The Climate Solution: India's Climate Change Crisis And What We Can Do About It), so the focus was more on Singapore in this book.
But here, our size becomes an advantage.
What if we saw Chennai as a few Singapores put together? If we look at it this way, with the right policies, parts of Chennai may be able to replicate what Singapore does in water management.
Once you decentralise, the community becomes more important and can hopefully vote for a resilient policy that makes sense at the local level.
Feature Presentation: Rajesh Alva/Rediff.com
Source: Read Full Article