Out of the 9/11 ashes, the One World Trade Center stands tall
Two skyscrapers were decimated the day 2,996 died, 15 years ago.
George Joseph profiles the monument that has replaced them.
November 2014, 13 years after the 9/11 attacks, the true spirit of America earned a new emblem when the felled Twin Towers were reincarnated as the impressive Freedom Tower.
Today, two years later, the 1,776-foot glass and steel monolith, with its unique shining eight-isosceles triangle finish, adds magic to New York's distinctive skyline.
"It is good to see the gaping hole, rended in the city's fabric by 9/11, getting filled. Some of the new WTC buildings, built and proposed, represent both good architecture and a response to genuine market forces," said Dr R Shankar Nair, who was chairman of the Council on Tall Buildings and Urban Habitat, just before the collapse of the Twin Towers.
"By all accounts it is a good looking building; an important monument," he added.
Can the Freedom Tower withstand an airplane attack?
"Building professionals and societies have learnt that the correct response to 9/11 is to prevent criminals from flying airplanes into buildings. Not to make buildings resistant to airplanes," Dr Nair said.
"Changes in security measures have made a repeat of 9/11 so unlikely, that aircraft impact is still not considered in building design — correctly, in my opinion," he said.
"We cannot say that the new WTC tower could withstand an attack similar to 9/11. The more plausible line of terrorist attack on a tall building today is a truck bomb at street level. The building was designed with that threat very much in mind. The lower part of the tower is heavily armored," said Dr Nair, who is now senior vice-president, Exp US Services Inc, a building engineering consultancy firm.
The Freedom Tower is touted as the tallest building in the US and the western hemisphere. But there are differing opinions on that.
"The highest floor in the Freedom Tower at One WTC is at less than 1,400 feet," Dr Nair pointed out, "placing it below the highest floor in the Willis (formerly the Sears) Tower in Chicago. A non-functional spire takes the total height to 1,776 feet."
Most of the bottom quadrant of the Freedom Tower, the engineer explained, is essentially unusable. The balance that remains is 69 office floors and a few special use floors "all of which could have been accommodated in a relatively modest size, modest cost building. Functionally it is a rather modest-sized building, with the cost and impact of a huge one."
Dr Nair, who is Chicago based — and incidentally the grandson of the late K P S Menon, India's first foreign secretary — has not visited the new avatar of the WTC Centre since it was completed. Even though he is an authority and advocate for taller buildings and was inducted into the National Academy of Engineering in 2005 for his 'contributions to the art and science of engineering through the design of innovative bridges and building structures,' many of them quite tall, he sees no justification for super-tall buildings, which are not always economically viable.
"Tall buildings are not built for money. (They come up) more for prestige. Or to show off. (They) are built for every other reason than money," he said. "Some lease top floors of such buildings for huge amounts."
There is no rational justification for tall buildings, he added, especially in places where plenty of land is available.
The Freedom Tower, designed by David M Childs, Skidmore, Owings & Merrill, spreads across 2.6 million square feet, offers office space, an observation deck, restaurants as well as broadcast and antennae facilities.
The skyscraper incorporated many of the safety precautions recommended by the committee who investigated the collapse of the towers, that was headed by Dr S Shyam Sunder, then director, Building and Fire Research Laboratory, National Institute of Standards and Technology.
Ground Zero, on the day of the attack, transformed into a crematorium and burned the victims' bodies into ashes.
1,113 victims — 40 per cent of the 2,753 who perished that horrific morning — are still not identified, though their families got death certificates and their names were etched on the 9/11 memorial.
A repository underneath the Twin Towers site, adjacent to the 9/11 Memorial Museum, is where unidentified remains are now stored. Some families say the unidentified dead deserve an above ground memorial like the Tomb of the Unknown Soldier in the Arlington National Cemetery.
'The room has no sanctity, no religiosity, no atmosphere or respect like an interfaith chapel would,' Sally Regenhard, whose son Christian Regenhar, a probationary firefighter who died responding to the attacks, told NBC News.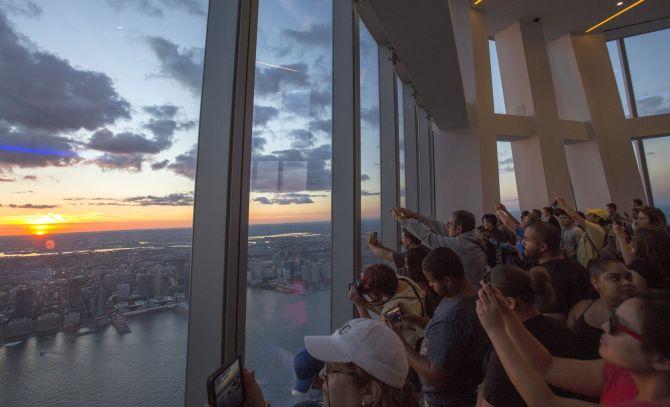 The fall of the Twin Towers, 15 years ago, had no significant effect on the perceptions about tall buildings or on the construction of taller buildings, believes Dr Nair.
In the last decade, he said, even taller buildings have come up in many countries and the trend was to constantly keep adding to a building's height as much as is humanly feasible.
"Even though there are not many structural changes to new buildings, the security preparedness was improved. New rules were enforced for exit preparedness. Now taller buildings need more, and wider, staircases for mass evacuation. Fireproofing system too got improved," he said.
"In a natural calamity I would prefer to be in a taller building rather than in a two-storey brick building. Taller buildings are built to withstand calamities," he said.
"The World Trade Centre collapsed not because of any problem with the buildings. It fell because of a security failure," he said.
When it comes to constructing skyscrapers for strength, though each country follows its own rules, the pattern everywhere is the same, Dr Nair explained, because most tall buildings are erected by the same US companies.
Chicago-based Skidmore, Owings and Merrill, which built the Sears Tower, also constructed the Burj Khalifa in Dubai. Saudi Arabia's upcoming Kingdom Tower in Jeddah, overlooking the Red Sea, which is to become the world's tallest building if completed in 2020, is also being constructed by another Chicago firm — Adrian Smith + Gordon Gill Architecture.
Tall structures like the Empire State Building will last many centuries, or as long as the owner wants it to survive, said Dr Nair. There is no fixed life span for these buildings as long as they are repaired and taken care of.
How the Freedom Tower came into being
Source: Read Full Article