'It is very easy to destroy the environment'
'But extremely difficult, expensive and time consuming to rebuild it.'
Askari H Zaidi reports.
The theme of World Environment Day, June 5, was 'Ecosystem Restoration.' To help achieve the goal, a significant beginning has been made in Hassan and Chikmagalur districts of Karnataka.
Dr Mithilesh Tripathi and his team have planted about 300,000 saplings in two coffee estates of Hori Khan, Chikmagalur district, and Hosa Giri, Hassan district, in the past four-and-a-half months.
Most of these saplings are of medicinal plants and herbs.
"Our effort is not only to restore vegetation and biodiversity of the area but also generate additional income," says Dr Tripathi.
An important member of Dr Tripathi's team is Dr Bala Prasad, a retired Indian Forest Services officer who is an expert on medicinal plants.
According to Dr Prasad, the ecology of these areas of the Western Ghats region has been severely damaged, affecting the climate and livelihood of a large population.
"From 1920 to 1990, about 40 percent of the region's natural vegetation was depleted," says Dr Prasad.
"It is very easy to destroy the environment, but extremely difficult, expensive and time consuming to rebuild it.
"So, we knew there will be hardships but considering the benefits, we just plunged into the Project Restoration after studying the area's climate and soil conditions," says Dr Tripathi.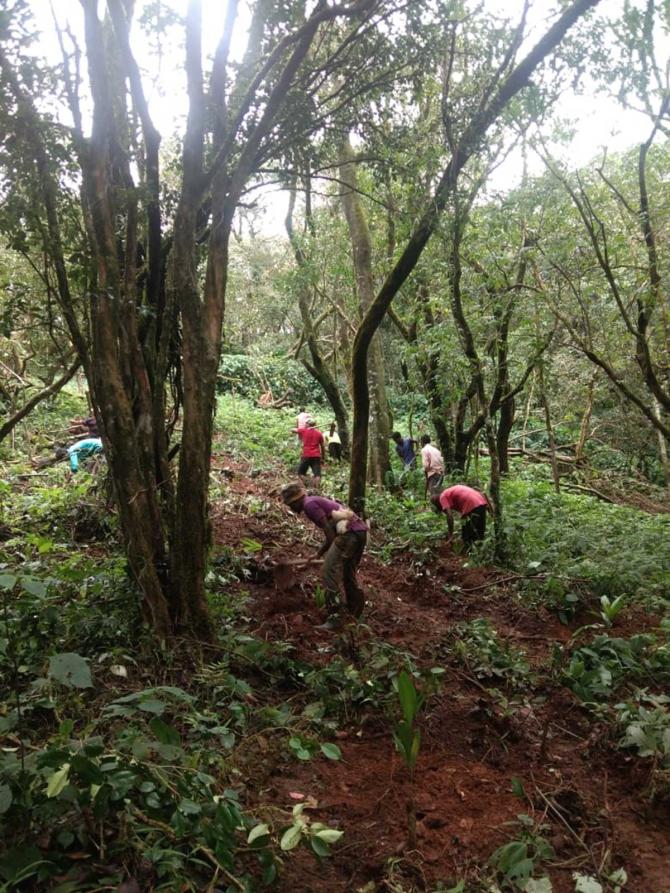 After visiting Hori Khan estate recently, this writer realied how difficult it is to carry out plantation in the hilly area, unlike in the plains.
Without disturbing the coffee plantation, saplings have been planted mainly on slopes where watering the plants is a challenge.
Workers were provided shoes with grip to work on the slopes and also protect them from leeches which infest the area.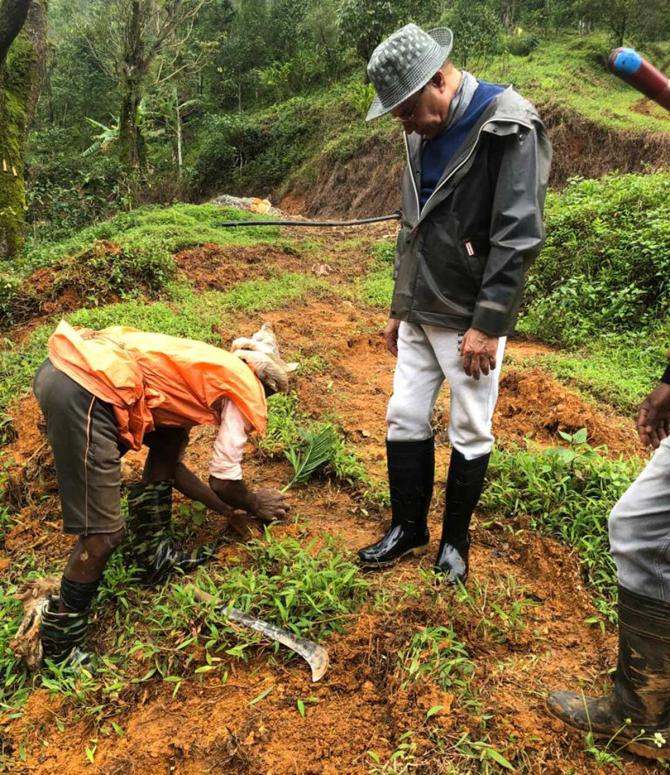 Spread over 600 acres, Hori Khan estate is located on the Mangaluru-Chikmagalur border.
About 25 species of medicinal plants and herbs, including Asoka (Saraca Asoca), Arjun (Termenlia Arjun), Cinnamomum Zeylanicum/ Verum, Agarwood, fruit plants, and herbs such as small cardamom, turmeric, Bhumiamla (Phyllanthus amarus), and Brahmi Booti (Centella Asiatica), from different parts of Karnataka and even from outside the state have been planted in the two estates for comprehensive ecosystem restoration.
"Our motto is restoration of ecosystem through medicinal plants which is economically viable, socially beneficial and environmentally benign," says Dr Tripathi.
Besides the plantation, several soil conservation measures have also been undertaken.
The estate is completely organic and in this direction, cattle shades, farm yard manure/composting units, gobar gas plants, production of panchamritha units to fertilise the crops have also been created.
"Outside the coffee and tea estates there are large open and degraded areas.
"We are offering the knowledge and expertise that we have acquired to local communities as well," says Dr Tripathi.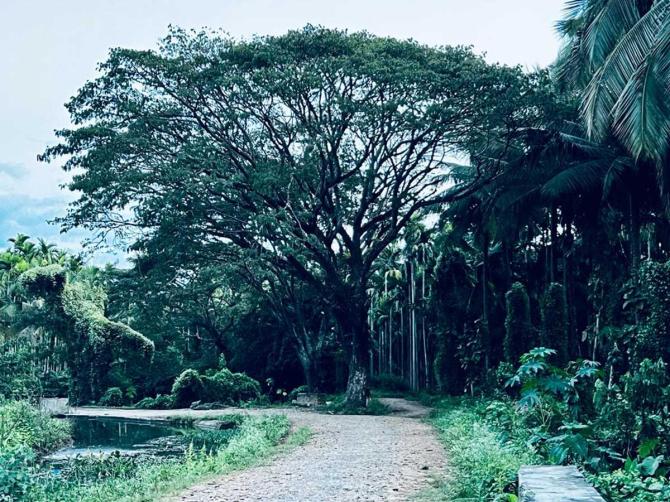 During British India, large areas of evergreen and semi-evergreen forests of the Western Ghats were converted into coffee plantations where Silver Oak (Grevillea robusta) is generally used as a shade tree for coffee shrubs and Piper nigrum (black pepper) trained as climbers on these trees.
But the cover density of silver oak is no match for that of evergreen and semi-evergreen forests.
"We asked ourselves why silver oak, and why not trees like Arjun whose bark and leaves both are of tremendous medicinal value, and, at the same time, they enhance water-holding capacity of the soil," says Dr Prasad.
"We went about choosing trees and herbs very methodically keeping local soil and economic viability in mind," he adds.
By planting medicinal plants and herbs in the area, Dr Tripathi is trying to use all available land for agriculture and increase income from the coffee estates many fold as there is tremendous demand for Indian medicinal plants and herbs worldwide.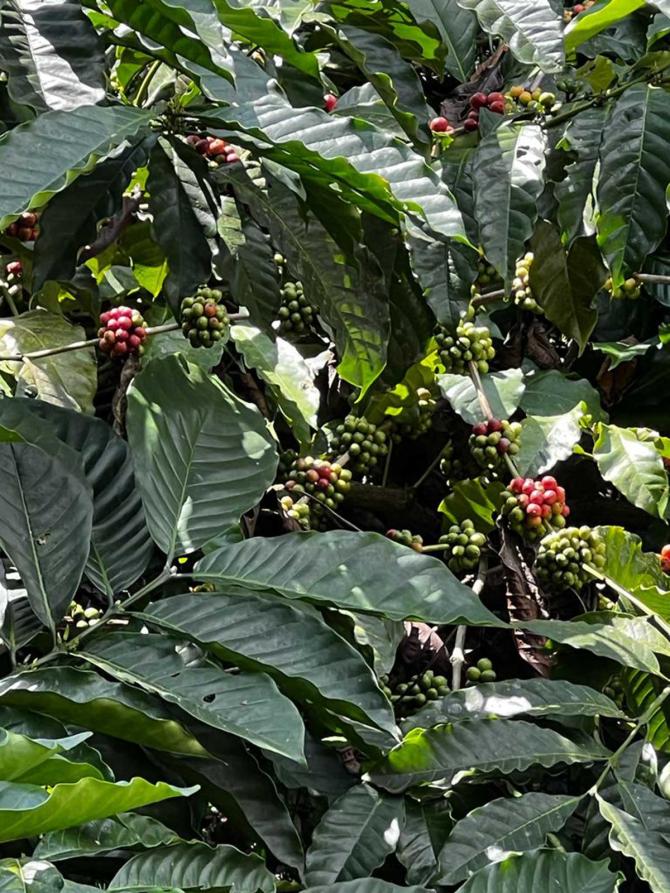 India is one of 17 mega bio-diversity-rich countries and has seven percent of the world's bio-diversity.
It has the unique distinction of possessing over a hundred varieties of medicinal and aromatic plants, the knowledge associated with them and a vast network of infrastructure required for extraction, testing, promotion, and propagation.
Nutraceuticals have made the sector more attractive by increasing the shelf life and making standardisation possible.
"The Indian nutraceuticals market is expected to grow from $4 billion in 2017 to $18 billion in 2025. According to an estimate, the global nutraceuticals market is poised to grow by $180.38 billion during 2020-2024," says Dr Prasad.
Considering that 'immunity' has become the buzzword worldwide in the wake of the COVID-19 pandemic, the demand for Indian medicinal plants and herbs is going to rise.
In this context medicinal plant based ecosystem restoration of the Western Ghats gets added importance.
One hopes Dr Tripathi succeeds in his ecosystem restoration efforts and serves as an example for others in the region.
Feature Presentation: Ashish Narsale/Rediff.com
Source: Read Full Article