India's consumption story moving fast once again
Unlock, good monsoon, better pace of vaccination and rural demand could galvanise recovery.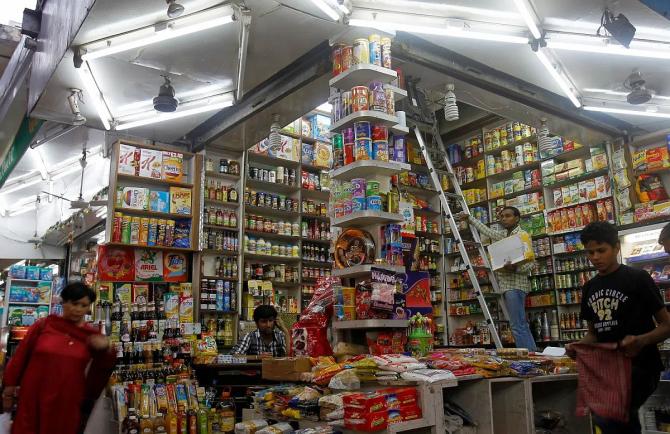 Sanjiv Mehta, chairman of the country's largest consumer goods company, HUL, believes that the second wave of the Covid-19 pandemic between April and June this year has been a mere pause in India's consumption story, and that it will not change the country's overall growth trajectory.
India is poised for growth, especially in the fast-moving consumer goods (FMCG) sector, Mehta told shareholders at the company's annual general meeting on Tuesday.
The signs of recovery are becoming evident with many states lifting lockdown restrictions in recent weeks.
While Covid-19 variants of concern and the possibility of a third wave remain, the vaccination drive, coupled with the progress of the monsoon and the pent-up demand in discretionary categories, is likely to propel growth for FMCG companies in the July-September (Q2) period.
According to data from Nielsen, the June quarter is likely to see growth rates of about 5-6 per cent in the FMCG sector, a drop from the 9.4 per cent growth rate seen in the March quarter.
However, Q2 could see the pace of recovery pick up.
In fact, FMCG executives are pegging the sector's growth at 10-15 per cent in the second quarter.
Nielsen, though, is yet to come out with its quarterly numbers for the June and September quarters.
When the research agency had released its March quarter numbers for the FMCG market in May, it had said that the June quarter was being monitored closely for a drop in consumption, especially in rural areas.
It also said that if companies were able to weather the challenges of the second wave, they would be rewarded with healthy growth in the July-September period.
That assessment seems to be on point.
Saugata Gupta, managing director and chief executive officer, Marico, says, "Items of daily consumption will come back to their original runway of growth.
"The share of the wallet for categories such as healthcare and immunity will be more.
"There has also been a smart recovery in kirana stores despite the challenges of the second wave."
After seeing closures in April and May, sales at the kirana stores have improved in June, retail intelligence platform Bizom said.
The trend is expected to further improve in Q2. Gupta says that rural areas are not seeing any drop in demand, though small FMCG players are likely to exit the market, owing to working capital issues and weaker distribution models.
Mayank Shah, senior category head, Parle Products, agrees that rural demand is holding up well.
"This is partly because of the forecast of a good monsoon, which will aid crop sowing in the kharif season.
"The government has also announced a free ration programme till November and higher minimum support prices for key crops.
"All this will help rural consumption and hence overall FMCG growth in Q2," he says.
The rural market constitutes nearly 39 per cent of the total FMCG sales, according to Nielsen, while urban areas make for 61 per cent.
In the last few years, rural areas have led India's FMCG growth, a trend, analysts say, that continued even in April-May this year when the deadly second wave of the pandemic was at its peak.
"Consumption growth in rural India in May outpaced the rate of expansion in cities despite seeing a higher impact of Covid this year versus the last," Abneesh Roy, executive vice-president, research (institutional equities) at Mumbai-based brokerage Edelweiss, says.
"Food inflation will also ramp up farm incomes. Rural stimulus programmes in the light of upcoming state elections, too, augur well for the market," he adds.
Rajat Wahi, partner, management consulting, Deloitte India, also points to early indications of a recovery in the sales of non-essential products.
Firms expect sales of beauty and personal care products to rise as the unlocking prompts more and more people to step out.
A return to normalcy will push up grooming needs, giving a fillip to FMCG companies that manufacture cosmetics and premium skincare and haircare products.
Photograph: Mansi Thapliya/Reuters
Source: Read Full Article