Gujarat: Never imagined Cyclone Tauktae would be so ferocious, say villagers
While some villagers were seen removing uprooted trees from their front yards in the afternoon, a few others were trying to salvage whatever they could from destruction wrought by the passage of Cyclone Tauktae.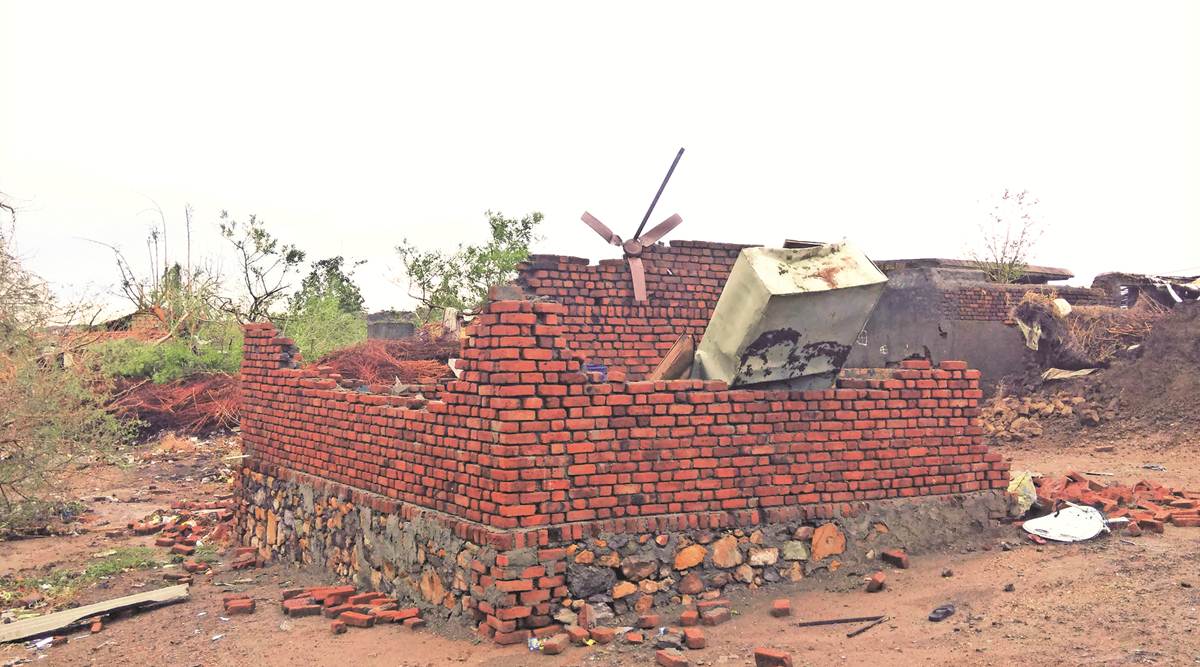 AMID LIGHT drizzle, rainwater made crimson by debris of roof tiles and slurry and checked by snapped power cables, streets at Vijpadi village in Amreli's Savarkundal taluka were left difficult to negotiate on Tuesday.
While some villagers were seen removing uprooted trees from their front yards in the afternoon, a few others were trying to salvage whatever they could from destruction wrought by the passage of Cyclone Tauktae.
At her two-room house in Tekri Dhar area of the village, barely around a dozen kilometre away from the Rajula coast, Mumtaz Belim continuously moped the floor. However, the house remained muddy. The tiled-roof of the house was blown away by Tauktae shortly after midnight and light drizzle coming through the roof ensured that the Belim family's belongings were wet.
"I have not been lucky enough to get even a cup of tea since this morning," the 45-year-old homemaker said. Inside the house, every piece of belonging was drenching, including gifts brought by her daughter-in-law Sakina. "My son Munnazir and Sakina left for the latter's place requesting me to take care of their belongings. Alas, I couldn't do that. Had Sikundar Solanki not offered us shelter in his luxury bus, Allah knows what would have happened," says Mumtaz, pointing at a bus parked in the street outside her home.
As Tauktae made landfall between 8 pm and 11 am near Una in neighbouring Gir Somnath district, wind started gusting up to 185 km per hour and it rained heavily. Vijapadi residents said they tried to weather the storm but situation the spiralled out of control just past midnight.
"Around 12.30 am, the direction of the wind suddenly changed from north-easterly to south-easterly and gales started peeling off tiles of our roof. I tied a sari to the ceiling fan to control its automatic movement but once the roof was gone, there was nowhere to hide and nothing to protect," Mumtaz's husband Majid, who earns family's bread by driving a chhakado rickshaw, said.
On Tuesday evening, Majid limped while helping her wife. "While we were trying to salvage our belongings, I stepped on the glass of a broken photo frame and cut my leg," he added.
Vijapadi is among the largest villages in Amreli with population of around 12,000. But most of houses are kuccha houses and not a single one of them was spared by the cyclone. Dozens of residents shifted to a high school in the village and a madarsa amid the storm and in the dark of the night as power supply was disrupted the previous afternoon.
At the entrance of the village, a herd of bullocks and a large group of people sought refuge under a shade in front of a row of shops. Behind the shops lay carcases of around three dozen bullocks strewn among tents. "After the wind and rain intensified, village elders came to us and asked us to shift to the high school if we wanted to remain alive. Given the fury of the storm, we had no other option. But when I returned this morning, 11 out of my 35 bullocks were dead. They couldn't bear the cold cyclonic winds and rain," said Ghela Rathod, a bullock trader, adding each bullock costs around Rs 18,000.
Hanif Pathan, a community leader of Vijapadi said that Shambhu Makwana and three of his family members were injured after a wall of their home collapsed on them.
In adjoining Hadidad village, Najku Khuman, a farmer, was still trying to come to terms with what has happened. "For one moment, I feared that the RCC slab of my home will be blown away by the storm. But God saved us," said 33-year-old.
Khuman added that of around 300 homes in Hadidad, only 30 were puccha houses. Pointing to a flattened plantation of banana in his elder brother Mahipatsinh's land, Khuman added: "Just a few days ago, a trader had offered Rs 9 lakh for the banana crop but the deal had remained incomplete. Now, the crop has been reduced to nought."
Meanwhile, Pratap Tamgadiya and his seven family members at Moti Vadal village in Bhavnagar district's Mahuva taluka were worried where they would spend Tuesday night after their two-room mud house was floored by the cyclone. "We barely managed to escape to my cousin's pucca house after the midnight squalls ripped through the roof of our home and the rain brought down the walls," said the 15-bigha farmer.
But others like Indugiri Gosai and his diamond-polisher son Maulikgiir (26) were working hard to repair broken roof of their home. As Maulik helped his father replace broken tiles in the roof, his mother was busy removing rubble of a section of compound wall which had collapsed. All this while, Malulik's wife Trupti nursed their two-months old daughter in an Anganwadi in Plot area. "We ran out of our home after the roof broke and rushed to the anganwadi. I never imagined the cyclone would be so ferocious," said Indugiri, a farmer.
"The storm has not left even a hut standing for us to live," rued Pratap's elderly mother Valbai while removing pieces of tiles. "Roof tiles rained like missiles from every direction. All that I was bothered about was to escape alive," said Himmatgiri Gosai, Valbai's neighbour who withered to storm by seeking shelter in a nearby temple.
At Mamku Rabari's home, five goats sat lame beside the rubble of a flattened shed. The shepherd himself was away to dispose of 40 other goats that were killed after the shed collapsed. "As the shed collapsed, cries of the goats were audible to Mamku and around a dozen of us who had sought shelter in Pukka house of Amrubahi across the street. But we could do nothing to save the goats," Narshi Prajapati, Rabari's neighbour.
"I had weathered the cyclone which had hit Saurashtra coast in 1982. But that was much less severe, with wind velocity of 85 km. Though a few roofs had been damaged, its impact was felt for just four hours. But this cyclone brought winds gusting at 185 km and blew for more than 24 hours," Vaikuth Gosai, a village elder said.
Majid Kureshi's completely destroyed home in Plot area was proof of the cyclone's intensity. There was no trace of its roof and a fan perched on a damaged wall was only indication that it was someone's home.
Source: Read Full Article