Goa's 2nd airport a big boost for regional aviation
Goa's second airport began operations last week and if all goes according to plans, the state will be the base for a new regional airline, Fly91.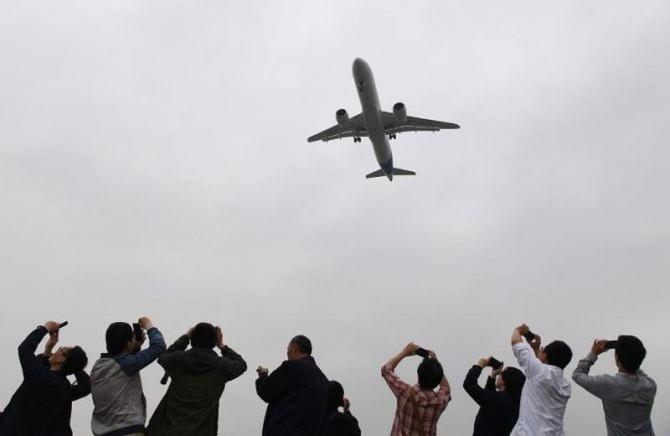 Promoted by the ex-executive vice-president of now grounded Kingfisher Airlines, Manoj Chacko, and Fairfax India's former head, Harsha Raghavan, the airline will offer no-frills buy on board product and serve unconnected routes with two ATR 72 aircraft.
An application for the initial no-objection clearance was filed with the civil aviation ministry last week.
"Goa is the eighth largest busiest destination in India with respect to domestic air travel," Chacko said.
"It is also one of the leading MICE (meetings, incentives, conferences, and exhibitions) and international charter destinations.
"People in smaller cities definitely aspire to travel to Goa.
"More importantly, people from Goa also want to travel out to many cities," he added.
The promoters are investing Rs 200 crore in the airline.
Fly91 aims to start operations in September and will join regional airlines such as Star Air and Flybig, which connect tier II and III towns through small aircraft.
Government-owned Alliance Air also has a large regional play serving 57 destinations with its 21 aircraft.
"Last year, we inducted two ATR-42 aircraft. This year we will be consolidating our operations," said Alliance Air chief executive officer Vineet Sood.
"We aim to increase aircraft utilisation by 10 per cent. During the day, our planes fly to tier II and III towns and we are looking to operate them at night too.
"We are evaluating routes for night operations. Flights to neighbouring countries are also an option," he added.
The airline operated 145 flights a day sometime last week — the highest since the onset of the pandemic. In the past six months, daily flights have averaged between 115 and 120.
Alliance Air, which was founded in 1996, was a subsidiary of Air India, which changed ownership last January.
Sood said the airline has also sought Rs 600 crore equity infusion from the government that will help the airline clear pending dues.
Unpaid dues isn't the only challenge before Sood and his team.
Infrastructure at smaller airports needs upgrades.
Demand elasticity is an issue too — customers are willing to pay a higher fare to holiday destinations like Kullu or Shimla but not others.
Regional airlines have also struggled due to under investment, rising costs and flight of trained manpower to established larger carriers.
Regional aviation is a very challenging space with many operators shuttering down, industry experts point out.
The existing operators are, however, charting their growth plans.
Last week, Star Air announced the lease of two Embraer E175 jets to expand its network.
"The addition of these aircraft will not only address the need for more capacity but also help us with connecting real India," said Shrenik Ghodawat, director, Star Air.
"The E175 aircraft will not only help us achieve greater productivity and higher utilisation but will also strengthen our customer experience," he added.
Currently, the airline operates scheduled flights using its five planes to connect 18 domestic destinations.
"Our vision is to create a niche for ourselves to provide effective last-mile air connectivity to unserved and underserved markets in India," Chacko said. "We aim to collaborate with as many airlines as possible that will help the traveller to reach the final destination with ease and comfort."
Source: Read Full Article