Go First may take legal action against Pratt & Whitney over engine issues
Indian airline Go First is considering legal action against Pratt and Whitney (PW) for failing to provide compensation after March 2020 for planes grounded due to engine supply delays, sources said on Thursday.
About 90 per cent of the airline's fleet of aircraft uses PW engines.
About 24 of the airline's 55 planes are grounded due to delays in engine supply by PW.
Go First is operating 27 per cent fewer flights in March 2023 than in March 2022 (see table).
PW's contract with Go First has three main conditions: PW has to provide a spare engine within 48 hours of an aircraft getting grounded due to its faulty engine; faulty engines have to be repaired free of charge as they are under warranty; and compensation has to be provided to the airline for "productivity loss" due to grounded planes.
"Till March 2020, PW provided spare engines on time, repaired without cost, and provided some compensation.
"However, the airline has not received anything after that," a source privy to the development said.
PW and Go First did not respond to queries by Business Standard.
Go First promoter Wadia group infused about Rs 3,000 crore into the airline in the last 20 months, sources said.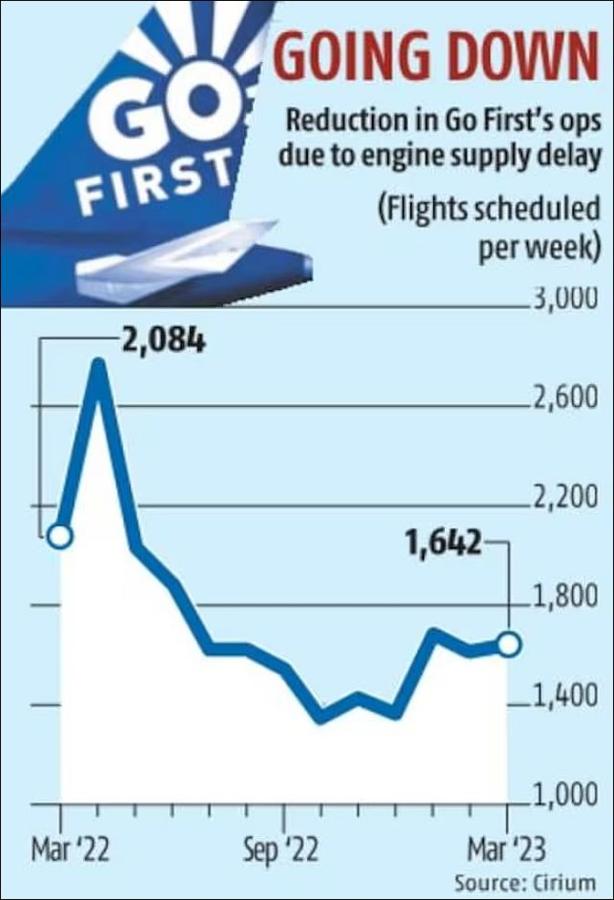 They have also taken a debt of about Rs 1,300 crore during this period.
Sources said the group initially thought fighting with PW will complicate matters.
"The airline has been asking the engine maker to honour its contractual obligations.
"Now, one of the obvious ways is to take the legal route, reminding them their obligations," a source said.
The airline can file a suit, and is taking legal advice on this matter, sources added.
According to Cirium's data, the airline operated 2,084 flights a week in March last year.
However, with more planes being grounded in 2022, flight operations have been downsized, with the airline operating 1,642 flights a week.
IndiGo is the only other Indian airline that uses PW engines on its A320 planes.
According to Cirium, 34 of its planes are grounded due to delays in engine supply from PW.
However, IndiGo's flight operations have not been affected to the same extent as Go First's, as it has a larger fleet of about 300 planes.
On November 4 last year, during an investor conference call, IndiGo CEO Pieter Elbers said, "One of the key after-effects of the pandemic in the aviation industry is the supply chain disruptions in aircraft manufacturing and subsequent shortage of spare engines worldwide.
"This has affected our operations due to grounding of aircraft and has impacted our ability to fully deploy capacity productively."
Go First received its first PW engine-powered A320 plane in 2016.
"PW engines started facing issues 6-8 months after the first delivery," a source said.
Go First's issues come at a time when other Indian carriers are expanding their flights due to increased demand.
According to Cirium's data, in March 2022, Indian carriers were operating 19,220 domestic flights a week.
As of now, they are operating 21,328 flights a week.
Source: Read Full Article