From Kargil To Peace Talks, Musharraf's Strange Legacy
Chastened by the Kargil conflict, Pervez Musharraf will be remembered for gradually lowering the profile of terrorism and seeking a realistically negotiated settlement to the issue of Jammu and Kashmir, notes Ambassador G Parthasarathy, who served as India's high commissioner to Pakistan when Musharraf seized power in a coup in October 1999.
Even as one looks at the demise of Pakistan's General Pervez Musharraf, it is important to analyse the long periods of military rule in Pakistan since its birth in 1947.
Four military dictators — Field Marshal Ayub Khan, General Yahya Khan, General Mohammed Zia-ul Haq and General Pervez Musharraf — ruled the country for 33 years.
General Zia was the first military ruler in Pakistan who shed all pretences of observing what was widely described as 'Moderate Islam'. He favoured the adoption of a number of Wahhabi oriented religious practices.
Musharraf was, however, more 'moderate' on religious issues. He was born in Delhi and his parents moved from Delhi to the cosmopolitan port city of Karachi immediately after Partition.
Karachi was one city in Pakistan where locals could always find a free flow of Scotch whisky, for evening entertainment.
One recalls a friend in Karachi postponing a dinner party, because his bootlegger was away!!
India's nuclear tests in May 1998 predictably led to Pakistan testing its enriched uranium-based nuclear weapons within days.
It is no secret that Pakistan's nuclear weapons and missiles are entirely Chinese designed.
Nawaz Sharif was then Pakistan's prime minister.
General Jehangir Karamat, the then army chief, was soon replaced by Musharraf.
It was Musharraf who persuaded Nawaz Sharif to let him go ahead with his Kargil misadventure.
He quietly moved his forces in the winter into thinly patrolled posts in the Kargil heights.
This gave Pakistan the capabilities to disrupt India's lines of communication to Ladakh.
While India did not expect this move, its then army chief General Ved Prakash Malik meticulously planned and executed attacks on the high mountain positions, occupied by Pakistan's Northern Light Infantry, with aerial support from the IAF.
Contrary to Pakistani expectations, it got no international support for its moves, from any major power, including China, for its Kargil misadventure.
Under global pressure after India's nuclear tests in 1998, Prime Minister Atal Bihari Vajpayee had earlier undertaken a visit to Islamabad in February 1999.
He was determined to demonstrate to the world that India and Pakistan could expand cooperation and settle their differences bilaterally.
Mr Vajpayee timed his visit to Lahore, with the establishment of the first bus service between Lahore and Delhi.
But relations took a distinct change a few weeks later when Pakistan's Northern Light Infantry crossed the Line of Control and seized control of high mountain positions, to disrupt India's link to Ladakh.
India responded decisively, recovering every inch of captured territory.
The blame game then started in Islamabad and Rawalpindi.
Nawaz Sharif pointed his finger at Musharraf for having messed up the operation, with many agreeing that it was a national disaster.
What followed was a coup by Musharraf on October 12, 1999, resulting in Nawaz Sharif's ouster and arrest.
The Saudis, who had a long-term association with the Sharif family, stepped in and forced Musharraf to exile Sharif to Saudi Arabia.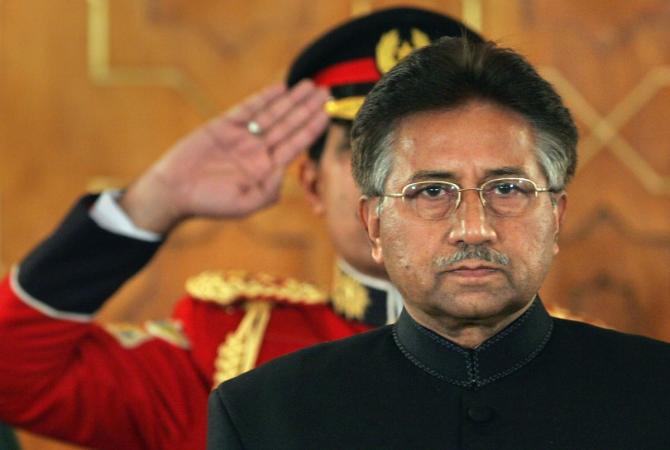 Musharraf soon realised that Pakistan had paid a heavy price internationally, because of its links with radical Islamic groups to promote terrorism in India, Afghanistan and elsewhere.
Support for terrorist outfits and rhetoric was slowly reduced.
It is to the credit of the then prime minister, Manmohan Singh that he recognised these changes and soon came up with proposals to resolve tensions with Pakistan.
'While borders cannot be redrawn, we can work towards making them irrelevant-towards making them just lines on a map,' Dr Singh observed.
This was followed by several rounds of secret 'back channel' talks, for negotiating an agreement to end terrorism, and create a situation where the Line of Control became a Line for promoting cooperation between people from both sides.
This offer was premised on an end to cross-border terrorism, sponsored by Pakistan, in Jammu and Kashmir, which did not happen.
India's 'backchannel talks' with Pakistan did, however, evolve a framework to resolve differences on Jammu and Kashmir.
It was in these circumstances that Prime Minister Modi decided to stop over in Lahore for the wedding of then Pakistan prime minister Nawaz Sharif's grand-daughter on December 25, 2015.
This bonhomie soon came to an end, with the resumption of cross-border terrorism by Pakistan in Jammu and Kashmir.
The assumption of office as Pakistan's prime minister by Imran Khan led to an era of rhetoric on Jammu and Kashmir, together with a return to cross-border terrorism, and increased terrorist infiltration across the Line of Control in Jammu and Kashmir.
Relations have since been downgraded, with both countries recalling their ambassadors.
There have, however, been high level 'back-channel' discussions after Prime Minister Modi assumed office.
Pakistan is, however, presently engrossed in political turmoil, while preparating for parliamentary elections later this year.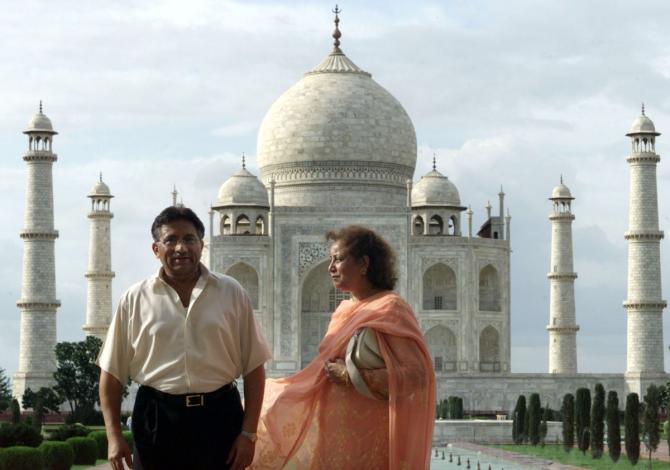 Pakistan's former foreign minister Khurshid Mahmud Kasuri continues to urges the need to implement the provisions of what was agreed to earlier on to resolve the issue of Jammu and Kashmir.
Sadly, the Indian diplomat and former high commissioner to Pakistan Satinder Lambah, who negotiated the 'back-channel' agreement with the Musharraf government, is no longer alive.
But the full details of what transpired in Lambah's 'back channel' talks are recorded and available the ministry of external affairs in South Block.
Circumstances are, however, very different now, from the days when Musharraf ruled Pakistan, and moved on from being the initiator of the Kargil conflict, to making an effort to find a mutually acceptable solution to the issue of Jammu and Kashmir.
One sees very little prospect of any substantive change in India-Pakistan relations anytime soon.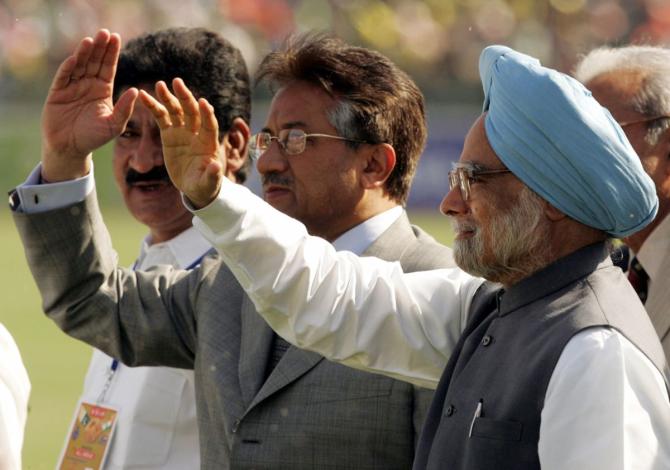 Musharraf was amongst the declining number of people now alive in Pakistan, whose parents had shifted their homes during the Partition of India.
Those, like Musharraf, who moved from their homes to Pakistan, are still described as Muhajirs (refugees) in Pakistan's Sind province.
Musharraf joined his country's Punjabi dominated army and displayed the military qualities required to become the country's army chief.
Chastened by the Kargil conflict, he will be remembered for gradually lowering the profile of terrorism and seeking a realistically negotiated settlement to the issue of Jammu and Kashmir.
His successors have returned to their old ways and led their country to economic disaster and bankruptcy.
Ambassador G Parthasararthy was India's high commissioner to Pakistan during the Kargil conflict and is presently the Chancellor, Central University, Jammu.
Feature Presentation: Aslam Hunani/Rediff.com
Source: Read Full Article