Cyclone Tauktae Live Updates: 'Tauktae' now a severe cyclonic storm; NDRF earmarks 100 teams for relief
Cyclone Tauktae Live Updates: Under the influence of Cyclone Tauktae, extremely heavy rainfall is being experienced in Kerala, Karnataka, Goa as well as parts of Maharashtra. These states are on a high vigil with transport services suspended and emergency and relief teams on the lookout for possible after-effects.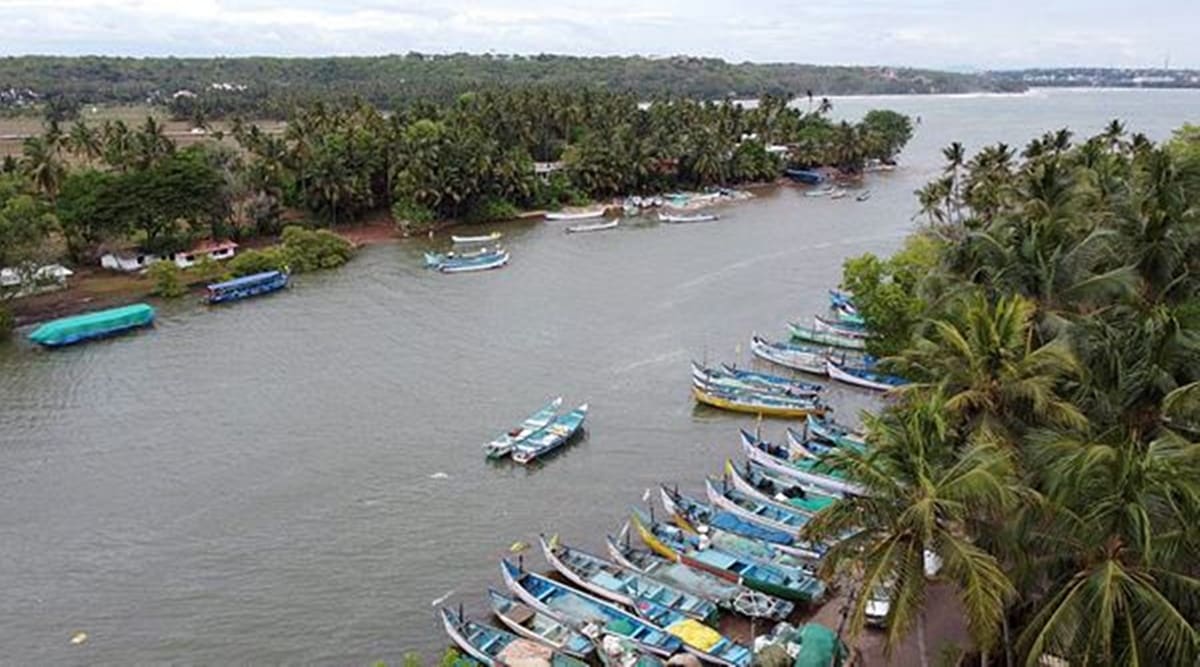 Cyclone Tauktae Live Updates: Cyclone Tauktae intensified into a "very severe cyclonic storm" over the East-central Arabian Sea and is very likely to intensify further during the next 12 hours, the India Meteorological Department said on Sunday. The cyclone will pass pass through the Union Territory of Daman and Diu and Dadra and Nagar Haveli and reach the Gujarat coast by the morning of May 18.
Under its influence extreme heavy rainfall is being experienced in Kerala, Karnataka, Goa as well as parts of Maharashtra. These states are on a high vigil with transport services suspended and emergency and relief teams on the lookout for possible after-effects.
In Kerala, two people have died after torrential rains and high tidal waves wreaked havoc. Widespread uprooting of trees, waterlogging, disruption of power has been a state-wide phenomenon since Friday night. The situation has forced the state government to shift hundreds of families to relief camps despite the risks associated with the ongoing pandemic. 
In terms of preparedness, the National Disaster Response Force (NDRF) has increased the number of teams from 53 to 100. These teams are mobilised for Kerala, Karnataka, Tamil Nadu, Gujarat, Goa and Maharashtra. Out of these, 48 are being pre-deployed while 20 are being kept on standby. An additional 32 teams are being kept as backup.
The Indian Air Force has kept 16 transport aircraft and 18 helicopters on standby. It has also announced to focus on Covid relief operations in the affected coastal areas. Prime Minister Narendra Modi reviewed the situation yesterday and asked concerning authorities to take every possible measure to ensure that people are safely evacuated. 
Cyclone Tauktae now in the 'severe cyclonic storm' category; Cyclone to reach Gujarat on May 18, pass through Diu thereafter; NDRF earmarks 100 teams for relief; two die in Kerala. Follow this space for latest updates.
In view of IMD's warning about Cyclone Tauktae, Gujarat has geared up adequately to ensure there is no casualty and set up a control room, Chief Minister Vijay Rupani said on Saturday even as a Central advisory predicted damage to thatched houses, roads, power and communication lines in the districts of the Saurashtra region. As per the India Meteorological Department, the cyclone is likely to cross the Gujarat coast between Porbandar and Naliya on May 18 afternoon or evening as a "very severe cyclonic storm" bringing isolated extremely heavy rainfall with the wind speed reaching 175 kmph along Saurashtra and Kutch coasts.
The state government has made full preparations and a control room has been set up. Administrations of the districts in Saurashtra and south Gujarat regions, which are likely to be affected by the cyclone, have been alerted. Teams of the NDRF are reaching the state, and they will be deployed," Rupani told reporters in Palanpur in Banaskantha district.
At least 97 fishing boats are yet to return to the seashore in Palghar district of Maharashtra which is likely to bear the brunt of cyclone Tauktae along with other coastal districts when it will cross the coasts, the administration said on Saturday. District collectors of Thane and Palghar have asked the citizens, especially those living near the seashores, to be alert during the next few days.
Thane collector Rajesh Narvekar and his Palghar counterpart Manik Gursal have issued guidelines for citizens in case of any eventuality. The Palghar district administration said a total of 97 fishing boards are still out in the mid-sea. (With PTI)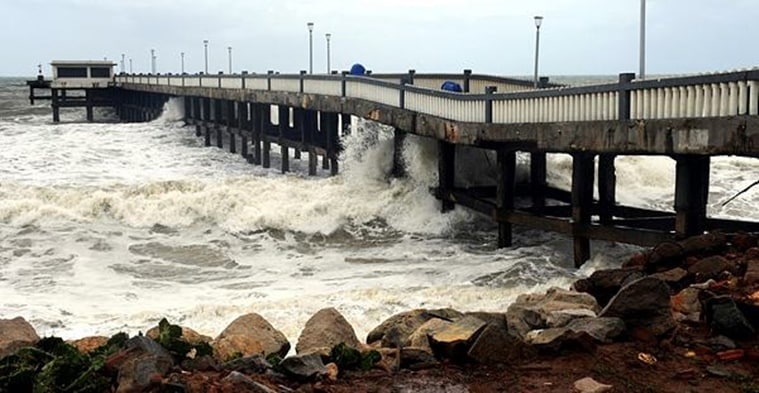 Huge wave turbulence due to the cyclone in the Arabiean, at a seashore in Kanyakumari, Saturday, May 15, 2021. (PTI Photo)
 Mumbai gears up for heavy rain, 580 Covid patients shifted from jumbo units
From shifting 580 patients from its jumbo Covid-19 facilities to contemplating a possible shut down of the Bandra-Worli Sea Link, the Brihanmumbai Municipal Corporation (BMC) in Mumbai on Saturday worked on taking several precautionary measures in view of India Meteorological Department's (IMD) warning that Cyclone Tauktae is likely to pass close to the city on Sunday.
The BMC on Saturday night shifted 580 patients from BKC (243), Dahisar (183) and Mulund (154) jumbo Covid-19 facilities to state and civic-run hospitals in Mumbai. The civic body had on Friday alerted the hospitals to avoid last-minute confusion over beds and availability of oxygen devices.
Torrential rains, heavy winds destroy houses in coastal areas, hundreds rush to relief camps
From Thiruvananthapuram in the south to Kasaragod in the north, hundreds of families living close to the sea have had to abandon their homes and rush to relief camps set up by the state government in the face of massive sea-incursions. The Met Department had warned of squally winds with speeds of 50-60 kmph gusting to 70 kmph along and off the Kerala-Karnataka coast along with rough sea conditions on Saturday.
Several houses close to the sea in districts like Kasaragod, Kannur, Kozhikode, Thrissur, Ernakulam and Alappuzha have been partially or completely damaged by the impact of the cyclone.
The Indian Express website has been rated GREEN for its credibility and trustworthiness by Newsguard, a global service that rates news sources for their journalistic standards.
Source: Read Full Article