'BSY will fight rivals demanding his removal but will listen to PM'
Chief Minister B S Yediyurappa has indicated that he will step down if Prime Minister Narendra Modi asks him to do so, according to party sources close to him.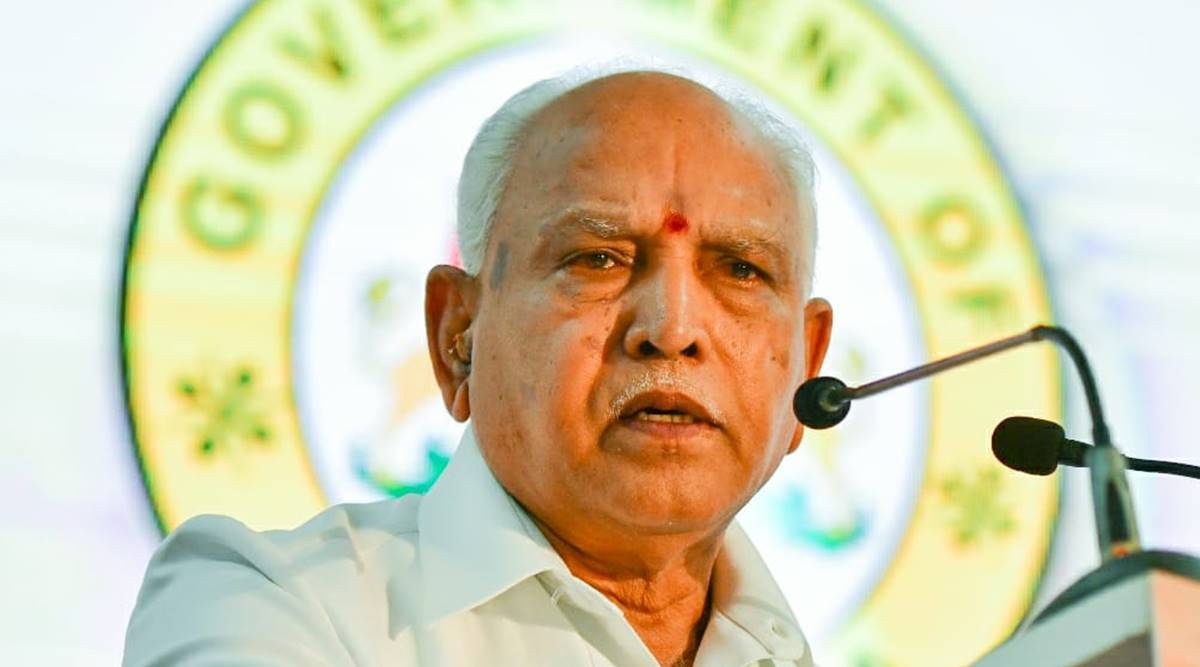 WITH A section of BJP legislators in Karnataka pushing for a change in leadership and BJP state in-charge Arun Singh eliciting individual opinions from MLAs on governance, Chief Minister B S Yediyurappa has indicated that he will step down if Prime Minister Narendra Modi asks him to do so, according to party sources close to him.
Yediyurappa has decided to dig his heels in and counter efforts launched by party rivals to oust him from the chief minister's post but will not stand in the way if the party high command and Prime Minister Modi seek his exit, said a BJP member who is a long-time confidant of the veteran leader.
"Yediyurappa is of the view that he is indebted to PM Modi for taking him back into the BJP in 2014. If the PM asks him to step down, he will do so because he owes his political rebirth to him," a source said. "He is willing to listen to the high command and does not want to create problems but as a political fighter he will counter efforts of rivals to dethrone him."
There has been widespread speculation that the two-day visit to Karnataka undertaken by Singh since June 16 is an exercise in preparing the ground for a change in leadership on account of Yediyurappa's advancing age – he turned 78 in February – and disgruntlement among many legislators about centralisation of power with the chief minister and his younger son B Y Vijayendra.
Several MLAs have been complaining to the party leadership about the functioning of Yediyurappa. Recently, the state Cabinet had to reverse a decision to sell 3,667 acres of land in Ballari region at a low price to steel major JSW Steel after a section of MLAs wrote to the party leadership, saying the deal was against the state's interests.
On June 6, Yediyurappa stated that he will remain the chief minister as long as the Delhi high command has confidence in him. "The day they say enough of Yediyurappa that day I will resign and work for the development of the state," he said.
Singh's arrival has triggered behind-the-scenes politicking, which suggest that a change of guard or shake-up of the government is on the top party leaders' minds.
Ahead of Singh's visit, Vijayendra carried out a series of visits to meet top Lingayat seers in what is believed to be an effort to rally their support for Yediyurappa, who is seen as the political leader of the state's largest community. State minister C P Yogeshwar, who is opposing Yediyurappa, also visited many seers as part of parallel efforts to rally support against the chief minister.
"It is true that there is unhappiness over nepotism and corruption in the government but there is no leader in the state who is above it. It is also true that the party high command is unhappy over Yediyurappa centralising power and relying on his son without creating a core group of capable ministers," a BJP leader said.
On Thursday, H Vishwanath, who defected to the BJP from the JD(S) to help Yediyurappa become the chief minister in 2019, supported those opposing the chief minister, saying there is "too much interference by the family in all departments and excessive corruption".
BJP national general secretary C T Ravi, who is a BJP MLA in Karnataka, said on Thursday that the party should not be about individuals. "In our party, the parliamentary board will decide on leadership. It is not a matter to be decided on the street….We must not send out a message of being about individuals. Yediyurappa is CM because the parliamentary board took a decision," he said.
MLAs supporting Yediyurappa have claimed that only a small section of the 117 BJP MLAs were opposed to him and the chief minister had the support of 65 MLAs. "It is the MLAs who will decide who will be CM," said M P Renukacharya, a Yediyurappa loyalist.
Source: Read Full Article