'BJP will not dare try anything in Karnataka'
'They know the people of Karnataka will not accept it.'
The Congress is set to win twice as many seats as the Bharatiya Janata Party in Karnataka, in what is a rout of the saffron party from the only southern state it was in power.
After the 2018 elections in Karnataka it was the Janata Dal-Secular and the Congress that formed the government.
But the BJP toppled it with ease and formed its government with the help of defectors.
This time round the Congress can form a government on its own, and a decimated BJP is unlikely to pose any problems.
No wonder, Opposition leaders are calling it a 'BJP mukt dakshin'.
B Y Srinivas, national president of the Indian Youth Congress, did exemplary work during the Covid pandemic that brought him into the limelight.
Though very busy with celebrating the Congress victory and tracking the results from all over the state, Srinivas took time off to tell Rediff.com's A Ganesh Nadar, "This is a very strong and popular mandate. We have plenty of MLAs. The BJP will not dare to try their toppling games; the public will not accept it."
Will the Congress high command choose the chief minister?
It will be a combination of both. The elected MLAs will decide who they want as chief minister, the high command will let us know whom they prefer and the choice will be of both the high command and the MLAs.
Why did the BJP's attempt at polarisation not work this time?
The people of Karnataka are well informed and mature.
They will not be swayed on religious grounds. You have also to appreciate that the Congress campaign was very good.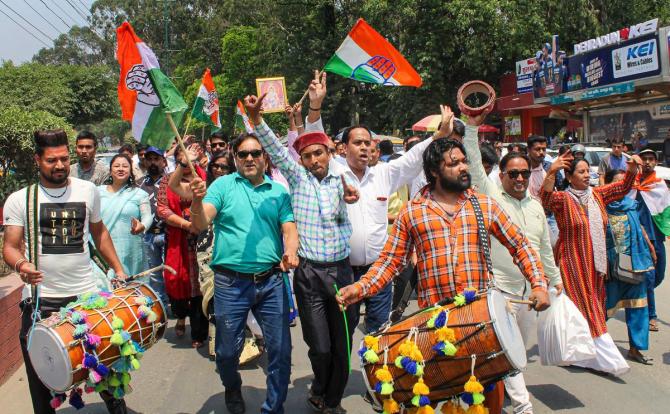 You did exemplary work during the pandemic. You were an all-India hero. How come they did not give you an election ticket?
I was given a seat to contest, but I refused. I did not want to be stuck in one constituency.
I wanted to work in the entire state. I am happy with my decision and the results.
What about the hijab ban and the quota for Muslims? Will you reverse it now that you will be in power?
I am not one to make such decisions, that the party will decide at the right time.
The BJP has a record of toppling elected governments, their leaders have already talked about a 'Plan B'.
How are you going to safeguard your government?
We have too many MLAs for anyone to interfere. They will not dare to try anything. We have a very strong mandate; it will be very difficult for them to do anything.
They know the people of Karnataka will not accept it.
Feature Presentation: Aslam Hunani/Rediff.com
Source: Read Full Article