Bharat Jodo Yatra Unleashed What Rahul Gandhi Had Not Imagined
Rahul Gandhi could be where Modi has not been.
Modi aspired to be with the pantheon of gods on the walls, while Rahul could sit with the family because there is a family member in the picture.
A revealing excerpt from Sugata Srinivasaraju's Strange Burdens:The Politics and Predicaments of Rahul Gandhi
In the first phase of the yatra, Congress did step on some landmines, like the conversation with a pastor in Kanyakumari, but they quickly recovered.
They seemed to have put in place a policy about places of worship soon after.
Rahul was liberal with temples than with mosques or churches. They were cautious in the terrain of the erstwhile Muslim rulers.
For instance, they completely ignored talk of Tipu Sultan even while walking in Karnataka's Mysore district.
In the second phase, in middle India, Rahul Gandhi turned out to be very devout.
His worship of Shiva, the aratis he performed, the deerga danda namaskar all made news.
By then, the flourishing ringlets and rivulets of his hair had totally altered his appearance. People suspected if there was a godman inside him.
When Rahul reached Delhi, in the third phase of the yatra, in a white t-shirt, his ability to withstand cold became a point of discussion.
He was crowned 'tapasvi', 'yogi' and 'superhuman'. It was quite interesting to watch that he was gathering these new titles.
There was already a 'yogi' in Indian politics — Adityanath, the UP chief minister.
And Modi had often spoken the language of a fakir, he had also presented himself as a kind of yogi to his faithful.
But Modi and Adityanath could splinter and compartmentalise their roles and also fuse them with some genius.
Rahul was too sincere and straight. He could only be one thing always, not one thing at a time.
In Kurukshetra (Haryana), a day after he was crowned 'tapasvi' on the official Twitter handle of the Congress party, Rahul Gandhi said India was a country of tapasvis (ascetics) not pujaris (priests), he was not referring to himself but his preferred method:
'The BJP and RSS say that there should be no respect for tapasya. Those who worship us will be protected.
'Did demonetisation respect the tapasya of the poor? Absolutely not. It was an attack on tapasya.
'It conveyed [demonetisation of Rs 500 and Rs 1,000 notes that was initiated on 08 November 2016] the message that however much tapasya farmers and labourers do, it will not make any difference.'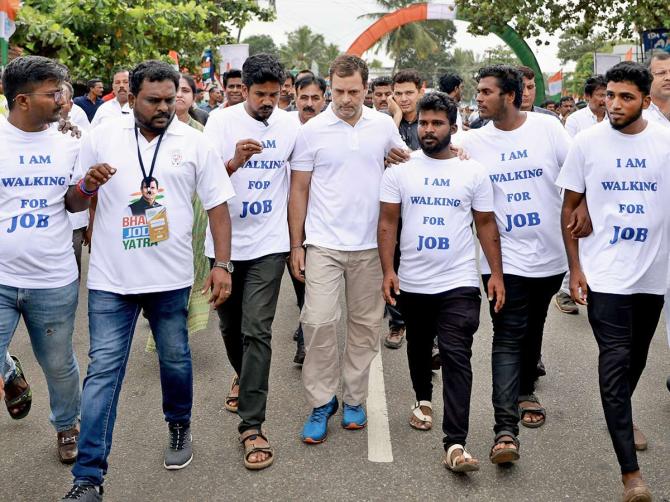 Here, one got the spirit of what Rahul was attempting, but the language was convoluted and mixed up.
At times, there was a mellow ambience to his talk: 'I have read the Gita and Upanishads. I have never heard that Hindus should be aggressive. Hinduism is all about self-observation, humility and compassion. Even Lord Ram felt compassion for Ravan.'
But this would be followed up in a couple a days with the statement: 'I can never go to the RSS office. You'll have to behead me before you take me there.'
On the day he spoke about priests, Rahul said: 'Kauravas of the 21st century wear khakhi half-pants and run shakhas [a reference to the RSS]. Besides them stand the country's two or three richest people.'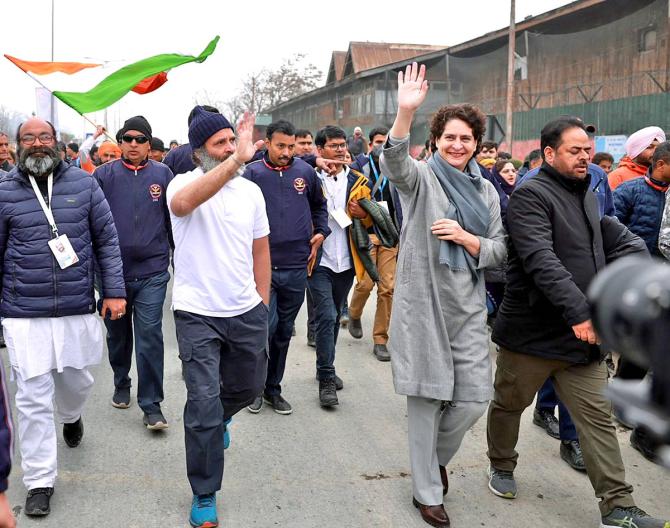 Rahul's loquaciousness during the yatra sometimes put him in trouble and chipped off the gravitas and solemnity his effort and outlook had acquired.
Rahul at times made it about a clash of ideologies, but the language of clashes, crusades or ideologies was not consistent with the language of compassion that he was largely trying to employ.
Despite Rahul's strident language against the RSS and the BJP, there was an element of surprise when the chief priest of the Ayodhya temple, the epicentre of the ideological clash between the political Right and the rest in India, appreciated Rahul's yatra effort and wished him well.
There were a couple of other RSS seniors who praised his tenacity in walking the length of the country.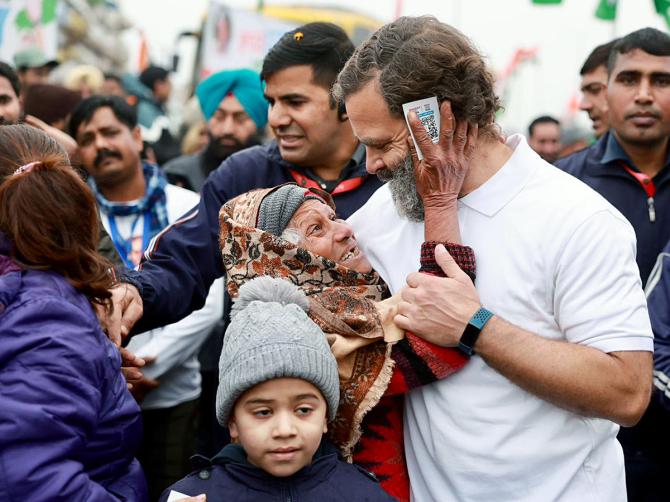 It may be presumptuous to say that Rahul Gandhi's Bharat Jodo Yatra appeared somewhat purposeful because it had produced millions of happy images of the Congress leader and all those who walked alongside him.
But it is not untrue that the power of these images had created a caravan of good cheer and hope.
Every single day on the yatra route, people clicked pictures and produced reels of Rahul Gandhi walking, jogging or running with their smartphones.
They uploaded it on their social media accounts instantly, not to pedantically tell the world that they were witnesses to history, but to casually announce their access to a celebrity.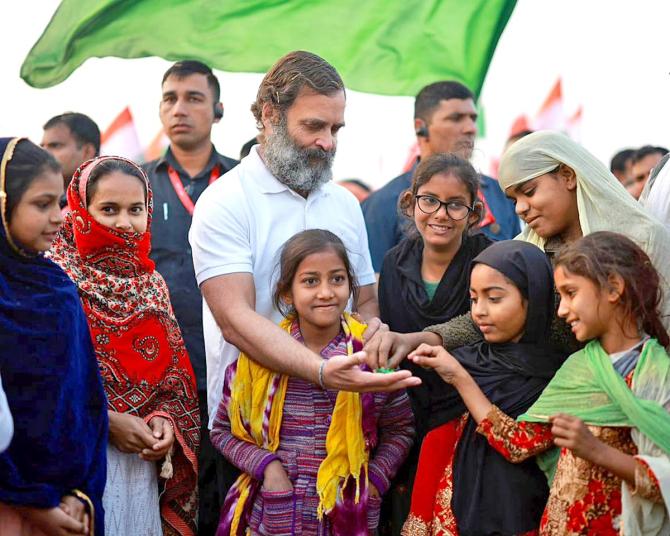 The pictures flooding social media timelines were not just of Rahul Gandhi. He was not alone as the subject of the photograph.
The person taking the picture was as much the subject. Smartphones allow the camera to flip and put the photographer and the photographed in the same frame. That was sheer magic.
This had never happened before, where the whole nation on the yatra path got a chance to be part of the frame.
It was as if Rahul Gandhi had been taking out a selfie yatra in the age of Instagram, Facebook, Twitter and YouTube.
Hitherto, those who accessed Rahul Gandhi had a certain privilege, or he should have decided to give them an audience.
But now, he was passing by your street, your shop, your temple, your mall, your mosque, your church, your home, your doorstep, your balcony, and he was inviting you to be with him — to celebrate with him, to dance and run and eat and share with him.
There were children riding on his shoulders; there were women walking hand in hand; there were the elderly whose furrows carry a burden greater than that of Rahul Gandhi; there were indulgent mothers; there were politicians who looked lost without their paraphernalia of power; there were performers lost in a song; there were dancers lost in their step; there was a full public display of emotion; there was a fancy dress; there were myriad colours, and there was an unprecedented celebration in the middle of the road.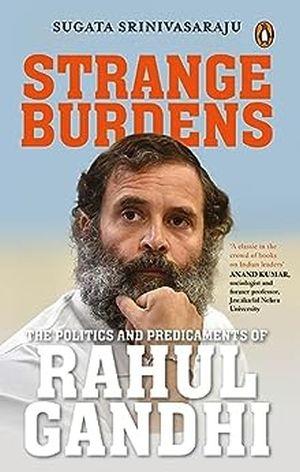 All this makes one wonder if this was all real. Exactly like we feel when lost in bubbles that social media timelines so competently create.
Rahul Gandhi, with the growing length of his beard, became a monk, a mendicant, a godman lookalike, or simply a Laal Singh Chadda, an avatar of Forrest Gump, who gathered a crowd as he walked.
A picture to frame was everybody's takeaway from the yatra. Soon, Rahul Gandhi could be where Modi has not been, on alien fluorescent and pastel walls as an alien family relative.
Modi aspired to be with the pantheon of gods on the walls, while Rahul Gandhi could sit with the family because there is a family member in the picture.
Perhaps the yatra had unleashed something that Rahul Gandhi had not imagined.
Till yesterday, he was a distant prince of a powerful dynasty in a barricaded palace. Today, he is in the homes of people.
All the photographic moments of Rahul Gandhi's yatra contrast with Modi's photographic experience, whatever has become apparent to us.
There are videos often circulated on social media, which showed that Modi wanted to be alone in his frame or create on exclusive one.
People were being hushed away from the Modi frame, but in the Rahul Gandhi frame, people are crowding every moment. People are being pulled into it, not pushed away.
Excerpted from Strange Burdens:The Politics and Predicaments of Rahul Gandhi by Sugata Srinivasaraju, with the kind permission of the publishers, Penguin Random House India.
Feature Presentation: Aslam Hunani/Rediff.com
Source: Read Full Article