Baroda bypoll: Against BJP's Yogeshwar Dutt, Cong nominates debutant Indu Raj Narwal
INLD fields old-hand Joginder Singh Malik, turncoat Kapoor Narwal enters fray as Independent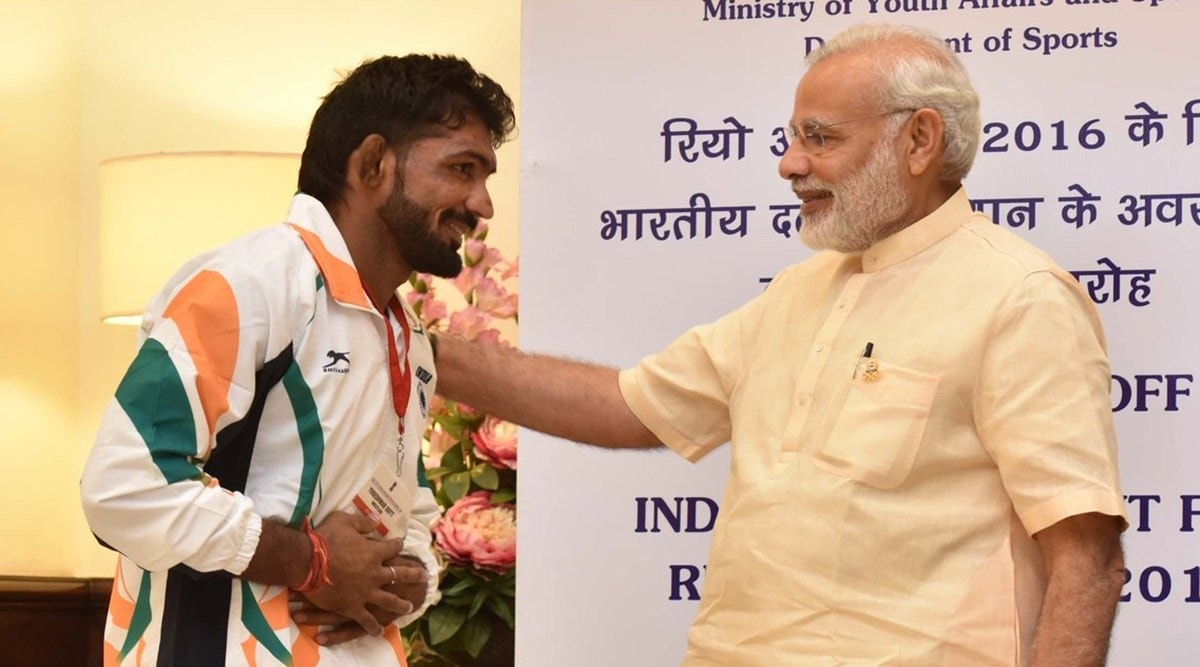 Barely few hours before deadline for filing nominations for Baroda bypoll in Haryana's Sonipat district ended, Congress fielded its former Sonipat Zila Parishad member Indu Raj Narwal as party's nominee against BJP's Olympian Yogeshwar Dutt. INLD too announced Joginder Singh Malik as its candidate in the final hours of filing nominations. Dushyant Chautala-led JJP will support the BJP nominee, Yogeshwar Dutt, as an ally of the BJP in the state.
Kapoor Narwal, who was backed by former CM and Leader of Opposition Bhupinder Singh Hooda for Congress ticket turned rebel after he was not considered as Congress nominee.
Kapoor filed his nomination papers as an Independent candidate with the support of Meham's Independent MLA Balraj Kundu.
Friday was the last day for filing nomination papers. Scrutiny of nominations will be done Saturday while October 19 is the last day for withdrawal of nominations. Congress' three-time MLA Sri Krishan Hooda's death in April this year had necessitated the bypoll in Baroda Assembly segment. Voting shall take place on November 3 and counting of votes will be held on November 10.
What delayed Cong announcement
Disagreement among Congress' senior Haryana leaders caused immense delay in declaration of party's nominee. Sources disclosed that while Hooda was backing Kapoor Narwal, HPCC chief Kumari Selja wanted Sri Krishan Hooda's son Jeet Hooda or daughter-in-law Gaytri Hooda as party's nominee. However, when the party did not agree on either of the names, then Hooda suggested Indu Raj Narwal's name. Indu Raj is also seen as Bhupinder Hooda's loyalist and a close-aide of Rajya Sabha MP Deepender Hooda.
Party sources disclosed that a meeting went on till early hours of Friday at Kumari Selja's residence in New Delhi in which Hooda and party affairs incharge Vivek Bansal and few central leaders were also present.
Despite Hooda strongly backing Kapoor Narwal, Selja did not agree. Although Hooda kept on insisting on Kapoor Narwal's name, but party high-command insisted on seeking another option from him. Selja insisted that the party must prefer its own worker than a turncoat. At 10 am, Friday, another round of discussion took place and after nearly 90-minute long deliberations, Indu Raj Narwal's name was finally announced.
While BJP has again fielded Olympian wrestler Yogeshwar Dutt who lost his maiden assembly election to Sri Krishan Hooda in 2019 by a margin of nearly 5000 votes, Congress is eying Narwal vote bank that comprise a substantial chunk of votes in Baroda Assembly segment. Since the Assembly constituency is a Jat community dominated belt with over 49 per cent voters belonging to Jat community, INLD's Joginder Malik and Independent candidate Kapoor Narwal are also likely to create a divide in the vote bank.
Taking a dig at Congress's delay in declaring party's candidate, CM Manohar Lal Khattar said, "A national level political party, Congress, could not even declare its candidate till 3 hours before the nomination's deadline was to end. It shows that they did not have any suitable candidate. Their defeat is imminent in this bypoll."
Candidates file nomination papers
Congress infused its full strength with Bhupinder Hooda, Kumari Selja, Kiran Choudhry and Deepender Hooda all accompanying Indu Raj for filing nomination and Abhay Chautala and other INLD leaders accompanied Joginder Singh Malik.
After filing the nomination papers, BJP's Yogeshwar Dutt accompanied by senior party leaders also addressed a public gathering in Baroda. Union minister Sanjeev Balyan, state BJP chief Om Prakash Dhankar, Karnal MP Sanjay Bhatia, Agriculture minister J P Dalal and former state chief Subhash Barala among various other senior BJP leaders asked the gathering to vote for Yogeshwar Dutt.
"Our party has fielded this wrestler as your nominee in Baroda. I have come here only to give my blessings to Yogeshwar. He has not only made our nation proud globally but has also been serving you for a long time. I will urge people of Baroda to ensure Yogeshwar wins with a thumping margin," Balyan said while addressing a gathering in Baroda. Yogeshwar added, "I am only contesting this poll for the development of Baroda constituency. I am only seeking four years from you. If I fail to fulfill your expectations, I shall never come here again. I was working as a DSP in Haryana police but resigned from my job only to serve the people of Baroda. If you will give me your blessings, I shall change the face of Baroda in the coming four years."
Joginder Singh Malik, however, said that "BJP-JJP has failed to fulfill people's expectations during their first year. Corruption is on an all time high. People of Baroda had been crying for amenities and attention from successive state governments. INLD had always been strong in this part of Haryana and we shall emerge victorious once again".
Congress's Indu Raj Narwal said, "I had been a loyal and ordinary party worker of Congress. This is not an ordinary bypoll. It will change the dynamics of politics in Haryana and people of Baroda will give a befitting reply to ineffective and anti-people BJP-JJP government in the State". Kumari Selja, HPCC chief said, "Indu Raj is a committed party worker of Congress. I appeal to people of Baroda to support Indu Raj and begin the end of the corrupt BJP-JJP regime in Haryana".
Former CM Bhupinder Singh Hooda said, "Congress has given ticket to a grassroots worker from a common farmer family on the demand of the people of Baroda. People of the constituency were demanding ticket for a local candidate this time. During the last election itself, in the presence of late Shri Krishna Hooda ji, who was like an elder brother, I had promised the public to give ticket to the local candidate in the upcoming election. Unfortunately, the bypoll is being held in Baroda due to the death of Shri Krishna Hooda and hence we are honouring his promise to the people of the area. This is not just an election to make an MLA but a fight for the honour of Baroda and the future of Haryana. Congress stands with common man, the farmer and the workers in this fight against the BJP-JJP government which is consumed by the arrogance of power".
Rajya Sabha MP Deepender Singh Hooda, said, "Workers who could not get the ticket will always be respected and valued in the Congress family. Now everyone should unite and work for the victory of the party. Let everyone assume that Deepender Hooda, not Indu Raj, is a candidate for Baroda. All leaders and workers should consider themselves as Deepender Hooda and work hard to ensure victory in the election."
Balraj Kundu, however, called Congress's delay in announcing nominee's name as "a political stunt" and "a fixing between Congress and BJP".
"The name of Indu Raj was finalised on October 14 only. A letter signed by Kumari Selja and written to Baroda's Returning Officer bearing October 14 date is going viral on social media. Congress just wanted to prevent Kapoor Narwal from entering the fray and that is why kept floating theories that he was also under consideration. The truth is that it is a fixed match between Congress and BJP and Congress wants to extend benefit to BJP in this bypoll by fielding a weak candidate like Indu Raj," Kundu told The Indian Express.
The candidates
BJP — Yogeshwar Dutt – He won bronze medal in 2012 Olympic games and gold medal in the 2014 Commonwealth Games. Dutt was awarded Padma Shri in 2013. Weeks before the state went for 2019 Assembly polls, Dutt joined BJP and was announced as party's nominee in Baroda last year. He ended up losing the election.
Congress – Indu Raj Narwal – A resident of Rindhana village of Baroda, Indu Raj aka Bhalu is an old Congress party worker in Baroda and a close-aide of Deepender Hooda and a former Zila Parishad member.
INLD — Joginder Singh Malik – A businessman, he is seen as Abhay Chautala's loyalist. Malik had also contested 2019 Assembly elections from Baroda, but could barely secure 3,145 votes. Malik is also INLD's president in Baroda.
Independent — Kapoor Narwal – A turncoat who was in BJP till recently had shown signs of switching side with the hope of getting a ticket from Congress. After he was not considered by Congress since there was immense opposition against Narwal who had actively campaigned against Congress during 2019 Assembly polls. Congress leaders also told their central leadership that Narwal – a turncoat, if fielded, will dampen party's prospects in the bypoll. After he was rejected, Kapoor joined the fray as an Independent. A native of Kathura village of Baroda, Narwal had also contested 2009 and 2014 Assembly polls on INLD ticket, but lost to Sri Krishan Hooda on both the occasions. In 2019, he joined JJP but later quit and joined BJP a few months ago.
Source: Read Full Article