What You Must Know About Animall App
Neetu Yadav and Kirti Jangra teamed up to create an app that is possibly the platinum standard for apps targeted at Bharat.
The Bharat Lab is a think-tank that tracks, understands and analyses consumers living beyond the metro cities.
The inevitable debate at The Bharat Lab has been on who really qualifies as an inhabitant of Bharat, and therefore merits being focused on and studied?
After much discussion and debate, the target audience has been simplistically narrowed down to residents of Tier-II, -III and -IV cities and towns, and beyond into the rural heartland.
Economists may not fully agree, but that is fine. It is the essence of Bharat that is the essential driver of research and academic focus at the think tank.
It seeks to understand the hinterland's aspirations, dreams, and ambitions — they are the prime probe areas.
While researching successful case studies on Bharat, the Lab came across a very interesting app that has supposedly worked like magic in the Hindi belt. And that is the subject of this piece.
Two IITian girls, Neetu Yadav and Kirti Jangra — one from Jaipur, one from Hisar — teamed up 3-4 years ago to create an app that is possibly the platinum standard for apps targeted at Bharat.
An app that is a dream come true for dairy farmers, and for all engaged in animal husbandry.
An app, designed and created to improve the lives of dairy farmers in a meaningful way by making dairy farming significantly more profitable. They christened it Animall.
Animall was first conceptualised in June 2019 during a hackathon in Pratilipi (a storytelling platform) where Animall won both the jury and audience awards. That gave immense confidence to the two young engineers.
After talking to hundreds of dairy farmers, they started working on Animall as a weekend project in August 2019 and happily witnessed very strong user love and traction for their offering.
During this time, they talked to even more dairy farmers (thousands of them), to understand some of their problems.
They finally decided to invest their time, talent and energies full time to take on a large, untouched and untapped market: Cattle trading. This was in November 2019.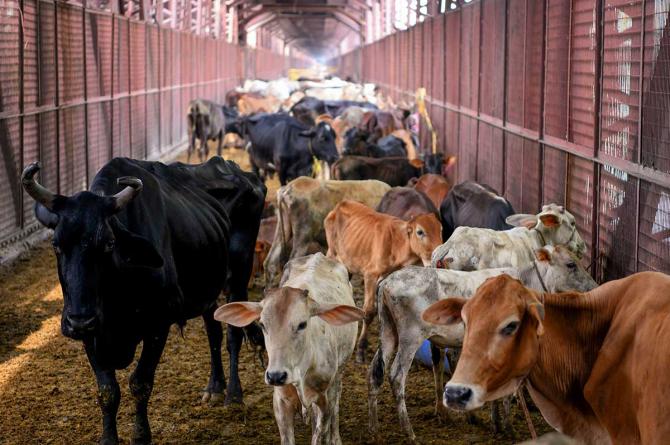 Today, based on available data, Animall has had 11 million installs. It has so far sold more than 1.5 million cattle on its platform, accounting for a gross transaction value (GTV) of over Rs 7,500 crore (Rs 75 billion).
There are currently 4 million cattle listed for sale on the site. Thus far, Animall has accounted for 30 million, or maybe more, buyer-seller interactions.
The app scores a farmer rating of 4.7 (out of 5) and has a net promoter score (NPS) of 65 plus — NPS measures the loyalty of a company's customer base with a score from (-) 100 to (+) 100, which comes from customers answering the question: "How likely are you to recommend this company to a friend or colleague?" A score of over 65 is really good.
And yes, Animall charges zero commission on the sale or purchase of animals.
Where does Animall score well, especially in the context of Bharat?
Well, for starters, the app is thought through and created in Hindi.
It proudly proclaims that it is an app that is 'Bharat mein bana' (Made in Bharat), and it is a 'Gae-Bhains wallah App' (App for Cows-Buffaloes) where 'pashu' (animals) can be bought and sold.
The listings are very matter-of-fact and direct — '15 litre kshamta, kundi bhains, Rs 70,000′ (15 litres milk giving buffalo for Rs 70,000).
Interestingly, the listings also have information on how far the animal is from your location (because transportation is a big cost) and a tab that states 'mol-bhaav ho jayega' (price negotiable).
But what struck me as unequivocally and intrinsically Bharat was that the seller you could call was listed as 'Rohitji'.
To me, the usage of the appellation 'ji' further underlines the Bharat-ness of the app — a certain courtesy that would be part of a normal physical interaction in Bharat, has been carried through to the online platform.
What impressed me even more was that India's biggest digital animal fair was being aggressively promoted on Animall.
Veterinarian consultations and knowledge dissemination sessions are a common feature too. Not a single trick of the trade is being missed by the two IITians.
No wonder, Animall is so well funded — $36.3 million in the kitty after Series B. And includes investorssuch as Deepinder Goyal of Zomato, and Sahil Barua of Delhivery.
Bharat needs many more apps like Animall. Apps that are rooted in the reality of an India that people in the metros neither relate to, nor even try to understand.
In a language that the local populace speaks in, and understands.
Animall, most importantly, is contextually correct: Cattle trading is very important to those rooted in agriculture and dairy farming but is not a subject that townies resonate with.
Sandeep Goyal is managing director, Rediffusion.
Source: Read Full Article