Tristan Thompson Pays Tribute to His Late Mother: "I'm Going to Make You Proud"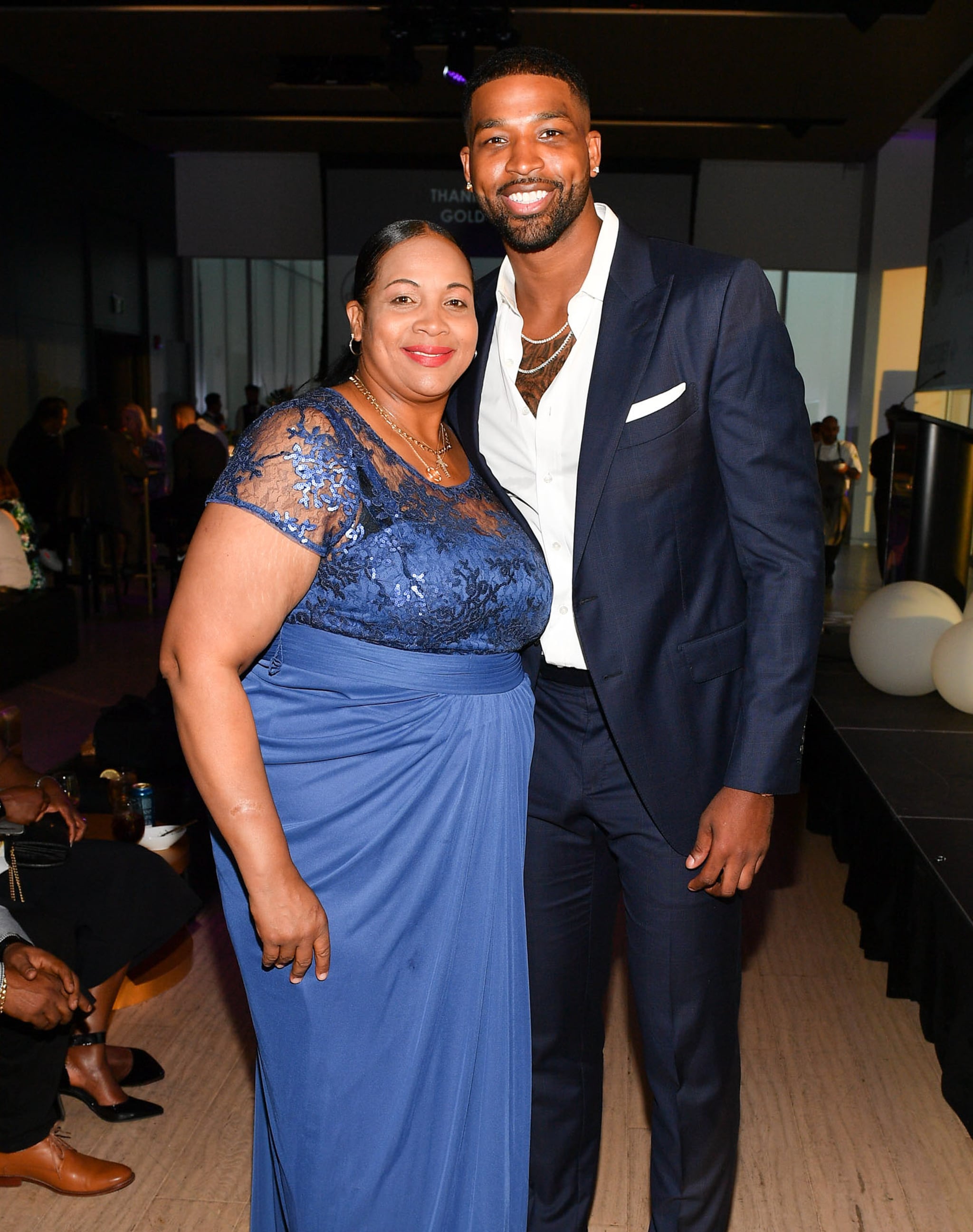 One month after his mother, Andrea Thompson, died suddenly on Jan. 5, Tristan Thompson shared a touching tribute to his mom on Instagram. In the emotional post, the former NBA star called his mom a hero and wrote about how difficult the past month has been for him.
"Dearest mommy in heaven," he wrote alongside a carousel of photos featuring his mother with him and his brothers, with his ex Khloé Kardashian, and with their daughter, True.
"It has been one month since you've been gone. I'm in disbelief. Im in the deepest part of sorrow & grief.
"My soul is empty as I come to terms that my biggest supporter/superhero is gone. I cannot thank you enough for always being a woman of faith, being one of Gods warriors, fighting back with whatever the world threw our way. You constantly protected us through prayer. My hero you fought all the battles you needed to and it was time for you to go home."
Andrea was laid to rest in Toronto on Jan. 14. In addition to Tristan, she was also mom to Daniel, Dishawn, and Amari, who is still in his teens and has epilepsy. In his tribute, the 31-year-old Tristan promised he would look out for his little brother, while also vowing to be the man his mother always knew he could be.
"Stay tuned to the ways I will show the world what an amazing son you raised," he wrote. "I will show you that even when we fall & make mistakes, we get back up. You are my motivation. Stand beside me as I become the man I know you always believed in. Im going to make you proud, I promise!"
In the days after his mother's death, the Kardashian-Jenner family stepped up for Tristan and his family in a big way. According to pictures obtained by TMZ from Andrea's funeral, Khloé and her sister Kim Kardashian attended the funeral to pay their respects to Tristan's mother. The sisters were reportedly accompanied by their mother, Kris Jenner, but she doesn't appear in any of the photos. The funeral was also attended by Tristan's friends and family, including Drake.
On Jan. 24, Khloé spoke about Andrea's passing and the relationship they shared. In an Instagram tribute featuring various photos and videos with Andrea, Khloé shared how painful Andrea's death has been to process.
"I have been avoiding this. . . . Avoiding accepting this is real," Khloé wrote. "I have so much to say but nothing at all. . . . I have so many emotions and still I feel numb. Life can be brutally unfair at times and this has been one of the toughest times in so many of our lives."
She went on to share how fortunate she feels to have had Andrea in her life. "At the same time, I feel blessed that I am lucky to have had someone that makes saying goodbye so incredibly difficult," she wrote. "So difficult that I'm choosing not to say goodbye for good because that is something I cannot fathom. Goodbyes for good are something I don't believe in. I KNOW I will see you again. I know I will hear your sweet voice and infectious laugh again. I know I'll get to feel that embrace of yours. I'll see you again with the many that have gone before you that I so desperately miss, love and cherish. So, I'm choosing to say, that until I see you again in Heaven, I miss you and I will continue to miss you more and more every single day."
Khloé concluded: "I know you are with our Lord and Savior. I know you are rejoicing up there. Dancing and singing and probably yelling 'who does that!!' because we are crying at your loss. At the same time, I know you never wanted to leave your boys. They are your entire world. They will learn to live with the hole in their hearts because they are warriors just like their warrior mommy. Just know, I promise you, Amari will be perfectly ok. We will all look after him, help him and protect him. Your boys will be ok because they have their guardian Angel by their side.
"'So with you: Now is your time of grief, but I will see you again and you will rejoice, and no one will take away your joy.' John 16:22.
"I love you 🤍 I love you 🤍 I love you 🤍💔🥹🕊️."
On Jan. 6, shortly after news of his mother's death broke, E! News reported that a source said Khloé joined Tristan to "comfort and help him navigate what will be a very difficult time." While the exes have had their ups and downs in the past, they coparent 4-year-old True and their infant son together.
"She was incredibly close to his mother, and like Khloé and the Kardashian family always do, they will come together and support their loved ones in their most difficult time of need," the source added. "Tristan is the father of Khloe's kids and she and her entire family will always be there for him."
Source: Read Full Article