Super Dancer Chapter 3: 'I need to learn dancing,' says Salman Khan after watching a contestant's performance | Bollywood Life
The upcoming episode of kids' dance reality show Super Dancer Chapter 3 will see the cast of Bharat gracing the stage to promote the movie. Film leads, Salman Khan and Katrina Kaif visited the sets of the show. Everyone right from the judges – Shilpa Shetty Kundra, Anurag Basu and Geeta Kapoor along with the hosts, contestants and audiences were awestruck seeing Salman Khan make a dashing entry with the ravishing Katrina Kaif who looked beautiful in a yellow saree. Both the actors had a gala time on the sets while sharing an entertaining moment with the contestants who performed on Salman and Katrina's popular numbers. In the show, the kids will also be seen shaking legs with the Bharat duo on the popular songs Slow Motion, Chashani and such.
Out of all the contestants, 7-year-old Saksham Sharma from Ludhiana with Super Guru Vaibhav grabbed Salman's attention the most with his performance on the popular Bhai song, Jumme ki raat hai. Salman was so amazed to see the little champ perform, that he openly declared, "It seems as if I need to learn dancing." Praising his talent he mentioned, "Saksham is so good with his dance moves that he can beat his guru Vaibhav." Further, Katrina appreciated Saksham's for his really good expressions.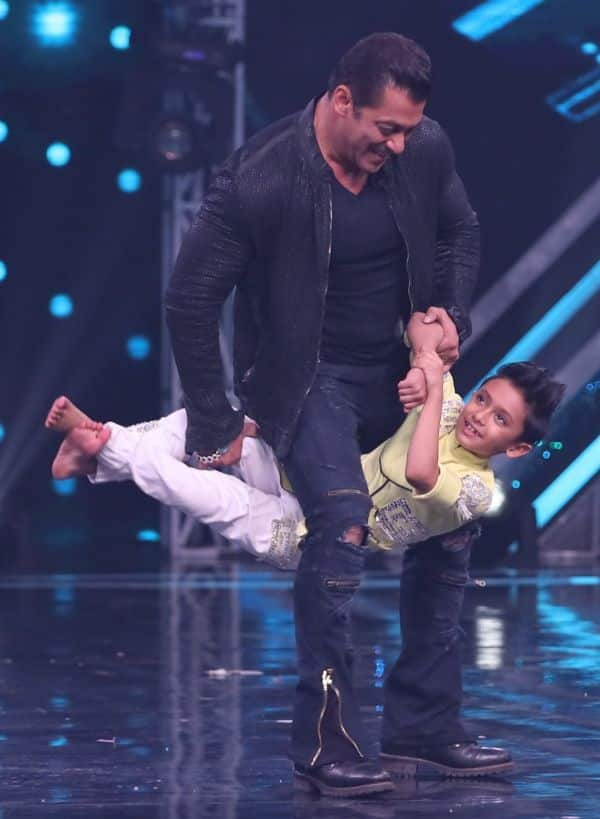 Out of curiosity, Saksham couldn't resist himself and asked Salman that how can he maintain a good built and physique like him. To answer Sakhsham's query Salman mentioned, "It is diet and a proper exercise that helps you build your physique. If you go on dancing like this you will surely be able to build a great physique like me." Later Saksham urged Salman to do pushups with him and Salman being the kind-hearted person that he is, happily obliged. Adding to more fun Salman performed the signature step from the song 'Jeene ke hai chaar din' but with a twist. He used Saksham as his towel and held him between his legs.
Apart from Salman and Katrina, renowned singers from the industry, Javed Ali and Himesh Reshammiya, judges of an upcoming show Superstar Singer also graced the sets of Super Dancer along with singer Sachin Valmiki and Salman Ali who will be the Captains on the kids singing reality show.
Source: Read Full Article