Recipe: Zelda's South Indian Mango Rice
When you have a multicultural, multi-religious, multi-palate household, the types of meals vary wildly.
When the pasta, Middle Eastern faves, sandwiches, soup, salad, and experimental food quotas of the week has been exhausted, the meals alternate between north Indian and South Indian cuisines, given that my husband's family hails from Tamil Nadu and my clan's partly from the north.
So, sambars, rasams, appalams, dosas, idlis, thorans, kormas, coconut oil, sesame oil, sambar powder rule the kitchen as arrogantly as rotis, dals, sabzis, stuffed parathas, mustard oil, garam masala and more.
The lovely aspect about cooking South Indian, is putting together all those special rice dishes, which taste scrumptious and are all-purpose (train mein bhi khao, tiffin mein bhi, or for nashta too) and I have tried to master making them over the years.
When I put together this Mango Rice at parties, I rarely have any left.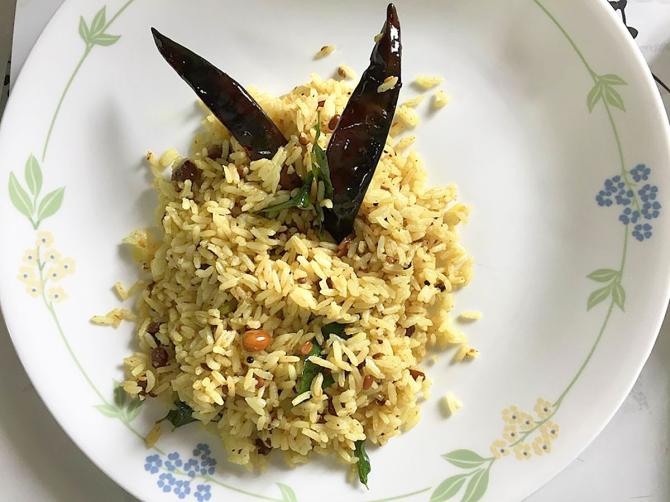 Mango Rice
Serves: 2-3
Ingredients
2 medium-sized kairi or green mangoes, peeled, deseeded and chopped.
3 green chillies
1½ cups raw basmati rice, washed
Salt to taste, about 1½ tsp
1 tbsp ghee + a little ghee for serving (or cashew butter if vegan is preferred)
Masala for the rice
Pinch jeera or cumin seeds
1 tsp rai or mustard seeds
2 tbsp white urad dal or white gram
2 tbsp chana dal or Bengal gram
1 boriya or round red chilly
2-3 tsp oil
Seasoning or tadka for the rice
1 tsp rai or mustard seeds
1 tsp white urad dal or white gram
½ tsp hing or asefoetida
10 curry pattas or curry leaves

1-2 Kashmiri chillies
1 tbsp oil
Method
Grind the chopped mangoes with the green chillies in a blender.
Keep aside.
For the masala
In a small frying pan over low heat, heat the 2-3 tsp oil and fry the jeera, rai, urad dal, chana dal, red chilly till it lightly reddens.
Cool and grind in a blender.
Keep aside.
Making the rice
In a large heavy-bottomed kadhai, heat the 1 tbsp oil over medoum heat and add the white urad dal, rai and hing.
Allow the rai to crackle and add the curry patta and Kashmiri chillies and the washed raw rice.
Add the mango-chilly paste and ghee.
Cook so the rice grains get a little crisp and red.
Add the ground masala, salt and 2 cups water.
Cook covered on low until all the water is absorbed and mango rice is fluffy.
Add a little ghee at the end while serving, if required and toss with a fork.
Serve with sambar or rasam or pickle or by itself
Zelda's Note: You can use a short grain rice too. I make this rice with Basmati when making it for guests. When I make it for us at home, I use a short grain rice like ambe mohur or sona masuri or gobindbhog. If using short grain rice, increase the water to 3 cups.
If you prefer, add a handful of roasted, fried peanuts or cashews towards the end after the rice has cooked. I prefer to keep this rice recipe nut-free.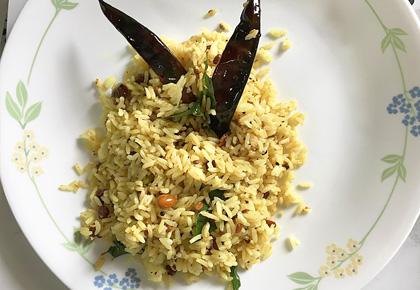 Source: Read Full Article