Recipe: Sitaramji's Egg and Cheese Sandwich
A recipe from Sitaram Bandekar, the wonderful gentleman who ensures that all of us at Rediff.com are fed well, a job he has done tirelessly at all hours of the day and often at night for 25 years.
Sitaramji, as he is affectionately called in the Rediff.com Newsroom and elsewhere in the office, hails from Kolhapur. He began as a one-man show and now has a small team assisting him.
His repertoire is fairly vast — some of it excellent. Meals, snacks, breakfast and sandwiches around the clock emerge from his kitchen. And what makes his food particularly welcome is the enthusiastic affection with which he serves it.
Apart from the Rediff.com staff, Sitaramji always remembers what guests like. Whenever the legendary dancer Astad Deboo dropped in, he would be served toasted sandwiches pronto. Every time my daughters, who have known him since they were babies, visit, he or his able deputies Lahu Kapudskar and Baban Patil whip up their specials as soon as they walk in.
The charm of office life is multiplied when you have people like Sitaramji, Lahu and Baban always nearby, ready to leave a steaming cup of coffee at your elbow, unasked. And who will always rustle up something to eat at any hour if you come to them hungry, or will do all kinds of little touching things for you.
This egg sandwich, with its strong garlic accents, was a bit of an accidental recipe. Sitaramji's kitchen knives smack of garlic, so much so that he had a special knife gifted to him for the birthday cakes cut in office, lest they attract the garlic.
Accidental or not, these garlic-laced sandwiches are nevertheless yum. And I make them at home for my daughters.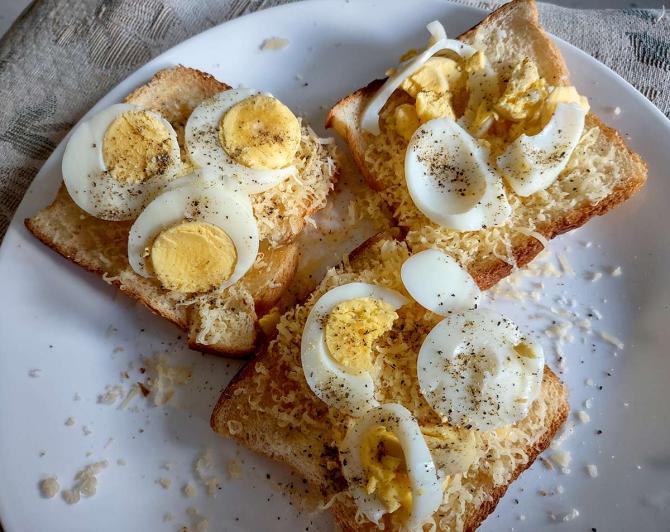 Sitaramji's Egg and Cheese Sandwich
Serves: 1
Ingredients
4 slices bread
2 boiled eggs, sliced
8-10 tsp grated cheese
Pinch salt
Pinch black pepper powder
2 tsp butter
1-2 tsp garlic paste
Method
Toast the bread till pink but still soft.
Lay the toasted slices on a cutting board and work quickly so the sandwiches remains warm.
Butter the slices and spread the garlic paste on the slices.
On two of the slices spread the grated cheese and then the slices of boiled egg.
Sprinkle salt and pepper in top.
Cover with the remaining two slices, to form two sandwiches, and with a sharp knife cut each sandwich in half diagonally or into 6 bite-sized pieces.
Serve while warm with a hot cup of tea.
Master Chef with Rediff.com's Master Chef: Sitaram Bandekar, right, with Sanjeev Kapoor at our office.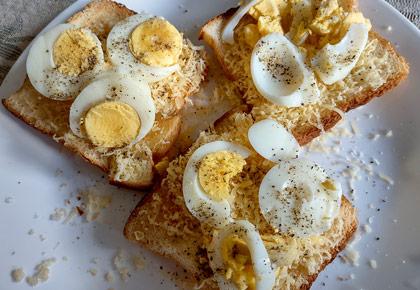 Source: Read Full Article