Recipe: Mustard Pan-Fried Baingan
The attraction of Indian cooking is the variations in cuisine, geographically, from north to South, east to west, and the fun is mixing all their flavours in one dish, as I did for this simple Mustard Pan-Fried Baingan.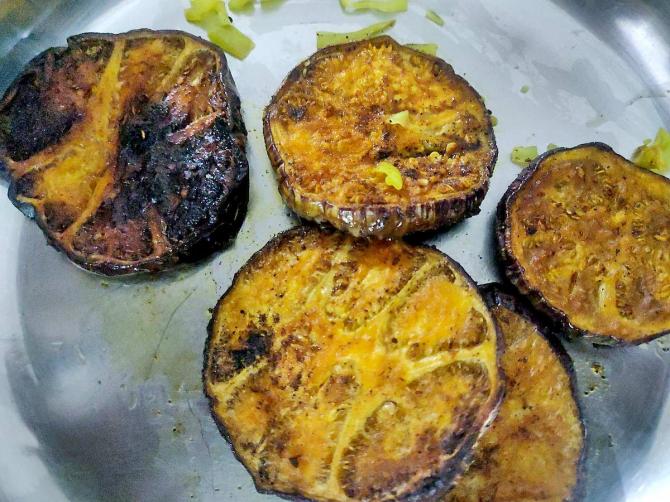 Mustard Pan-Fried Baingan
Serves: 2
Ingredients
1 large baingan or eggplant
3-4 tbsp mustard oil
1 tbsp vegetable or peanut oil
4 tsp garlic paste, optional
10-12 curry pattas or curry leaves
1 tsp rai or mustard seeds
1 tsp kalonji or Nigella seeds
2 generous pinches hing or asafetida
Salt to taste, about 1½ tsp
2 tsp red chilly powder
2 tsp haldi or turmeric powder
Dash sugar
1 tsp freshly ground sonf or fennel seeds
2 tsp sambar powder
Photograph: Zelda Pande
Method
Cut the baingan first lengthwise, and then in thin, half-moon slices.
In a large non-stick frying pan, heat up 2 tbsp of mustard oil over medium heat, and fry half the baingan slices till cooked, and drain onto a tissue or paper towel-lined plate.
Heat up the remaining 2 tbsp mustard oil and fry the balance baingan in a similar manner.
I usually keep two non-stick pans going, so the baingan can be fried faster.
Keep the fried baingan aside.
Heat the 1 tbsp vegetable or peanut oil in a kadhai or large saucepan over medium heat.
Add in the kalonji, rai and hing and let it crackle.
Then add the curry leaves and fry 30 seconds and next add the garlic paste and fry about 2 minutes.
Add the baingan and allow it to warm up.
Season with the red chilly, sambar powder, salt, haldi, sugar, sonf powder and lightly toss.
Serve warm with rice or rotis, rasam and papad.
MORE AWESOME RECIPES FOR YOU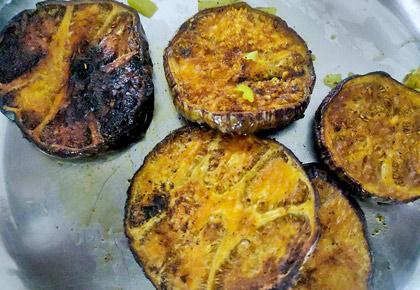 Source: Read Full Article