Recipe: Hansal Mehta's Bihari-Style Mutton Curry
When film-maker Hansal Mehta, who is Gujarati, cooked a Bihari-Style Mutton Curry and it turned out spectacular, he decided to share the recipe on Instagram.
Some felt it closely resembled Champaran Mutton and were eager to try the dish out. Others joked that 'itna direction mein pura film ban jayega.'
'Mix with copious amounts of rice and eat with aloo chokha (Bihari-style aloo bharta or mash spiked with chopped onions, green chillies sauteed in mustard oil). Enjoy,' Hansal advises anyone who would like to give the recipe a shot.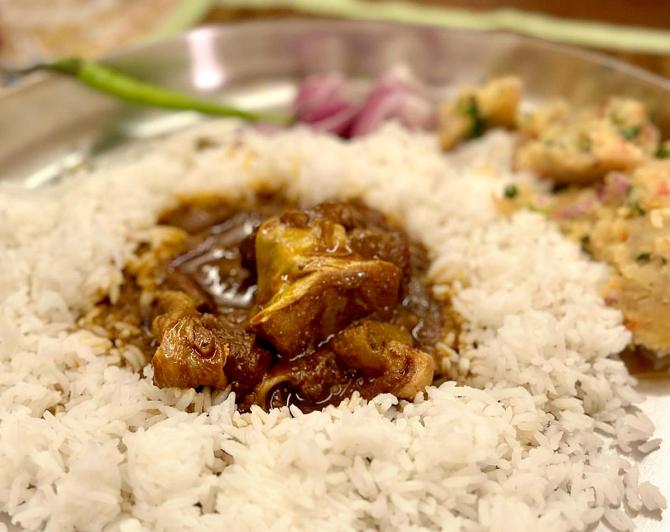 Ingredients
Serves: 2-3
For the masala paste
8-10 garlic pods
2-3-inch piece ginger
4-5 Kashmiri red chillies, de-seeded
2-3 red chillies, any spicy variety, de-seeded
1-2 tsp roasted garam masala
10-12 black peppercorns
4-5 whole black bada elaichi or cardamom
1-2 tbsp crumbled dagad or patthar phool or kalpasi or stone flower
1½ tsp jeera or cumin seeds
1 tbsp dhania or coriander seeds
For the mutton curry
1¼ kg mutton, cut into medium-sized curry pieces
5-6 red onions, sliced
2-3 tej patta or bay leaves
1-inch piece dalcheeni or cinnamon stick
1 tsp haldi or turmeric powder
3-4 tbsp mustard oil
1-2 tbsp ghee
2-3 garlic pods
Salt to taste, about 2 tsp
2 cups water
Sliced onions, to serve
Green chillies, to serve
Method
For the masala paste
Grind all the ingredients in the mixer/blender to a paste with a little water.
Keep aside.
For the mutton curry
Marinate the mutton in large bowl or container with a little turmeric, salt, 1 tbsp mustard oil.
Keep aside for 45 minutes to an hour or more.
Heat 3 tbsp mustard oil in a pressure cooker.
Add the bay leaves, cinnamon stick, sliced onions fry until golden.
Add the marinated mutton and sear until it changes colour.
Add the masala paste.
Bhuno or roast until the masala is cooked and releases oil.
Add little water at regular intervals to ensure the masala does not burn.
Add 2 cups water, mix and add the garlic pods.
Pressure cook over low heat for 30-40 minutes.
Take off heat and let the meat rest until the pressure is fully released naturally.
Heat the ghee in a small frying pan and pour it over the mutton curry.
Serve with sliced onions and green chillies along with steamed rice and Aloo Chokha.
Editor's Note: To make Bihari-style Aloo Chokha, boil 3 large potaotes till soft. Peel, mash, mix in 1 tsp salt and keep aside. Heat 1-2 tbsp mustard oil and fry 1 chopped onion and 2 chopped green chillies in it. Add in the potato mash and some red chilly powder, if preferred. Garnish with 1-2 tbsp chopped green dhania or coriander or cilantro.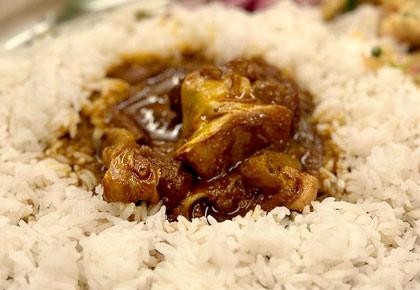 Source: Read Full Article