Recipe: Divya's Kerala Kootu
After avial, sambar and rasam, if there is another vegetarian dish my non-Malayali friends and neighbours relish with more compliments than complaints, it has to be Kootu.
It's a staple accompaniment to fancier meals served at weddings, temples, and on special occasions and festivals, including Onam and Vishu, at home.
But the recipe, like I always mention, is prepared differently in parts of Kerala and Tamil Nadu, with a slight variation in the ingredients and the consistency.
There is Kootu and Kootu Curry — my parents always argue about the ingredients that go into it.
My Papa, who grew up in Palakkad, Kerala, insists that Kootu is thicker, prepared using raw banana, lentils, ash gourd and yam, while Kootu Curry, more popular in Kannur, Thalassery and parts of north Kerala includes steam cooked black gram/chana as well.
Irrespective of how you cook it, the basic ingredients and flavour remain the same which makes it such a rich addition to Kerala cuisine.
Presenting my Amma's version of Kootu, which I hope you will enjoy with steamed rice.
Kootu
Serves: 3-4
Ingredients
150 gm chana dal, washed and soaked in water
1 large raw banana, diced
100 gm yam, diced
100 gm ash gourd or white pumpkin, diced
1½ cup grated coconut
1 tsp haldi or turmeric powder
5-6 dried red chillies
1 tsp jeera or cumin seeds
½ tsp peppercorns
8-10 curry leaves
Salt to taste, about 1 tsp
Water
For the tempering
2 tbsp coconut oil
½ cup grated coconut
1 tsp rai or mustard seeds
2-3 dried red chillies
-8-10 curry leaves
Method
Soak the chana dal in two cups of water, one hour before you begin cooking.
Add salt, turmeric powder, 1 cup water and cook the drained chana dal in a pressure cooker over medium heat for 2-3 whistles.
Keep aside.
Grind the grated coconut, peppercorns, jeera and red chillies to a smooth paste by adding a few tbsp of water.
Keep aside.
In a kadhai or saucepan, add all the diced vegetables, salt and just enough water to cook it in.
Add curry leaves and cover.
Cook for up to 7 minutes over medium heat.
Once the vegetables are tender, add the ground paste and mix well.
Add the pre-cooked chana dal and mix.
Add the salt and adjust the consistency — it should be thick and not watery.
In a tempering pan, heat 2 tbsp coconut oil.
Add the mustard seeds.
When they splutter, add the grated coconut, dried red chillies, curry leaves.
Allow the coconut to turn golden brown.
Take off heat and pour the tadka over the Kootu.
Serve hot with steamed rice, rotis or dosas.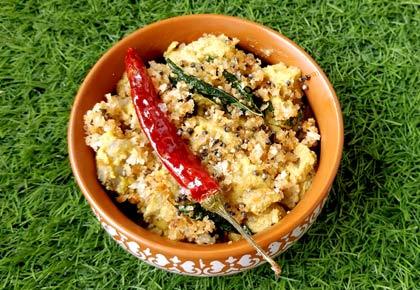 Source: Read Full Article