Olympic Athletes Who Live Insanely Lavish Lives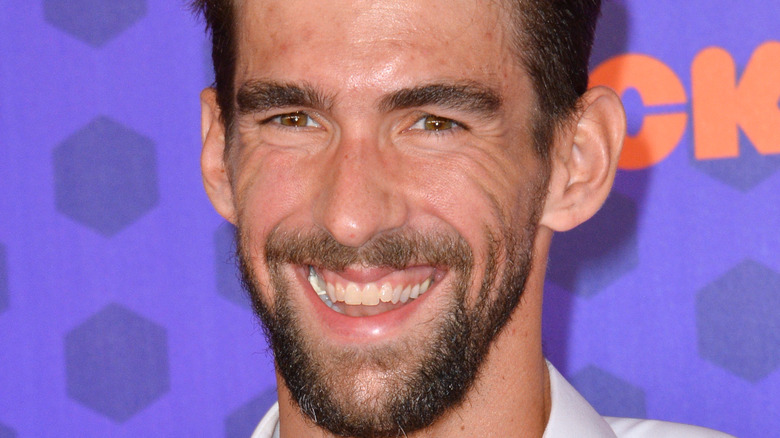 It can be argued that the vast amount of athletes who decide to compete in the Olympics don't have a fat bank account as their primary motivation. After all, it takes years of blood, sweat, and tears to become good enough to qualify for the games (via the American Psychological Association), so you really have to love your sport more than almost anything else in life. So if money is your raison d'être, a career in finance may be a better bet — and will probably require fewer hours in the gym.
However, there are some Olympic athletes who wind up with tons of lucrative sponsorships and deals, as well as prize money, and they're usually the best of the absolute best. These are the athletes whose faces you see on cereal boxes or as the face of various fashion lines, or perhaps in television commercials for sporting equipment. So which ballers, swimmers, and gymnasts are soaking up the sun in the lap of luxury in between games or in retirement? These are the Olympic athletes who live insanely lavish lives.
Caitlyn Jenner enjoys the spoils of fame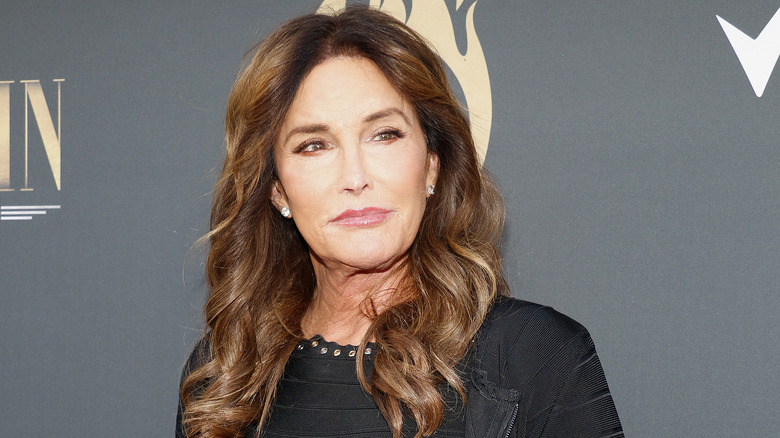 Caitlyn Jenner is one of the most famous Olympic athletes of all time. As noted by Brittanica, the decathlete brought home the gold in 1976 and parlayed that stunning win into a career in sportscasting, speaking, writing, and eventually starring on reality television. Not surprisingly, this earned Jenner quite the pretty penny, as she has a cool net worth of $100 million, as estimated by Celebrity Net Worth. 
So how does Jenner spend her vast fortune? For one, she lives inside a stunning beachfront home in Malibu, which she opened up to viewers in an episode of "MTV Cribs" – who also got to spy her swanky car collection. As per Variety, she purchased the abode for $3.5 million. As for fashion, Jenner has stepped out in designer outfits time and time again, including a $7,000 Dolce & Gabbana gown, a $4,000 mini-dress from Balmain, and a $5,500 Emilio Pucci number (via Vogue). Oh, and remember the time Jenner spoke about her gubernatorial aspirations from her private jet hangar in Malibu (via Vanity Fair)? It doesn't get any fancier than that!
Kevin Durant has insanely lavish ambitions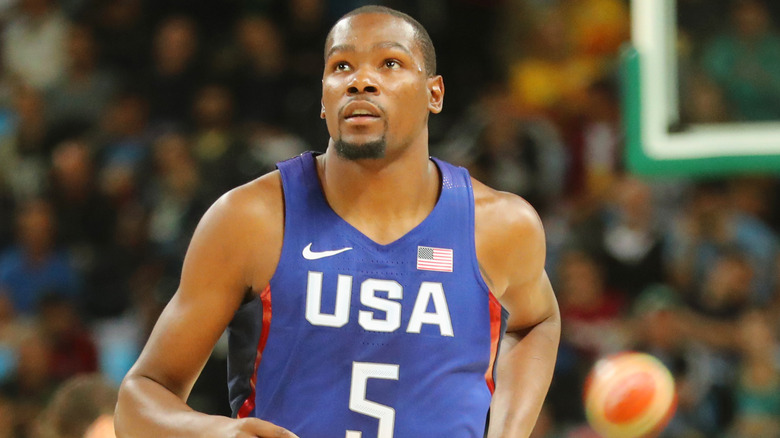 Perhaps the most exciting basketball player to perform at the 2021 Olympics in Tokyo — his third games — is Kevin Durant, baller extraordinaire. The two-time championship MVP (per the NBA) is a legend in the making, earning his place among names like Michael Jordan and LeBron James when it comes to basketball greatness — and you know that provides some perks.
Brace yourselves: Durant is worth a cool $170 million, according to Celebrity Net Worth, and with that comes everything that anyone could desire. It's little wonder, then, that Durant has quite the real estate profile; as noted by Forbes, his million-dollar contracts have afforded him a stunning Manhattan abode that overlooks the famed High Line, among other properties in California and Oklahoma. Durant is also quite the investor, and has pumped millions into various startups of his choosing — which is only natural when you've hobnobbed with the Silicon Valley elite after games in the San Francisco Bay area. As for his long game? "I want to own and run an NBA team — run day-to-day operations and impact young players coming through the league," Durant declared. We're pretty sure he'll make it so.
Michael Phelps has more than just gold medals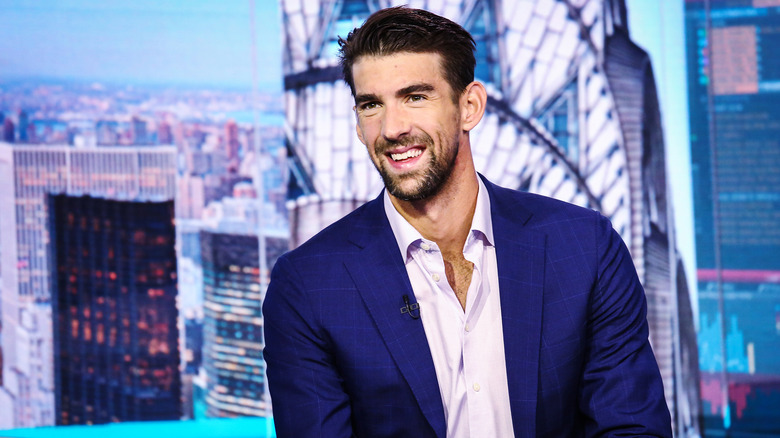 When swimmer Michael Phelps is in the water competing for yet another Olympic medal, he almost looks to be more fish than human. Per his biography on Team USA's website, the decorated athlete has competed in a whopping five Olympic games (2000, 2004, 2008, 2012, and 2016) and has snagged a total of 28 medals (23 gold, three silver, and two bronze). That renders Phelps as one of the greatest athletes of all time — and with that comes a seriously lavish lifestyle.
According to Celebrity Net Worth, Phelps boasts an $80 million personal net worth, thanks to his career as the GOAT of the water. That's why the swimmer lives in a gorgeous, sprawling Arizona home that cost him $10,000 per square foot, as noted by The Baltimore Sun; Phelps sold his previous Arizona digs for $3.5 million, presumably to upgrade to more space for his growing family. And though Forbes reported that Phelps earned $7 million annually from sponsorships alone at one point, he's keen on giving back to the tune of millions to others. 
Still, even when Phelps is involved in the headlines for a simple car crash, he's rolling in a Cadillac Escalade (via The Baltimore Sun), which will set you back starting at about $77,000. We don't recommend doing the math on how long it would take you to buy one!
Naomi Osaka is the highest-paid female athlete … ever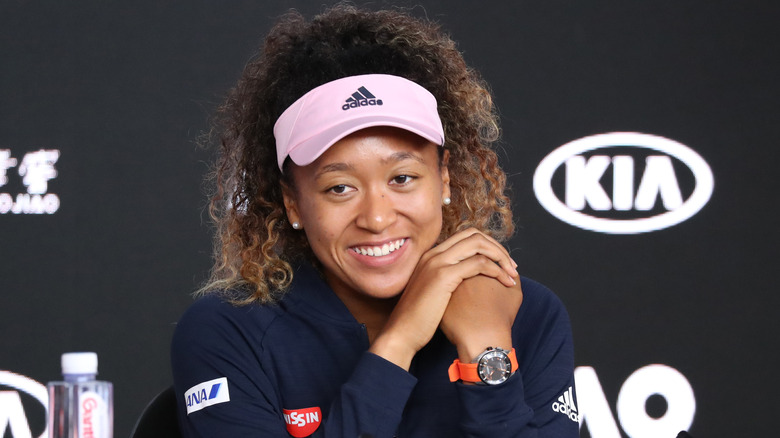 Naomi Osaka is easily one of the most exciting Olympic athletes of all time, and she's had a stunning transformation over the years. The tennis great became a household name when she defeated GOAT Serena Williams at the tender age of 23, as noted by Forbes. Since then, Osaka has broken barriers and faced obstacles — and become the highest-paid female athlete of all time. Naturally, Osaka has been able to enjoy this meteoric rise into fame and fortune.
So where does Osaka hang her hat? According to Dirt, she bought Nick Jonas' 4,000-square-foot home in Beverly Hills for a whopping $6.9 million in 2019, and it's a stunner with all of the bells and whistles you could ask for. Additionally, Osaka enjoys traveling the world, and visited Rome in 2021, as seen on her Instagram page; she also dropped by Haiti in 2020, as per another Instagram post. (Check out how swanky Osaka is when she's flying, too — we're jealous.) Of course, that's when Osaka isn't busy gracing the covers of magazines, posing with luxury cars, and appearing on television shows. Honestly, we love to see it!
Tara Lipinski is always bringing glam to the games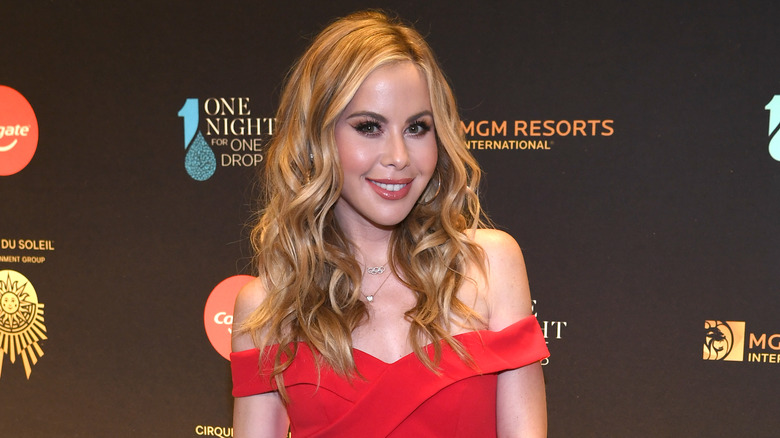 One of the most beloved Olympic sports is ice skating, and over the years, competitions have brought the beauty, the glamour, and, of course, the drama — remember the 1994 beef between Nancy Kerrigan and Tonya Harding, fam? But we digress. We're actually here to discuss 1998 gold medalist Tara Lipinski. The figure skater became the youngest person to ever win an individual event at the Winter Games, according to the Olympics website – and that was just the beginning. After that, Lipinski launched her career in television, eventually becoming best-known for her work as a commentator alongside BFF Johnny Weir.
As if all of that fame and glamour wasn't enough, Lipinski has a serious amount of cash at her disposal; Celebrity Net Worth estimates that she is worth about $25 million. Certainly that's what helped Lipinski plunk down $8.4 million in cash for a spacious six-bedroom mansion in the Pacific Palisades in 2021, as noted by Dirt. Prior to that in 2017, Lipinski married her sweetheart in a luxurious ceremony (followed by a weeks-long honeymoon) in South Carolina, according to People. And of course, when Lipinski is on the road as a commentator, she brings an arsenal of suitcases filled with insanely stylish outfits — she refuses to be seen in the same get-up twice (via People)!
Johnny Weir brings posh living to a new level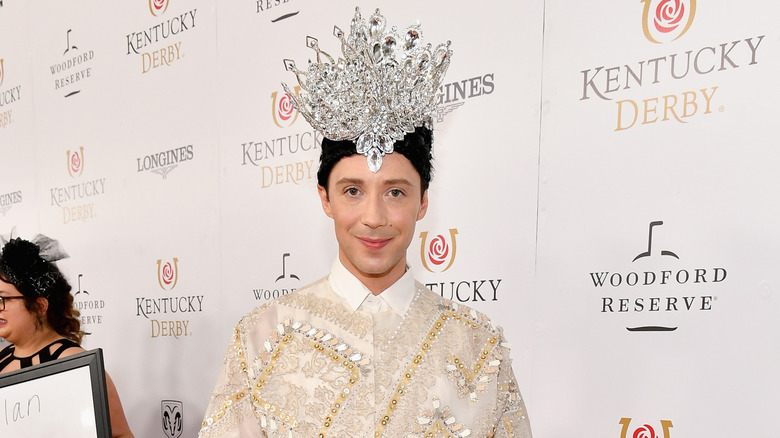 You can't discuss Tara Lipinski without mentioning her ride-or-die, figure skater Johnny Weir. The two-time Olympian boasts a slew of medals to his name, as per his website, and is also a queer cultural icon (via The Hollywood Reporter). No wonder Weir has been known to pal around with legends like Elton John, as is evidenced in a post on his Instagram page!
While Weir may only be worth $4 million, as noted by Celebrity Net Worth — significantly less than his bestie — he still manages to live a lavish life. For one, after buying his first house, Weir also bought land and had a home built specifically for his parents, according to Fanzone. (No, Weir doesn't live in "some very 'Jetsons'-style, modern, very sleek, egg-shaped house on top of a building somewhere in New York," as he told Realtor in an interview.) But where Weir's real glamour comes into play is with fashion; as he said while shopping for his abode, "my clothing and my wardrobe is going to require a bigger home simply because I'm going to need two full-sized bedrooms to turn into a giant closet." Amazing.
Weir steps out in his stunning wardrobe while sportscasting along with Lipinski, as well as on "Dancing with the Stars" and "RuPaul's Drag Race" — and who could forget his costume on "The Masked Singer?" We are here for all of the looks that Weir is slaying!
Usain Bolt lives the good life in every way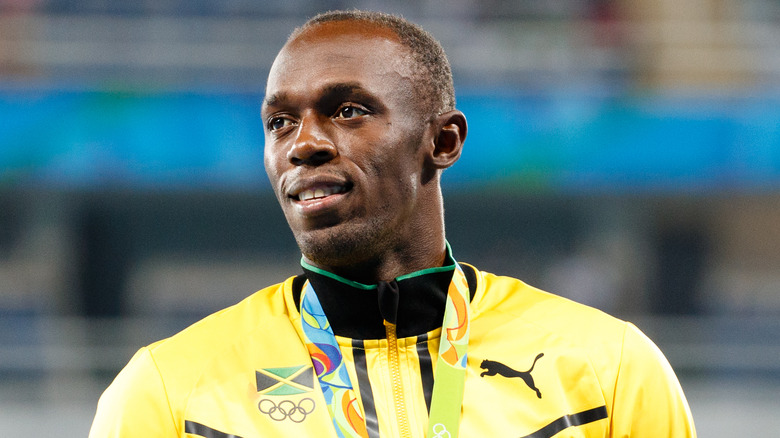 Seldom has there been an athlete with a name more fitting than Usain Bolt, the fastest man in the entire world, as noted on his website. The Jamaican sprinter and three-time Olympian made history and broke world records throughout his tenure at the games, and he has cemented his legacy as perhaps the best runner of all time. 
With such greatness has also come a massive fortune for Bolt, who Forbes estimates is worth a staggering $31 million — and Bolt isn't shy about spending his well-earned riches. For one, when he needs to get around, it appears that Bolt has his very own private jet, as seen in an Instagram post — and he's "not sorry" about it. Additionally, when Bolt was living abroad in Australia playing soccer, he lived in a million-dollar penthouse (via the Daily Mail). Fans got a glimpse of another home, presumably in Jamaica, during deep lockdown in 2020; Bolt showed off his home gym, living room, and even one of his fancy cars in social media posts. Oh, and don't forget the pool! Finally, Bolt's family enjoys dressing in seriously stylish finery, as per another Instagram post. Talk about living the dream!
Zara Tindall lives a royally lavish life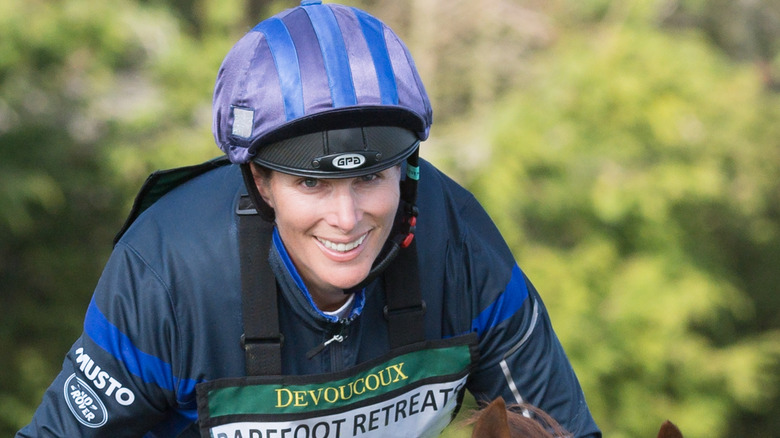 If you're a fan of the British royal family, you probably know who Zara Tindall is. She's the daughter of Princess Anne and granddaughter to Queen Elizabeth (via the BBC). But what you might not know about Tindall is that she's an Olympic athlete who took home a silver medal as part of the UK's equestrian eventing team in 2012, as noted by The Guardian. 
As Express pointed out, Tindall doesn't have a royal title or access to the big pot of royal money, but that doesn't mean she doesn't life a lavish life. For one, the royal started riding horses when she was just a child, according to the Financial Times — not exactly a poor woman's sport. Additionally, she and her husband, Mike Tindall, live in a residence at Princess Anne's Gatcombe Park, which the queen purchased for her daughter in 1976 (per Architectural Digest). 
Speaking of her husband, Zara Tindall married him in Scotland at a super posh wedding in 2011, decked out in the finest couture, as reported by People. After getting officially hitched at a small church in Scotland, the pair had a reception at Palace of Holyroodhouse, one of Queen Elizabeth's properties. And before the big day, Tindall and 19 friends enjoyed a bachelorette party at a spa in Portugal, while her counterpart spent $20,000 with his buds in Miami. All of this was after the proposal, of course, during which Mike put a $200,000 rock on Zara's hand (via Hello!). Royals, they're just like us.
Simone Biles vaulted her way into millions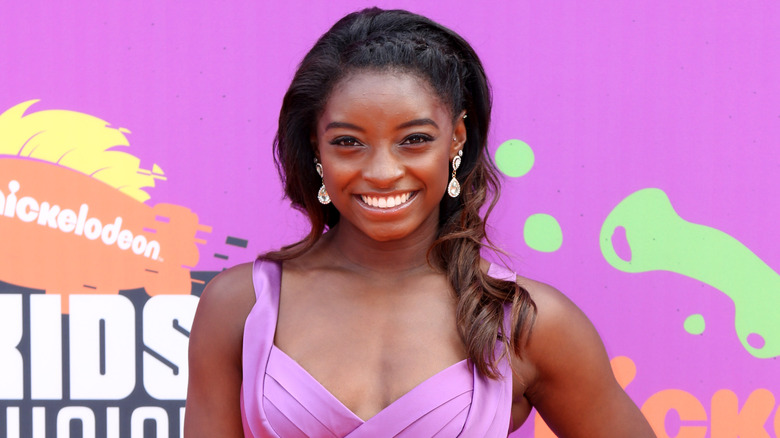 Simone Biles may have had a rough start in life, which she detailed with candor in an essay for CNN, but clearly Biles was destined for greatness from the very beginning. The gymnast nabbed five medals (four of which were gold) at the 2016 Olympics in Rio, as well as the hearts of millions while doing so. Clearly, Biles is a woman in the prime of her life, and she is only going to continue to go places.
Along with Olympic gold, Biles also has a significant stash of personal gold; according to Celebrity Net Worth, she's worth $6 million — and we know that number is just going to continue to increase. So what does the GOAT of gymnastics do with her fortune? For one, some of it has to be going toward her home expenses, as it looks seriously gorgeous in posts on her Instagram page. Additionally, Biles flies in the swankiest class possible en route to her tournaments around the world, when she's not gracing the covers of important magazines. And when she's snuggling up to her sweetie, NFL baller Jonathan Owens, Biles does so wearing matching Versace robes; they also vacation in Belize together – talk about #RelationshipGoals. Top it all off with the fact that Biles can do things like gift her mother a brand new Mercedes, and you can start to see the full picture of her seriously lavish life.
Shaun White has jumped into some serious wealth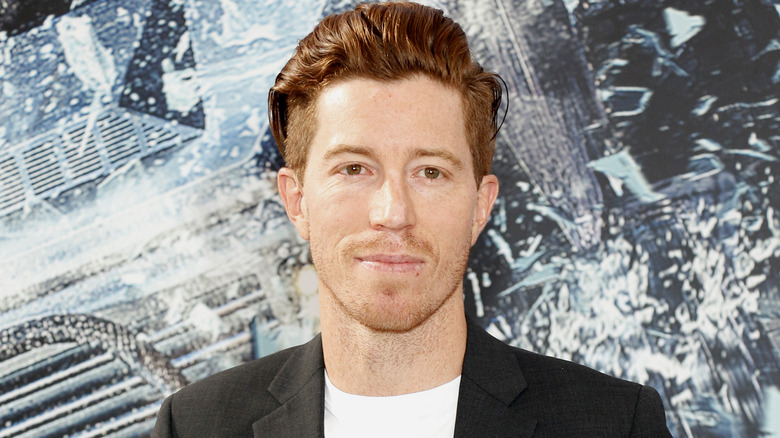 Shaun White is one of those rare athletes who makes his sport look easy. Aptly nicknamed "The Flying Tomato" thanks to his crimson locks, the snowboarder (and skateboarder) snagged three gold medals at three Olympic games in 2006, 2010, and 2018, as noted by his website. That's a seriously impressive feat by any measure, but considering that White was born with a congenital heart defect, it makes it all the more inspiring.
Thanks to his prowess on the snowy courses of Olympics past, White is worth a cool $60 million, according to Celebrity Net Worth. That makes it a little easier to stomach the fact that he sold his beachfront house in Malibu in 2020 for a paltry $8 million, per the Los Angeles Times — $2.75 million less than he paid for it four years prior. And even if you were feeling sympathetic, White sold another one of his homes in Point Dume for $11.8 million, making nearly $3 million in profit. 
In addition to dabbling in upscale real estate, White also enjoys traveling to gorgeous locales, as you can see on his Instagram page, as well as surfing with his friends on beautiful beaches. We reckon he's living quite the charmed life indeed.
Serena Williams has worked hard to have it all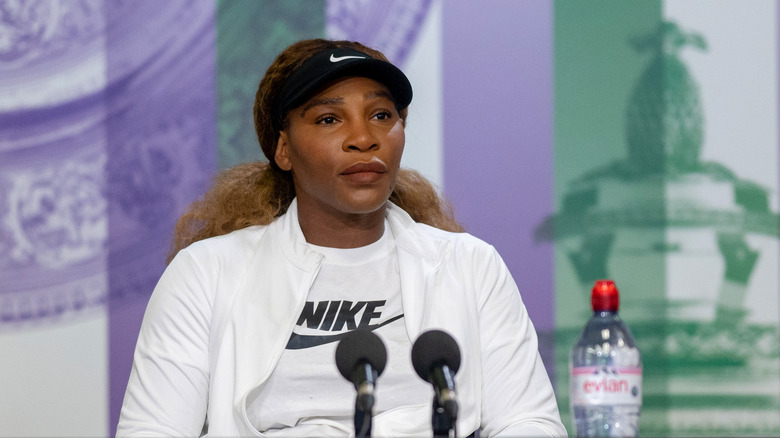 The woman, the myth, the legend, Serena Williams is one of those Olympians whose name everyone knows. In addition to winning four gold medals over the course of three Olympics (via Team USA's website), Williams has also snagged over 20 Grand Slam titles, rendering her one of the best athletes in the world — and we're here for all of it.
Thanks to her talent, perseverance, hard work, and many advertising partnerships, Williams is worth a cool $41.5 million, as noted by Forbes – and has the investment portfolio to prove it. Williams has also bought shares in both the UFC and the Miami Dolphins, purchases you don't make unless you're seriously rich. As for her house, Williams' primary residence (after splitting time in places like Paris and Bel-Air) is her stunning 14,500-square-foot waterfront dream home north of Miami, Florida that will knock your socks off (per Architectural Digest). Williams shares the luxurious property with her husband, Reddit founder Alexis Ohanian, and their daughter, Alexis Olympia Ohanian Jr. 
Speaking of the elder Ohanian, Williams wed the tech juggernaut in 2017 in a lavish ceremony fit for a queen, according to Vogue. On her big day, Williams wore an Alexander McQueen dress and designer accessories that totaled $3.5 million to say, "I do," followed by two different Versace dresses. Guests included Kim Kardashian, Anna Wintour, and Kelly Rowland, to name a few. Does it get more stunning?
Brian Boitano clearly knows how to live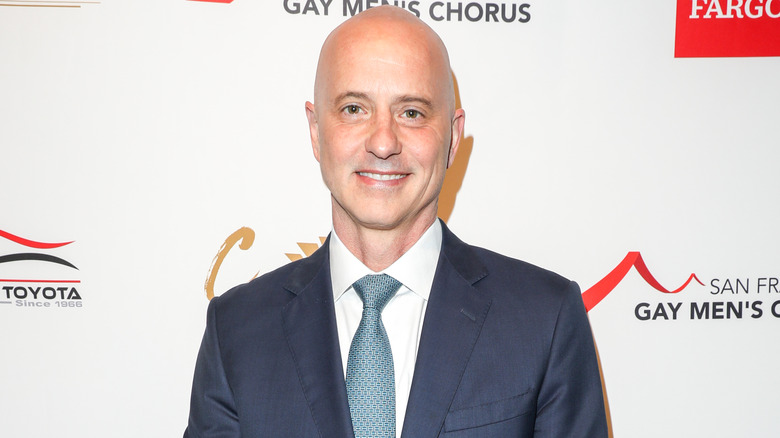 If you're a fan of "South Park," chances are you've heard of figure skater Brian Boitano, thanks to the rollicking song that pays tribute to the Olympian, "What Would Brian Boitano Do?" But if you were a fan of watching the Winter Olympics in the '80s and '90s, you surely remember Boitano for his incredible skating routines — including the performances that won him the gold medal in 1988 (per his website). Boitano also officially became a queer icon when he publicly came out as gay in 2014, as noted by Today.
As the Olympic gold is known to do for athletes, the medal made Boitano incredibly rich and famous — to the tune of an $18 million net worth, as noted by Celebrity Net Worth. That's why, unlike so many folks, Boitano has a beautiful home in San Francisco that boasts a view of the famed Alcatraz island as well as iconic bridges (via SFGate). The median home price in the area is nearly $1.5 million, so with those views, you know Boitano is sitting on a gold mine. Additionally, Boitano is a fan of traveling, whether it's to lounge during sunsets in Mexico, soaking up the sun or snorkeling in Hawaii, dining in Italy, or spending time closer to home in his boat. Um, sign us up for all of that!
Michael Jordan lives an insanely lavish life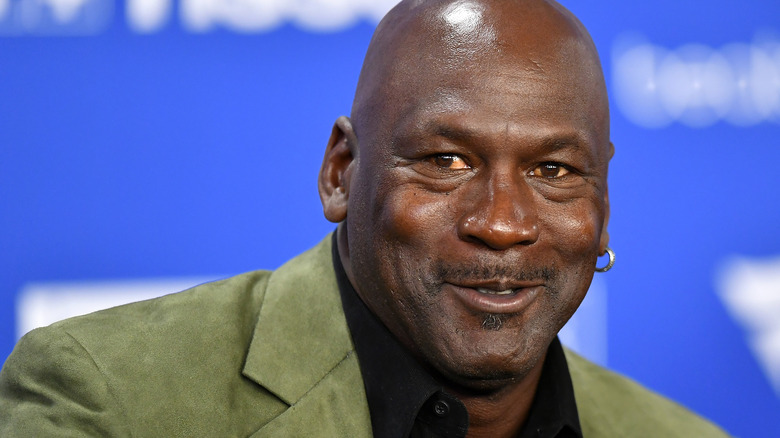 Before there were NBA players like LeBron James and Kobe Bryant, there was the OG basketball GOAT, Michael Jordan. In addition to leading the Chicago Bulls to a whopping six championship titles, Jordan also helped bring home the Olympic gold medal twice, including as part of the legendary 1992 Dream Team (via the Olympics website). The man was truly singular in his talent.
Of course, Jordan is worth a lot of money, but prepare yourself for the number: Forbes estimates the baller is worth $1.6 billion with a B. That's why Jordan can afford to own the Charlotte Hornets and co-own a NASCAR team — something most people can only dream of. In addition to that, Jordan is the owner of not two, not three, but five homes in the United States; there's his sprawling estate in Jupiter, Florida; his two homes in North Carolina (one luxury penthouse condo and one lakeside villa); his mountainside abode in Park City, Utah; and his 56,000-square-foot mansion in the Chicago suburbs (per Yahoo! Sports). Excuse us while we catch our breath.
When Jordan wants to go back and fourth from his homes, he has his trusty, custom-painted private jet to count on, according to The Washington Post. We think it's safe to say that of all Olympians, Jordan's life is the most lavish!
Source: Read Full Article