Michelle Yeoh: 'In 1984, women were relegated to being the damsel in distress'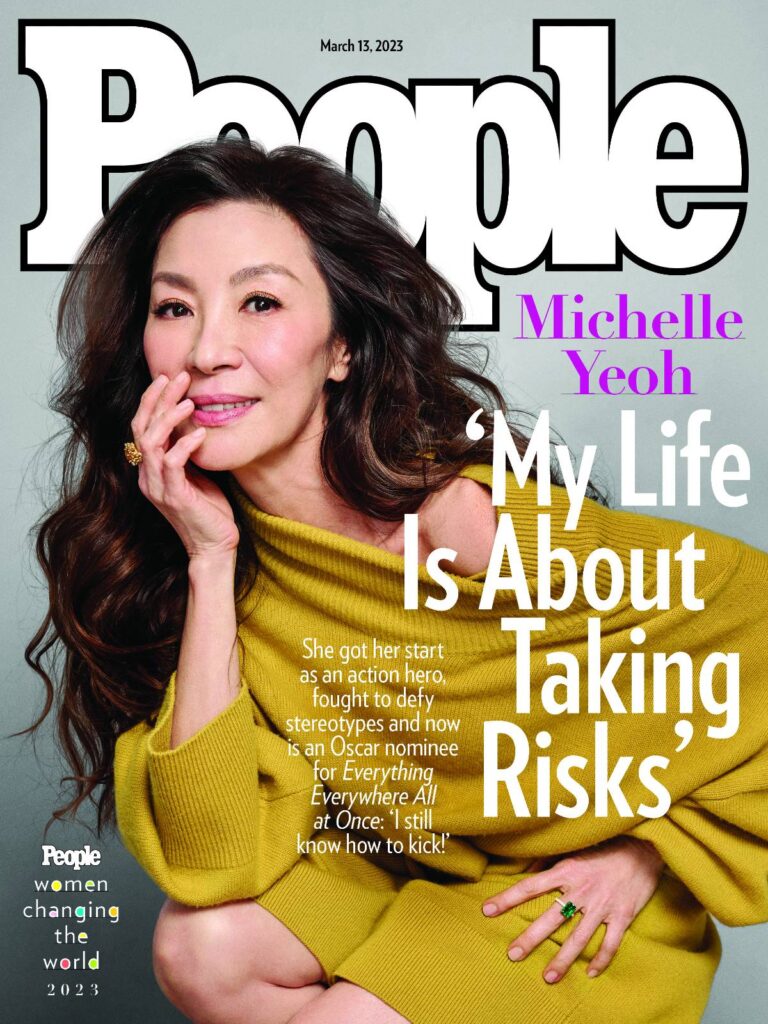 I'm still rooting for Michelle Yeoh to take the Oscar on the 12th. I saw Tár. Cate Blanchett did a good job, but I want it to go to Michelle. I think she deserves it for her Everything Everywhere All at Once performance, but I also think she's done her time in Hollywood and been ignored as a contender for years because of racism and sexism. It's only taken 40 years for people to wake up to Michelle but at least we got here, and in no small part to Michelle not allowing herself to be put in the corner. When she embarked on her film career in the 80s, she was cast as the "damsel in distress" which were, she said, the roles reserved for women. But Michelle refused, telling filmmakers she could take care of herself and quite possibly the leading man.
Yeoh grew up in the city of Ipoh, known for tin mining. Her father, Kian Teik, was a lawyer and politician, and her mother, Janet, a former beauty queen. Yeoh left Malaysia at 15 to study ballet at the Royal Academy of Dance in London. Not long after, a spinal injury derailed her promising dance career.

After she returned home, a quick succession of victories shifted her fate: Her mother entered her in the 1983 Miss Malaysia pageant. She won. That led to an audition for a commercial with Jackie Chan. She booked it. Soon after, Yeoh was cast in her first movie in Hong Kong: as a woman in need of saving, in the action-comedy The Owl vs. Bumbo.

"When I started off in 1984, women were relegated to being the damsel in distress," she says. "We need to be protected, according to our guys. But then I would go, 'No, guys, I think we can protect ourselves pretty well. And if push comes to shove, maybe I can protect you too.' "

Yeoh soon reunited with Chan, costarring in Supercop in 1992, which raised her profile in Asian cinema alongside the martial-arts legend. Then Hollywood came calling.

"The first movie I did after I came to America was Tomorrow Never Dies with Pierce Brosnan," says Yeoh. "James Bond at that point had only been known as macho, and the girls were just the ones with cutesy names." As Chinese spy Wai Lin in the 1997 film, Yeoh upended the very notion of the "Bond Girl," saving 007's life, rejecting his advances and standing on equal footing with the most alpha of males.

After that, the offers poured in. "At that point, people in the industry couldn't really tell the difference between whether I was Chinese or Japanese or Korean or if I even spoke English," she recalls. "They would talk very loudly and very slow." Her refusal to be typecast had consequences. "I didn't work for almost two years, until Crouching Tiger, simply because I could not agree with the stereotypical roles that were put forward to me."
[From People]
It's not an uncommon tale in Hollywood. A woman breaks the mold in a film and studios flood her inbox. Of course, they don't actually want her to be anything other than the exisiting mold they've cast for women once she shows up for the part, but they want to be able to say they have this [email protected]$$ woman on board. I have no problem believing these execs walking around opening debating Michelle's ethnicity and probably asking her agent if she could speak English right in front of her. These guys have no couth.
But Michelle was in it for the long haul and stuck to her guns. Maybe she's just being re-discovered at the age of 60, but at least it's completely on her terms. If for nothing else, she deserves the Oscar for that. One thing's for sure, no one sees Michelle freaking Yeoh as a damsel in distress.
https://www.instagram.com/p/CpJwv7FrUhh/
Embed from Getty Images
Photo credit: People, Instagram, Getty Images and Cover Images
Source: Read Full Article