Look how these cuties recite Jana Gana Mana
We asked you, dear readers, to send us videos of your school-going kid singing the National Anthem.
SEE: Sydney to Jaipur! Young kids sing Jana Gana Mana
Siya Goyal is just 3 years old. And she looks adorable singing the National Anthem in a yellow and green sari.
Do watch the little munchkin surprise you with her immaculate rendition.
Atharva, 9, from Indore is also dressed up in Indian attire for the National Anthem.
Check his video below
Seven-year-old Prisha Manjeet Thakkar seems happy and excited reciting the Jana Gana Mana from her home in Sangli, Maharashtra.
Aarav Bhatia sang the Jana Gana Mana on stage in a packed hall with over 300 people. Watch how the 8 year old held the audience in captive attention!
Daksh Thakur from Nashik, loves music.
The 8 year old is learning Hindustani classical music and can play the harmonium, keyboard and the guitar as well.
Watch him sing and play the National Anthem on his harmonium.
Please e-mail the Rediff iShare link to [email protected] (Subject: My National Anthem Video) along with your school-going child's NAME, AGE and LOCATION before 11 am IST, August 14, 2020.
Video: How to upload THE National Anthem on iShare
Feature Presentation: Ashish Narsale/Rediff.com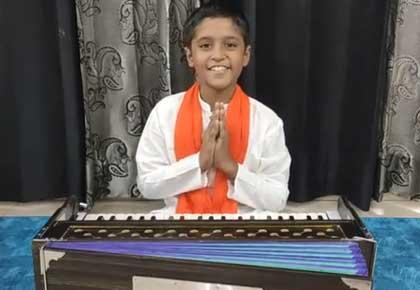 Source: Read Full Article