Khloé Kardashian's Fans Are "Insulted" by Her Latest Flat Tummy Co. Instagram
Good morning, during your morning Instagram scroll, chances are you hit one of those meal-replacement shake ads that seem to be ev-er-y-where. We've talked to doctors about these "weight-loss" shakes before (which you can read about right this way), and basically the TL;DR version is that meal replacement shakes don't really have the scientific support to back them and may cause side effects as serious as liver damage (!!).
Keep this in mind as you turn your eyeballs toward Khloé Kardashian's latest Instagram photo. Khloé posted the above pic on Wednesday night promoting Flat Tummy Co. meal replacement shakes to her 93.7 million Instagram followers, and it's drawing heat from her fanbase.
Here's what Khloé's caption said:
She only talked about the shakes in terms of how they made her feel, not how effective they are for everyone, but her fans are still pretty upset about the post.
Peep some of the comments for yourself: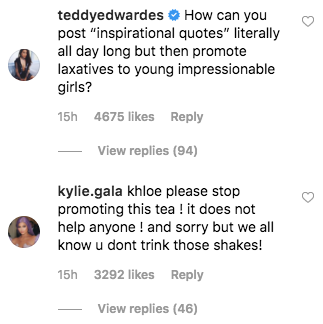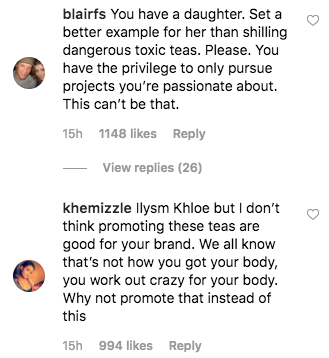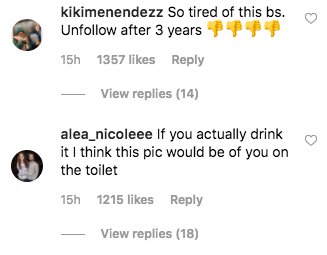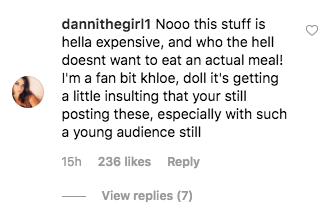 This is not at all the first time people have jumped into Khlo's comments asking her not to promote meal replacement shakes. Khloé even deleted one such post after The Good Place's Jameela Jamil brought up some very real/fair concerns about it, saying "If you're too irresponsible to: (a) own up to the fact that you have a personal trainer, nutritionist, probable chef, and a surgeon to achieve your aesthetic, rather than this laxative product…And (b) tell them the side effects of this NON-FDA approved product, that most doctors are saying aren't healthy […] then I guess I have to."
As of now, Khloé hasn't said anything about the backlash, but what's your take?
Source: Read Full Article