JoJo Siwa Nearly 'Trampled' by Phoenix Sun Player During Date With Rumored GF Katie Mills
The former 'Dancing with the Stars' contestant is sitting courtside with her alleged new girlfriend when she almost gets knocked over by Jae Crowder, who lunges for a ball.
AceShowbiz –JoJo Siwa showed that sitting courtside isn't always as fun as it seems. The YouTube star could have been injured as she nearly got wiped out by Phoenix Suns forward Jae Crowder when she attended a game between the Suns and the Los Angeles Lakers on Tuesday, December 21.
The "Dance Moms" alum was sitting next to her rumored girlfriend Katie Mills during the game when Jae chased a ball as it bounced out of bounds in JoJo's direction. In a video shared on the Suns' official Twitter page, the NBA star was seen lunging for the ball and managing to throw it back on the court, but he was too close to the audience seat.
Jae wound up diving behind JoJo's chair, almost taking her out in the process. The 18-year-old looked scared as she ducked and shielded her face with her hand. Thankfully, no one seemed to be seriously injured as JoJo let out a smile after the close call.
"How's it going down there, @itsjojosiwa?" the Suns asked the dancer/singer in the caption of the video. Seemingly in good spirits, she replied, "Quite well."
JoJo also took to her Instagram Story to poke fun at the incident. "I just got trampled by a player," she said along with a close-up video of her face. "It was really cool. Also, I just saw my life flash before my eyes," she joked.
She added, "If I wouldn't have ducked, I would've been out, down for the count. I think I would've got a broken neck… It's honestly really entertaining. It really spiced up the day."
Former NBA player and "Dancing with the Stars" winner Iman Shumpert, who competed against JoJo in season 30 of the show, jokingly trolled her on his own Story. He told her, "You were supposed to catch him and keep him safe."
Jae, meanwhile, admitted it was "hurt bad AF" after the diving.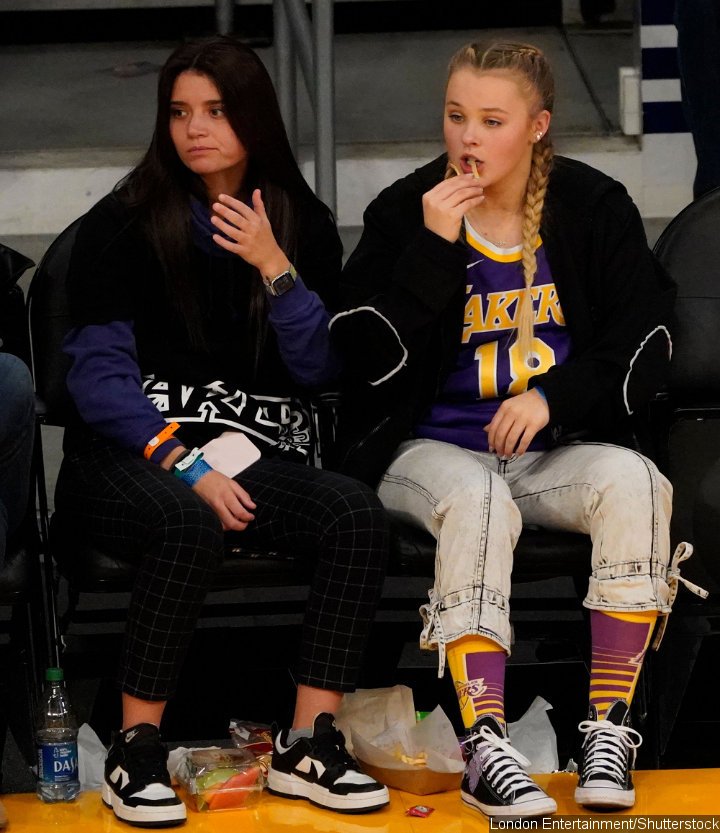 JoJo Siwa and her rumored new girlfriend Katie Mills sat courtside at a Lakers game.
For the outing, JoJo dressed like a true Lakers fan in the team jersey with matching socks, a black jacket and gray pants. Her blonde hair was parted in the middle and styled in two French braids. As for JoJo's companion that night, Katie, she matched the "DWTS" alum's style in a black Lakers shirt with a purple undershirt, black pants and Nike sneakers.
Source: Read Full Article