Jill Duggar And Derick Dillard's Full Relationship Timeline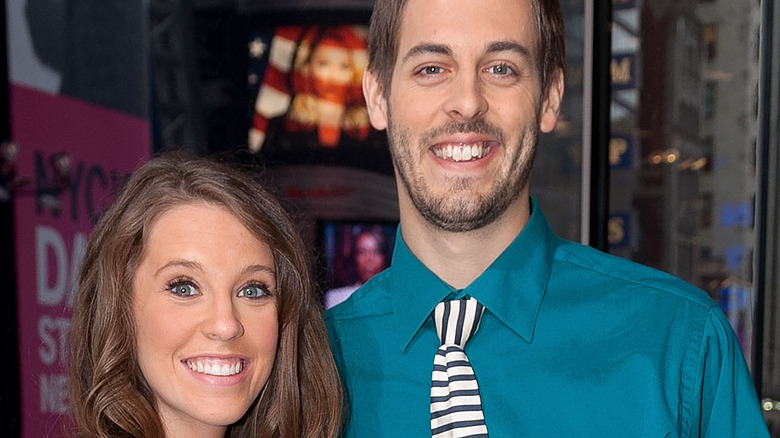 These days, Jill Duggar's relationships are possibly more complicated than ever. She's not exactly on speaking terms with some members of her extended family. Instead, she focuses her energies on her own brood with husband Derick Dillard, which includes sons Samuel and Israel.
Derick has proven to be an important support system for Jill throughout the years. Though some blame him for the rift between Jill and her parents, Jim Bob and Michelle Duggar, it's actually Jim Bob that brought the couple together, beginning their love story.
Believe it or not, Jill and Derick's story begins a decade ago. During the 2011 holiday season, Derick, who grew up just 45 minutes from the Duggar family home, showed up at their door Christmas caroling with friends. "Neither of us remembers each other specifically from that time; all I have is a vague memory of the group of people who came," Jill wrote on her since-deleted wedding website, per Christian Today. "Not long after this, Derick contacted my dad and asked if he would be a prayer partner during his two-year term in Nepal."
Jim Bob introduced Jill and Derick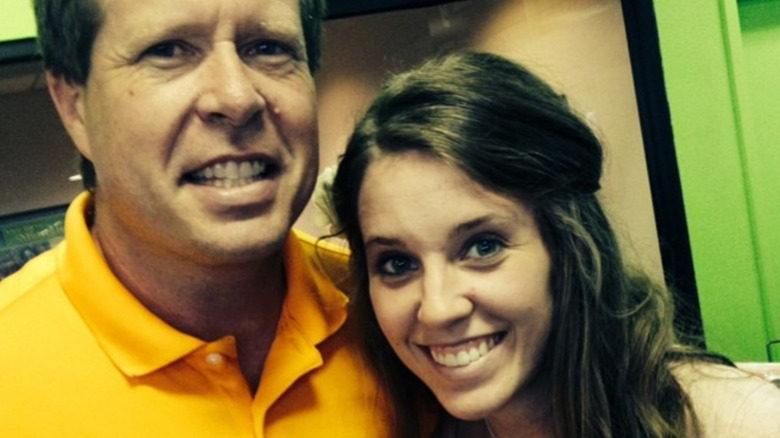 Jim Bob Duggar agreed to be a prayer partner as Derick Dillard went to Nepal for missionary work, so the two stayed in touch over 2012. "We would talk every couple weeks or so to discuss how our work was going and what current prayer needs were," Derick explained (per In Touch Weekly).
What Derick didn't expect was that Jim Bob would try to play matchmaker for one of his girls. "Jill's dad would also mention periodically the work Jill was doing in her studies as a student midwife and her desire to someday use her skills overseas on the mission field," Derick recalled.
Jim Bob also started looping Jill in on Derick. "As my dad got to know Derick he was really impressed with his Godly character," she said. "He started telling me about Derick and also told Derick about me! I listened in on a few phone conversations with my dad without Derick knowing I was doing so."
Jill and Derick met face-to-face in Nepal in late 2013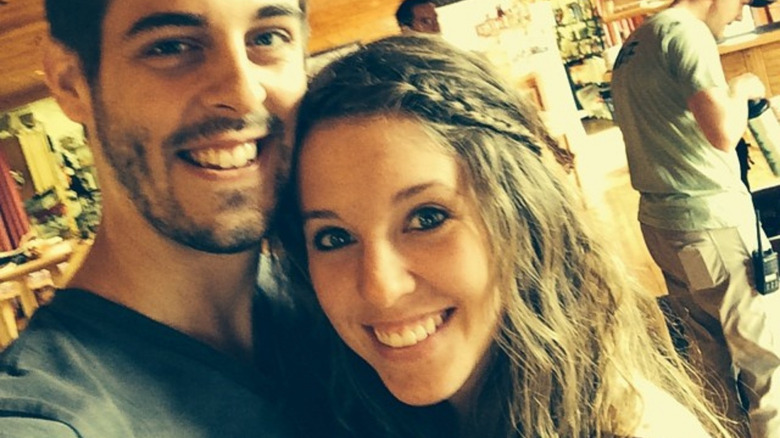 Jill Duggar joined her father, Jim Bob Duggar, on a two-week mission trip to Nepal where she would get to meet the much-talked-about Derick. In the weeks leading up to the trip, she'd get to know Derick better after Jim Bob allowed them to start talking by phone. "We talked a lot and started texting and emailing," Jill told People. "And we Skyped a lot. I got to know some of his friends and family. And then, we met in person months later. I was in love with someone I had never met in person."
The meeting was captured on camera for "19 Kids & Counting," but not everything we saw was the real deal. "I traveled over 36 hours to meet him and we had a film crew filming and jet lag so it is a different dynamic than most people have," Jill acknowledged. "But it was really special. We enjoyed the first several days getting to spend time together and getting to see things together."
It would be years until the couple revealed that their filmed "goodbye" wasn't the real deal. "Once all the filming was done and we recorded our 'goodbye,' [Jill] stayed another week, and we had Thanksgiving together," the couple explained in a YouTube video discussing what the holiday means to them.
Derick met the family and proposed shortly after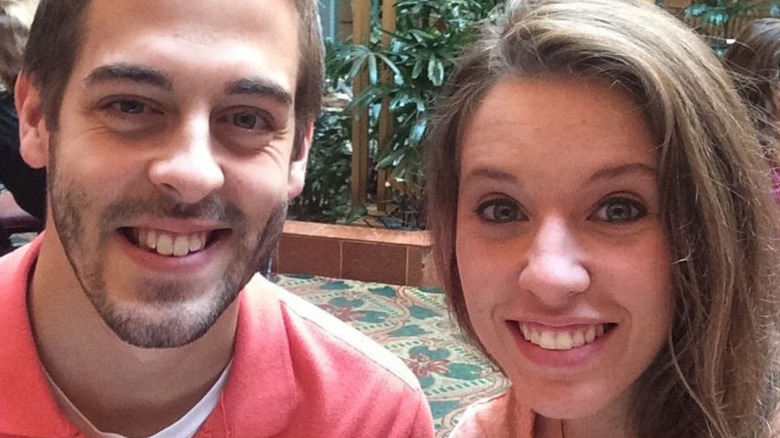 Derick Dillard returned to the states in January 2014. Soon thereafter, he met the rest of the Duggar family. He found that he got along well with the family and in a matter of weeks, he informed Jim Bob Duggar of his intention to propose to Jill Duggar. Jim Bob gave Derick his blessing.
In March 2014, Derick popped the question. "We went on lunch date to a Mexican restaurant and then we walked around in a park setting and the guy who wrote the song he was just sitting on a park bench," Derick told In Touch Weekly. "[A singer/songwriter] was sitting on a bench, nothing out of the ordinary, and was like, 'Oh, hey, you look like a nice couple. I think I have a song for you guys.'"
As he played, Derick told Jill how he felt and asked her to be his wife. "I said, 'Yes, totally!'" Jill said.
Jill and Derick married and quickly got to work on building their family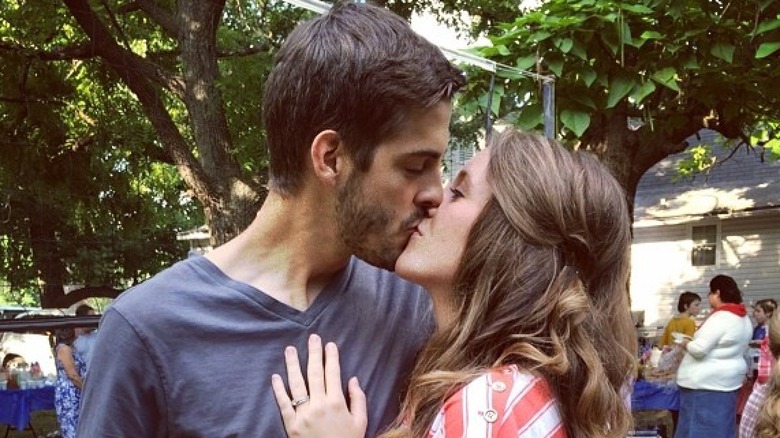 The newly-minted Mr. and Mrs. Derick Dillard shared their first kiss after exchanging vows at the Cross Church in Springdale, Arkansas in front of 1,000 people on June 21, 2014 (per ABC News). The two were the picture of happy newlyweds. Just two months later, they announced that they were expecting their first child.
"We're expecting!!!" Jill shared on Instagram. "So grateful to God for this new little blessing!!!" The couple's first child, Israel David Dillard, was born on April 6, 2015. 
In December 2016, the couple announced their second pregnancy. "Words cannot describe how excited we all are that God has blessed us with another precious gift!" Jill shared on the Dillard Family Blog. "We are eager for another sweet Dillard baby to join our lives come July, and we know Israel will be a great big brother." Samuel Scott Dillard was born on July 8, 2015 (per In Touch Weekly).
Things began getting dicey for the Dillards in late 2017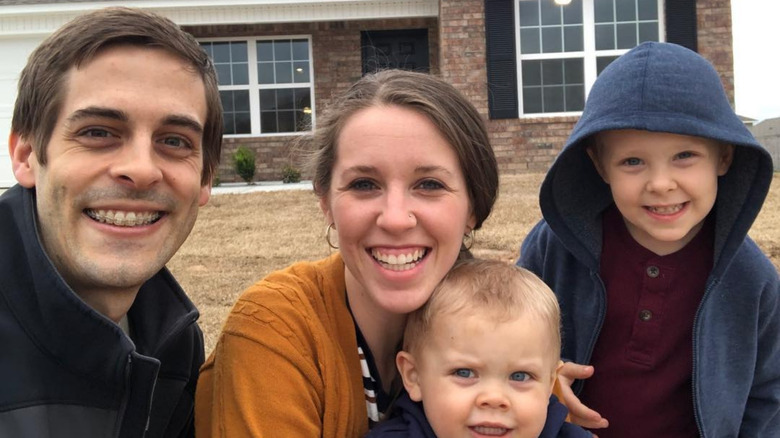 It was near the end of 2017 that TLC announced they would no longer work with Derick Dillard following transphobic comments made about fellow TLC star and transgender teen Jazz Jennings (per Out). Jill Dillard didn't continue filming after her husband was let go. Later, the couple would reveal that they were in the process of deciding what they would do at that time anyway due to lack of payment and other clashes with the Duggar family
"We found out we didn't have as much control over our lives as it related to the show and stuff, as we needed," Jill claimed in the fall 2020 YouTube video. "We had to make a decision at that time to kind of put the show aside … to pursue our own goals and everything. That's when we made that decision."
This was just the beginning of the Dillard/Duggar divide. 
The Dillards do their own thing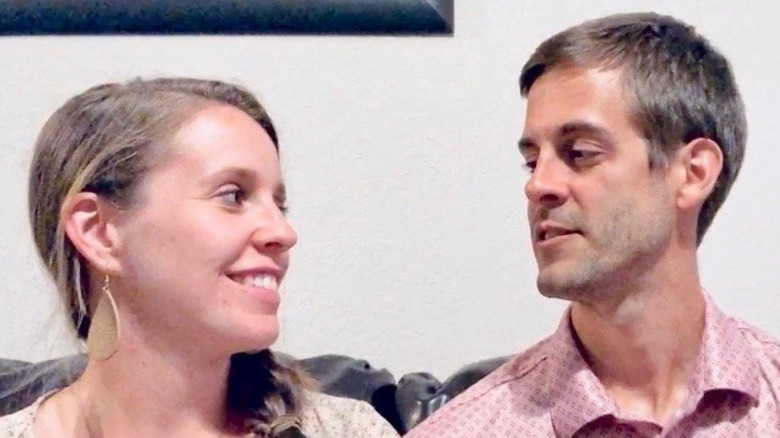 Jill and Derick Dillard admitted to "some distancing" between themselves and the rest of the Duggars. "We're not on the best terms with some of my family," Jill admitted in a YouTube video. "We've had some disagreements, but we're working toward healing definitely and restoration, but we're having to kind of just take some time and heal."
Months later, the Dillards said things hadn't made many improvements. "We were ready to leave and felt strongly about leaving," Jill told Us Weekly. "We definitely feel like we're in a healthy place now for our family and have control over our lives … Certain people are more supportive than others. I think it ebbs and flows with a family of that size. Every family has drama and so when you've got that many more people giving opinions or whatever, it can get crazy."
Things got further crazy in April 2021, when Jill and Derick commented on her brother and abuser, Josh Duggar, and his arrest. The couple's comments came before the nature of the charges was revealed. "We just found out this information yesterday," they shared (per People). "It is very sad."
Source: Read Full Article